Who Is New Chicago Cubs Outfielder Seiya Suzuki?
After making concerted efforts to get well below the competitive balance tax (CBT) threshold in recent seasons, the Chicago Cubs found themselves in a position to spend some money during 2021-22 MLB free agency. They made a marquee signing before the lockout by inking right-handed starting pitcher Marcus Stroman and have now bolstered the outfield with a right-handed power bat. But, just who is Seiya Suzuki?
Many Cubs fans likely clamoring for the team to add megastar shortstop Carlos Correa might have less knowledge about Suzuki's upbringing and talent after Ken Rosenthal of The Athletic and others reported the Japanese slugger signed a five-year, $85 million with the North Siders. The 27-year-old has a lot to offer Chicago in the outfield, particularly as the Cubs wait for pipeline talents like Brennen Davis. However, international signings always come with at least a little bit of risk.
Let's get to know Suzuki a bit more.
Who is Seiya Suzuki?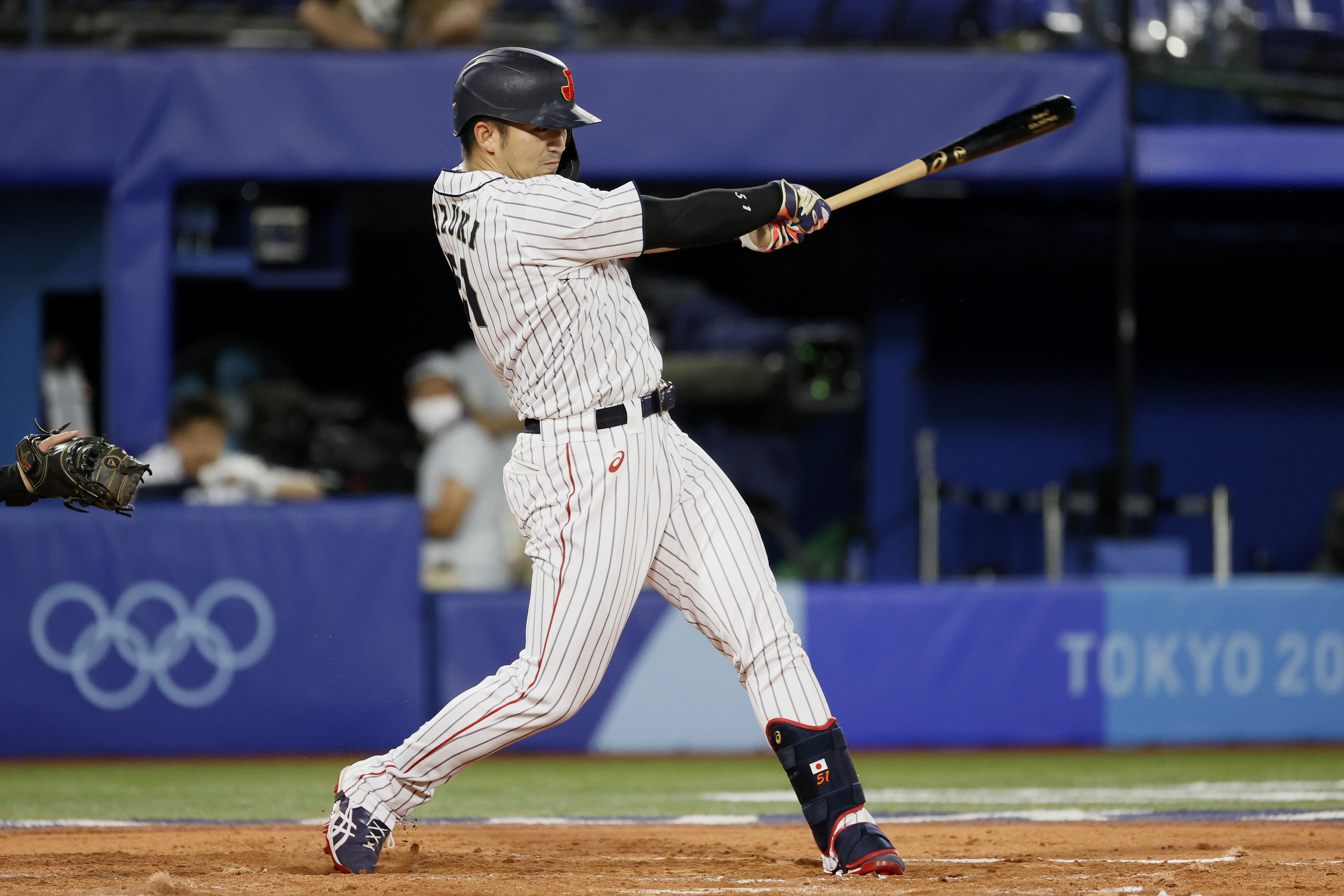 Born in Arakawa, Tokyo, Japan, Suzuki initially rose through the ranks as a two-way player who primarily garnered attention as a pitcher. Things have changed quite dramatically.
After being drafted by the Hiroshima Carp in the second round of the 2012 Nippon Professional Baseball League, Suzuki decided to make a switch to the infield. He spent the early years of his professional career adjusting to a new position and growing into his body. It took some time, but he became one of the top sluggers in Japan.
Suzuki began to have success in 2016, clubbing 29 homers with a .996 OPS. Two years later, he hit 31 homers with a 1.064 OPS. Having experienced a power surge, Suzuki embarked on something of a physical transformation.
Whereas Suzuki's hero, Ichiro, argued against weight training, the former Carp star dedicated himself to building muscle. As the LA Times noted during the 2020 Tokyo Olympics last summer, Suzuki packs a punch with his 5-foot-11, 215-pound frame. Indeed, he smacked 38 homers for the Carp in 2021.
Shohei Ohtani retained his remarkable athleticism and five-tool ability after incorporating weight training. Suzuki isn't the kind of two-way, generational talent Ohtani has become. However, he is the kind of toolsy player MLB teams typically salivate over.
The Cubs got to the finish line first in the Suzuki sweepstakes. Now, what will his role entail?
Where does Suzuki fit in the Cubs outfield?
'Who is Seiya Suzuki replacing in the Cubs outfield' might be fans' first question. That's not so complicated as which position he will play.
Chicago might try to platoon veteran outfielder Jason Heyward against right-handed arms. That opens things up for Suzuki to play the position he held down with the Carp (right), with Ian Happ likely starting in center field and the duo of Clint Frazier and Harold Ramirez battling for at-bats in left field.
However, if Heyward finds more consistent time, it's entirely plausible that Suzuki shifts over to left field, with J-Hey anchoring the other corner spot.
In any event, Suzuki's plus-plus defense — he won multiple Gold Gloves in Japan — and athleticism are both conducive to Chicago's need for versatility. Kris Bryant played a valuable Swiss Army knife role for the Cubs before being traded at the deadline.
Given his age, Suzuki's contract serves as a perfect deal that ideally spans his prime years and gives Chicago a strong stopgap option as it waits for top prospects like Brennen Davis and Pete Crow-Armstrong to arrive.
More notably, Suzuki gives the Cubs a much-needed power threat and run-producer in the middle of the order. That's assuming his bat translates to the majors, though.
A word of caution
Japanese prospects can prove challenging to project. For every Ichiro and Ohtani, there are disappointing sluggers like Yoshi Tsutsugo. The Cubs have experience with a former Japanese star who failed to replicate that value in MLB.
In 2008, Kosuke Fukudome became all the rage when he made the National League All-Star team. But his career petered out. Although Fukudome amassed a respectable .772 OPS in three-plus seasons with the Cubs, he never quite lived up to the hype that preceded him. He was out of the league in 2012.
Now, at five years and $85 million, Seiya Suzuki has an opportunity to outplay his contract and become the next big thing in Chicago. Still, there will be pressure, considering his contract makes him the highest-paid Japanese position player ever. Cubs fans cannot necessarily jump to conclusions and immediately feel confident that his bat carries over.
The recipe for success exists. Suzuki generates a lot of power in the hips. His swing stays compact through the zone. But he also pulls the ball a ton, and MLB teams are sure to shift him and make him go to the opposite field at least every now and then. That said, he has pretty strong discipline at the plate, and swing-and-miss isn't a glaring issue.
So, who is Seiya Suzuki? Well, the Cubs are about to find out.
Stats courtesy of Baseball Reference.
RELATED: Matt Olson Trade: Braves Show Appalling Lack of Respect for Freddie Freeman