Who is Rob Manfred? Get to Know Baseball's Next Commissioner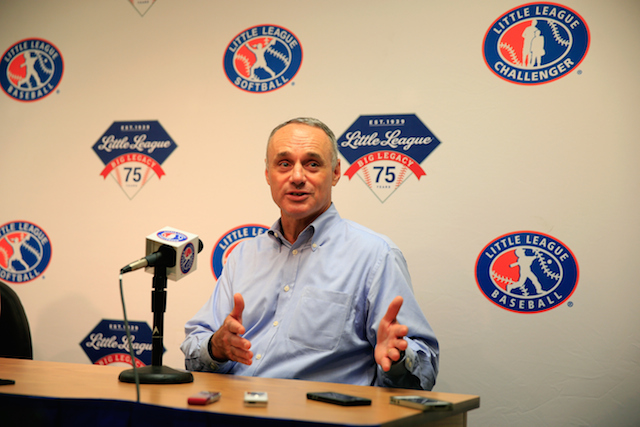 It's official: Robert D. Manfred, Jr. will become the next commissioner of Major League Baseball. On Thursday, the MLB owners unanimously approved a five-year deal for Manfred, the man slated to take over from current commissioner Bud Selig in January 2015. The 80-year-old Selig has served in that role since 1992, and his successor, a man 25 years Selig's junior, will be expected to continue and even build on Selig's legacy and accomplishments of the past 22 years.
So who is Rob Manfred? Where did he come from? And how did he become Major League Baseball's (future) leader?
The man who will be baseball's 10th commissioner grew up in New York as a Yankees fan, attending his first-ever MLB game in the Bronx in 1968. Manfred graduated with a bachelor's degree from Cornell and went on to complete law school at Harvard in 1983. As a lawyer, he served as outside counsel for baseball beginning in 1987, and he held that responsibility through the sport's most recent work stoppage, a 1994 players' strike that infamously wiped out the World Series.
Manfred joined MLB full-time in 1998, working for the next 15 years as Selig's Executive Vice President of Labor Relations. Labor peace has been an important highlight of Manfred's MLB career, as there hasn't been a lockout or strike since he came on board. The future commissioner had a key voice at the bargaining table in 2002, 2006, and 2011 labor agreements, including running things as the chief negotiator in the 2011 deal.
Selig (pictured center) promoted Manfred (pictured left) to become baseball's chief operating officer (COO) a little over a year ago, making Manfred responsible for overseeing "all of the traditional functions of the Commissioner's Office, including labor relations, baseball operations, finance, administration, and club governance," according to MLB. The current commissioner obviously had an eye toward the future and a succession plan, clearly backing Manfred's candidacy when the time for picking Selig's replacement rolled around.
In August 2014, it was time to vote. Manfred, known to those outside baseball best for his work on the labor front and his efforts against performance-enhancing drugs (notably his involvement in the Biogenesis investigation), was Selig's hand-picked choice, while the commish's right-hand man faced strong opposition from Red Sox chairman Tom Werner. Manfred needed a three-quarters' majority, 23 of 30 votes, and only had 22 in each of the first two rounds of balloting. However, Selig finally got his way, and the third time proved to be the charm: The official vote tabbing Manfred as the next commissioner was unanimous.
Now comes the hard part for Manfred: taking the reins over completely. He inherits from his longtime boss a game that's doing very well financially, but he also understands the challenges it faces, especially in speeding up the pace of play. Still, as Manfred told SI.com, he's looking forward to his new role, saying he's "very excited about the continued modernization of the game consistent with its historical roots." The married father of four understands baseball needs to work on developing a new and younger fan base, pointing out to SI that MLB's "older demographic is perfectly positioned to take their kids and their grandkids to ballparks."
Will Manfred be the right man for baseball in the 21st century? His background and credentials say yes, but the real test lies in front of him. However, the first step to fixing baseball's problems (before developing plans to fix them) is at least realizing what they are, so all signs (to this point) are promising that MLB did, in fact, select the right commissioner-elect to take over next January.