Who is the Best College Basketball Player in the Country?
There are more than 350 Division I men's basketball teams gearing up for the 2014-2015 season. That means more than 4,000 players will compete at that level over the next five months. Most are on scholarship, while some are not. The majority of them will make key contributions for their teams this year, although a few will spend nearly all of their time cheering from the bench. Some are destined to play professionally, while many will never play competitive basketball again after their time on campus.
Of those thousands of players, representing everything from championship contenders to mediocre mid-majors, which athletes will rise above the rest this season? Will the best college basketball player in the country this year be a proven veteran? A much-improved star? A rookie sensation?
It's impossible to know for certain until the games actually play out, but one good indicator of who might be the best players in the country is the annual release of the Associated Press Preseason All-America Team. The AP picks five college basketball stars that could out-shine their competition in the upcoming season. Which one of these five men do you think has the best chance of taking home Player of the Year honors in April? Or will the nation's top 2014-2015 player ultimately come from outside this group?
Here are the AP's preseason picks, with the contenders listed in alphabetical order…
Montrezl Harrell
Louisville standout Montrezl Harrell has experienced plenty of success in his college basketball career to-date, including the Cardinals' national championship in 2013, but is poised to do even more as a junior. Harrell's scoring output jumped from 5.7 points as a freshman to 14 points last season, and he'll be counted on to make big plays for a Louisville team competing in its third conference in three years. Harrell can be a beast on the boards as well, pulling down more than eight a contest as a sophomore.
Frank Kaminsky
Wisconsin senior Frank Kaminsky is not only the Big Ten Preseason Player of the Year, but also gets an AP Preseason All-American nod. Last season, Kaminsky was the leading scorer on the Badgers' Final Four team at 13.9 points per game, a marked improvement from his scoring average in his first two years of eligibility. In fact, Kaminsky's junior scoring output more than doubled his freshman and sophomore averages combined (1.8 + 4.2). At the other end of the floor, the big man has 96 blocked shots in his career to anchor Bo Ryan's stingy defense.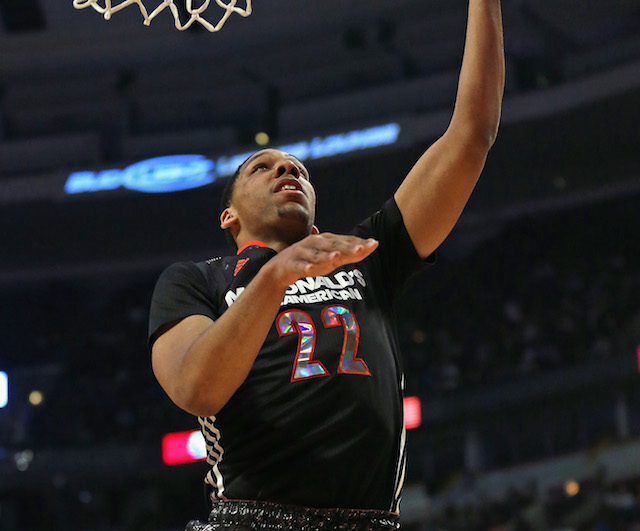 Jahlil Okafor
According to the AP, Duke freshman Jahlil Okafor is the third freshman in five years to be named a Preseason All-American, joining Harrison Barnes and Andrew Wiggins. Okafor was the No. 1 overall recruit in 2014 and the centerpiece of Duke's top-rated recruiting class. He averaged 24 points and 11 rebounds a game during his senior year in high school, and will attempt to make an immediate impact on a program that's only been to the Final Four once in the last decade.
Marcus Paige
North Carolina junior Marcus Paige received the most votes of any player for the AP Preseason All-America team after scoring 17.4 points a game, fifth-best in the ACC, last season. Paige has amassed 304 assists and 99 steals during his career at Chapel Hill to date, and will obviously be a focal point of the No. 6 Tar Heels' attack after playing more than 35 minutes a game last season. Paige grabbed the attention of the nation in February when he scored a career-high 35 points and hit the game-winner in the final second of overtime to edge in-state rival North Carolina State.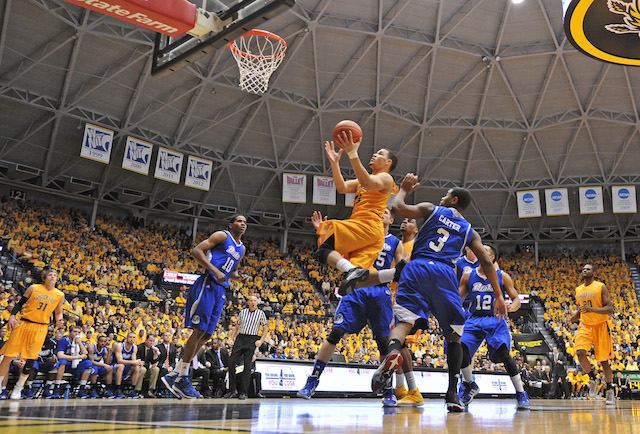 Fred VanVleet
Wichita State point guard Fred VanVleet, one of three juniors on the AP's Preseason All-America Team, led Wichita State to an undefeated regular season a year ago. VanVleet was the Missouri Valley Conference's player of the year as a sophomore, averaging more than 11 points, 5 assists, and 3 rebounds for the Shockers, who earned a No. 1 seed in March Madness. VanVleet is known for his ball security, as he turned the ball over once or less in 21 different games a season ago. VanVleet has already made one career trip to the Final Four at WSU and will be looking to take his team even farther this year.