Who Is the Highest-Paid Sportscaster?
Being a professional coach or athlete is, predictably, a high-paying job that many spend their young years striving toward. However, that's not the only way for someone to sign maximum deals in a sports-related job. Whether somebody is a journalism school graduate or a former player, the country's top sports broadcasters make a lot of money. Only one, however, has the rightful throne as the highest-paid sportscaster in America. 
The world of sportscasters
There are no right paths toward a broadcasting career. Some people pursue their dreams from an early age, while others find it as a logical path after their playing careers are over. Sports media is a vast landscape that entails the right mix of knowledge, personality, and entertainment value. However, when it comes to the highest level of sportscasting, there might not be a more important job. 
A memorable call can become just as much a part of a famous moment as the play itself. From Howard Cosell to Marv Albert and Al Michaels, the sportscasters become ingrained in the moment and offer raw, spur-of-the-moment reaction to otherworldly feats of skill and strength.
Because of this, those who rise through the ranks and become household names often make more than several of the athletes they're describing. 
Who missed the cut?
NFL legend Troy Aikman first came into households everywhere, leading the legendary Dallas Cowboys teams of the early '90s to Super Bowl glory. Now a Fox Sports personality, Aikman is still a household name thanks to his presence on the Sunday football coverage. He reportedly makes nearly $8 million a year. 
Cris Collinsworth, who has called games for several decades, comes up behind him at $4 million. Meanwhile, fellow former player-turned commentator Michael Strahan makes an astronomical $17 million a year.
However, his work entails several jobs beyond the football coverage. From Joe Buck to Skip Bayless and Stephen A. Smith, the sports television world pays its biggest names handsomely. However, the highest-paid person in the sportscasting world is still a relative newcomer.
Who's number one?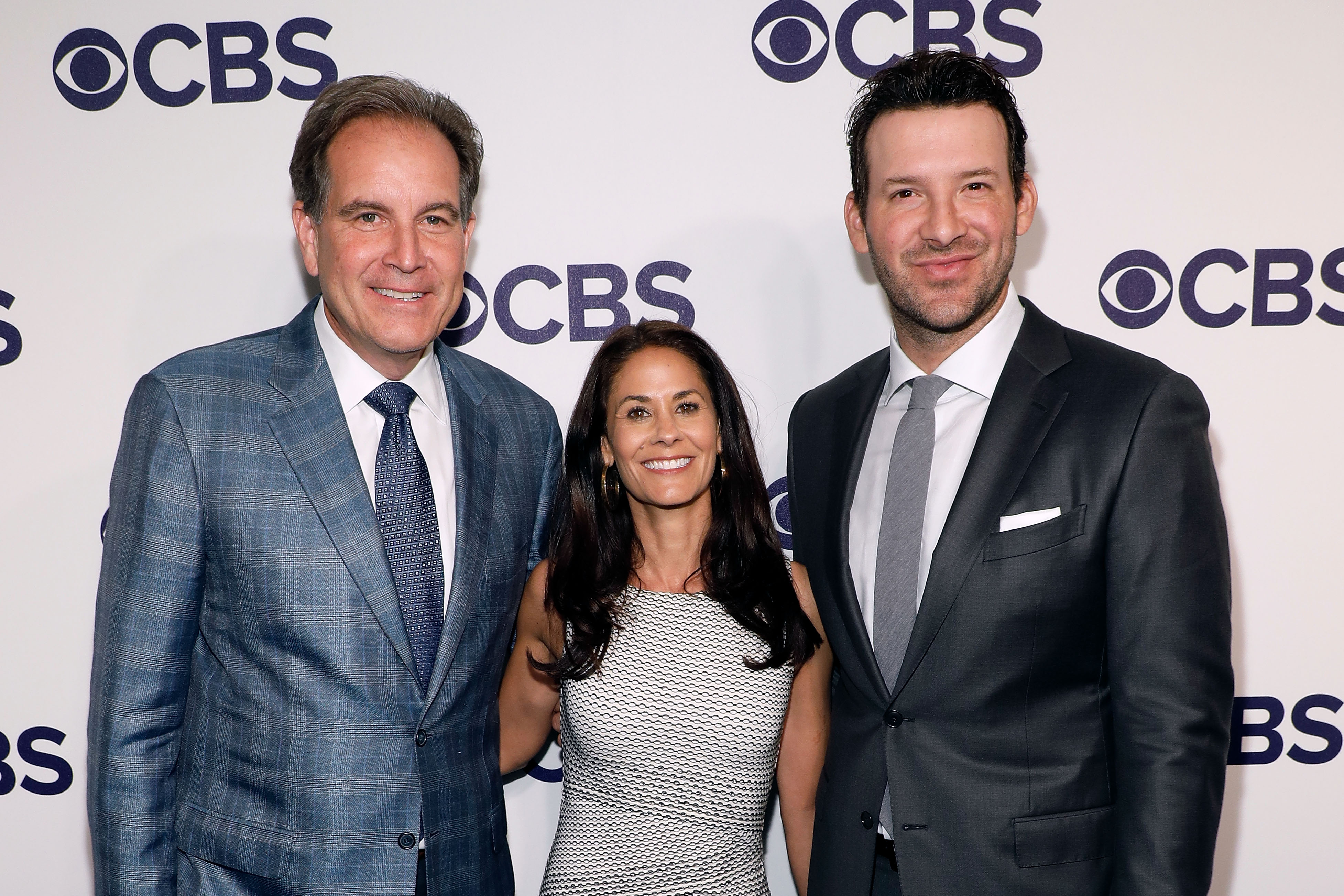 When a newly-retired Tony Romo took to the booth in 2017, nobody knew what to expect. Some former players have the natural charisma and star power to carry a broadcast.
Others fail to do so almost immediately. It didn't take long for fans to realize that Romo was a different breed, however. His ability to call out plays with psychic precision combined with his natural charisma, made him a golden-child on CBS sports. 
While several prominent athletes have taken years to become the top of their jobs, Romo only needed one contract to prove his worth. According to CNBC, he capitalized on this offseason with an agreement with CBS that will eventually pay him over $100 million.
The former Cowboys quarterback, who retired with career earnings of around $127 million, is well on pace to have a more productive career after football than during. 
Combining these two careers, it's safe to say that Romo has a hefty net worth that is only getting bigger by the year. 
What is Tony Romo's net worth? 
Romo was once an undrafted free agent who was unsure of his future in the NFL. Now in his second career around the league, it's safe to say that his football dreams worked out.
Thanks to his new deal, Romo has a net worth of around $70 million, according to Celebrity Net Worth. However, as his new contract takes form, that total will grow even bigger with every year's progressive raise. 
Romo might never have reached the heights of a Tom Brady or Peyton Manning on the field, but off of it, he is proving to be one of the best to hold a microphone. Not yet 40, Romo's football career may have been a precursor to an even more successful announcing career. The result is a net worth that even he might not have predicted three years ago.