Who Is the More Successful NFL Player: Chandler Jones or His Brother Arthur?
Few football families have multiple players in the NFL. The Jones brothers stick out as the defensive masters of this small subset. Defensive tackle Arthur Jones and defensive end Chandler Jones have both provided crucial, game-winning performances to their teams. The only Jones brother seemingly not interested in defense is the third Jones brother, Jon.
He's a hard-hitting UFC fighter with a penchant for disabling his opponents' mobility via devastating kicks. Then again, with the way his brothers handle things on the gridiron, maybe all three have quite a bit in common. Let's figure out which Jones brothers has the most to offer the NFL.
Arthur Jones' seven solid NFL seasons
RELATED: Ultimate Family Connection: UFC's Jon Jones Has 2 Brothers in the NFL
Arthur, the older Jones brother, started off his NFL career with four years on the Baltimore Ravens. According to Syracuse.com, his run there included a 2013 Super Bowl win before he spent two years with the Indianapolis Colts and a final year with the Washington Redskins.
That 2013 Super Bowl run had Arthur playing a crucial role in the Ravens' winning season. The athlete racked up 28 solo tackles and 25 assists across his 13 starts, according to Pro Football Reference. His overall stats are hampered by a shoulder injury that only allowed for a single game with the Redskins.
Arthur retired after that season. Players at his position usually last only two to three years. He held on, stayed productive when he was healthy, and left the game after eight seasons.
How Chandler Jones topped his breakout 2017 season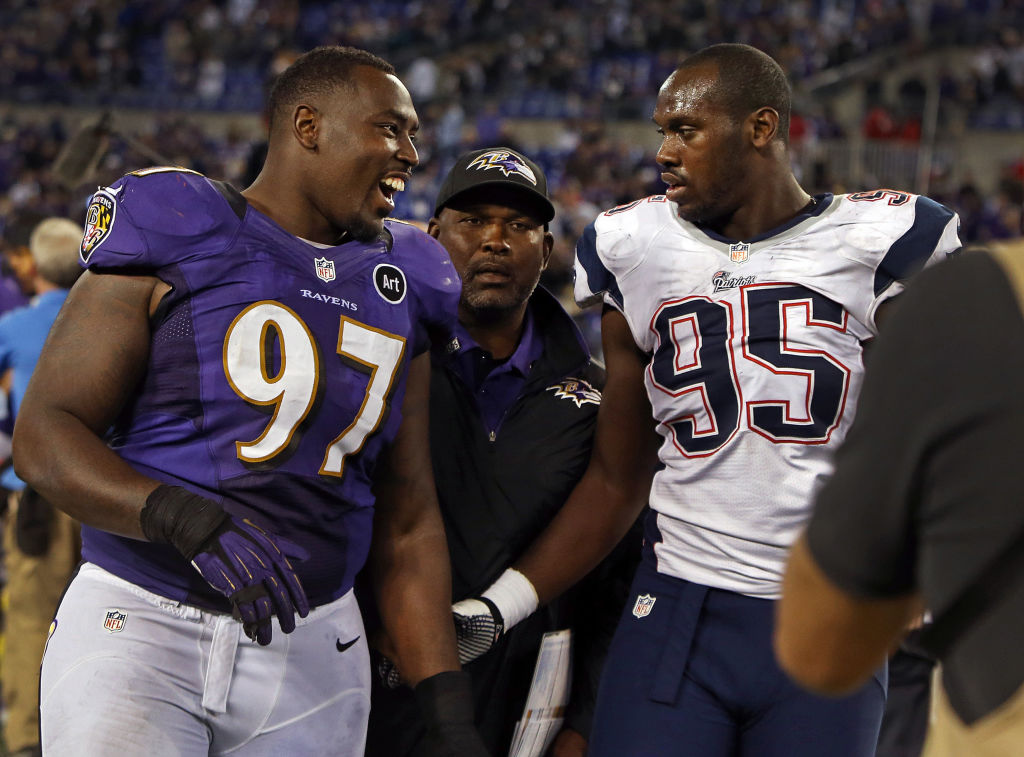 RELATED: The Sports World Has Given Arthur, Chandler, and Jon Jones Many Chances to Shape Up
Arthur had an early breakout season that he never quite recaptured. Chandler, on the other hand, hasn't necessarily found his ceiling yet. His year two breakout, which Pro Football Reference notes included a masterful 11.5 sacks over 16 starts with the New England Patriots, was just the beginning. He landed 12.5 in 2017, breaking out all over again.
He wasn't done, and changing to a new defensive program only sent him towards greater feats. In 2017, he hit a high of 17 sacks with the Arizona Cardinals. That should've been the defining moment of his career, but no, in 2019 he put an absolutely freakish 19 QBs down onto the grass. These are MVP caliber numbers, held back mainly by the fact that defensive players don't get the nod as often as they should.
Which of the Jones brothers is the most valuable in the NFL?
RELATED: The Hasselbeck and Manning Brothers Crossed Paths Far Before Joining the NFL
Once Chandler enters the picture, the conversation has to turn to sacks. Arthur dropped 10 QBs in his entire seven-year NFL career. Chandler nearly doubled that in 2019 alone. Crucially, Arthur spent two years at DE before transitioning to DT, giving him a period of direct comparison with his brother.
Both played eight seasons in the NFL, making the comparison especially relevant for the time being. Chandler is at the height of his powers at year eight, while Arthur was forced to retire.
Arthur was dependable when injuries didn't drag him down. Chandler, on the other hand, is the Cardinals' secret weapon, and he's been blessed to largely avoid major injuries. Arthur's Super Bowl victory — and his major role in getting there — is a feather in his cap to be sure. But Chandler has him tied there, having helped the Patriots overtake the Seattle Seahawks in Super Bowl XLIX.
Chandler is the Jones brother with the greatest individual impact on his team's performance. Only Jon has a greater direct impact because he plays on a team of one in the octagon. That comparison is unfortunately impossible to make — as fun as it would be to try — so for the limits of this topic, it's Chandler who deserves the spotlight.