Who Was the Better Overall Player: Hank Aaron or Joe DiMaggio?
Simply being drafted into the MLB requires incredible skill and athleticism. Among those drafted, only a fraction succeed. Out of those players, an even smaller number get inducted into the Baseball Hall of Fame. Out of 19,000 MLB players, less than 1% will achieve this accolade. Two of those players are Hank Aaron and Joe DiMaggio.
Both of these men were incredible ballplayers both in the outfield and at the plate. Their achievements lend fans to ask, who was the better overall player?
Joe DiMaggio's short but illustrious career
Even if you do not follow baseball, it is impossible not to be familiar with DiMaggio. He was a star both on the field and off. His highly publicized marriage to Marilyn Monroe and television appearances made him a household name, but his baseball career made him a legend.
Even today, his 56-game hitting streak is a record no one has also come close to breaking. Perhaps his secret to success was revealed by his attitude. In 1951, reports Baseball Almanac, DiMaggio explained to The Sporting News, "There is always some kid who may be seeing me for the first or last time, I owe him my best."
DiMaggio played in 13 Major League seasons, with a three-year break due to World War II. He was an All-Star all 13 seasons. He led the Yankees to 10 World Series, where they took home 9 Championships. His .579 slugging percentage still lands him in the top 10 of all time. It might have formally taken DiMaggio three years to gain induction into the Baseball Hall of Fame, but he was a phenomenon from the beginning. 
Hank Aaron's long, spectacular career
RELATED: MLB Fans Know Hank Aaron, But Do They Remember Tommie Aaron?
Over 21 years, Aaron dominated MLB stadiums. He toppled Babe Ruth's home run record, ending his career with 755. The record was broken in 2007 by Barry Bonds, but the record is incomparable due to Bonds' use of performance-enhancing drugs.
Aaron came from humble beginnings, even constructing his bats out of wood scraps. Although Jackie Robinson had broken the racial barrier in the MLB, the league was still segregated. Aaron began his career in the Negro Leagues, being the last player to play in both the Negro Leagues and MLB.
Throughout his career, he was an All-Star 25 times. He amassed 3,771 hits and 2,297 RBIs. In 1982, he was inducted into the Baseball Hall of Fame with an incredible 98% vote.
Who was better: DiMaggio or Aaron?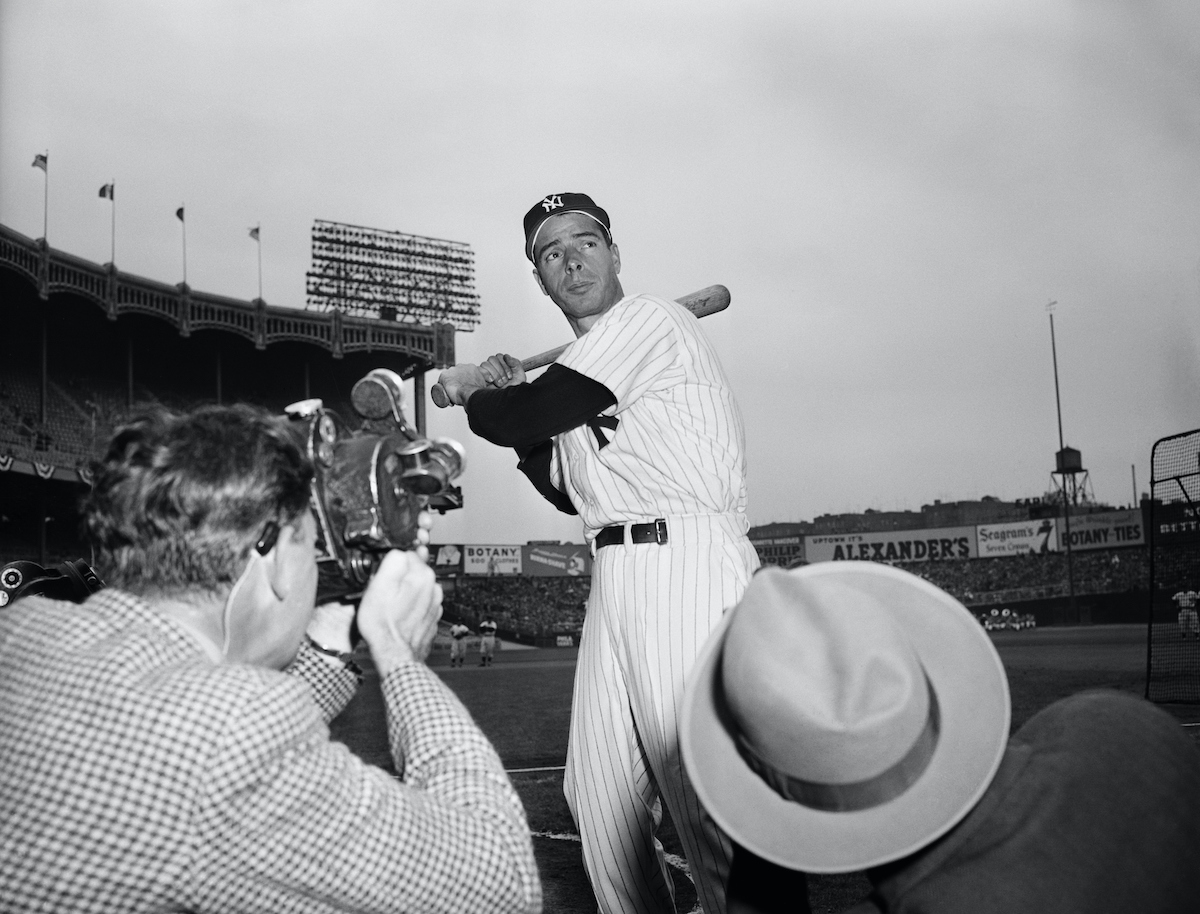 Determining if Aaron or DiMaggio was better is difficult due to the massive difference in their career longevity.  Despite that, the two are often compared. Mickey Mantle is quoted saying, "As far as I'm concerned, (Hank) Aaron is the best ballplayer of my era. He is to baseball for the last fifteen years what Joe DiMaggio was before him. He's never received the credit he's due."
Both Hall of Famers had incredible careers full of record-breaking successes, details MLB Comparisons. Aaron has more hits and home runs, but he also had nearly twice as many appearances. DiMaggio had a batting average of .325 to Aaron's .305. DiMaggio also had a higher slugging percentage. Aaron's strikeout percentage is also almost twice as much as DiMaggio's. Still, it is hard to argue that Aaron's WAR of 142.5 is far superior to DiMaggio's 78.1 WAR. DiMaggio also only achieved 351 home runs. Of course, this was over a much shorter career.
The answer to which player is better is indiscernible. The two men were both legends in their own right. If DiMaggio had played a decade longer or not had his career interrupted by war, would he have matched Aaron's achievements? The world will never know. What we do know is that DiMaggio and Aaron are two of the best baseball players the world has ever seen.