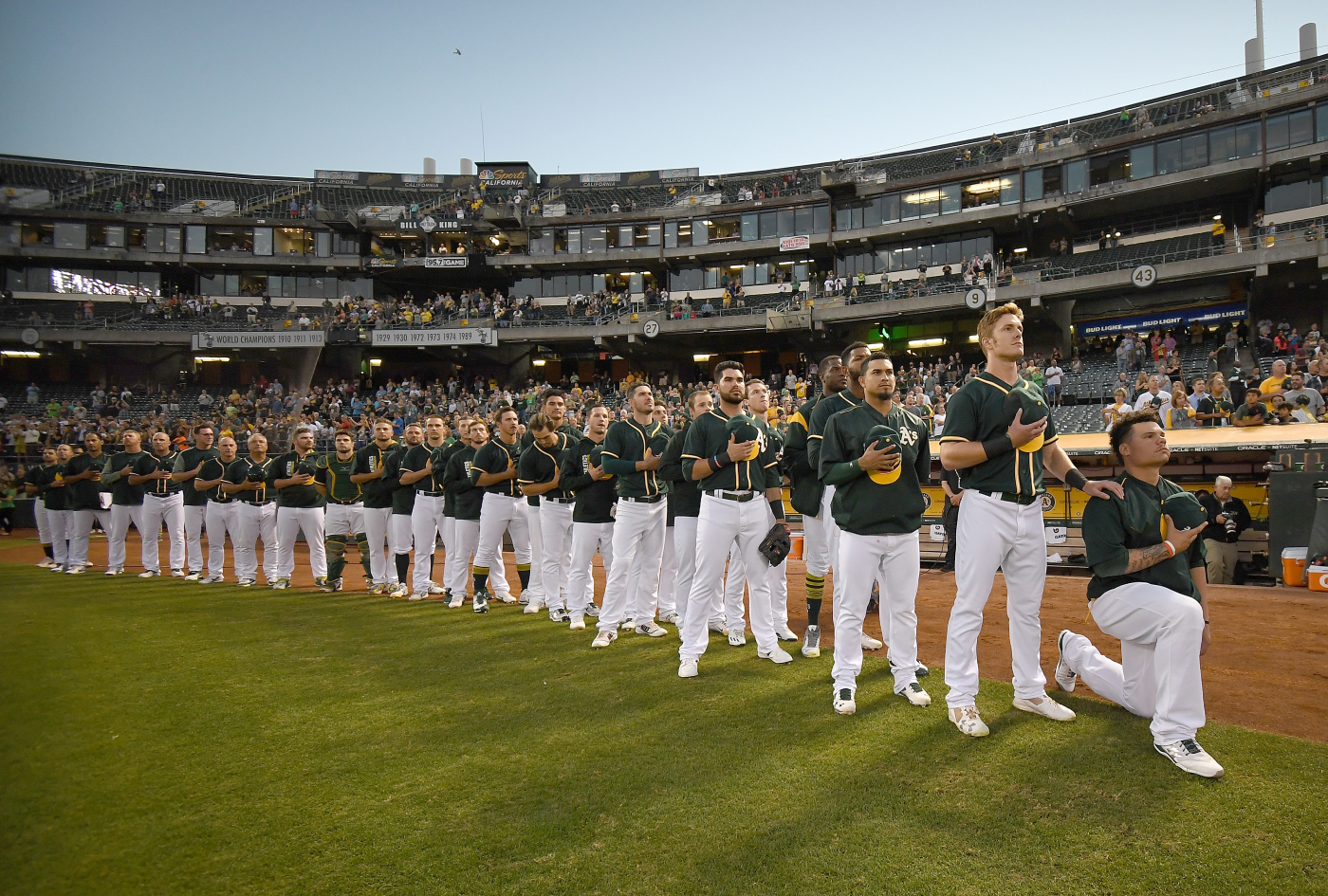 Who Was the First MLB Player to Kneel During the National Anthem and Support Colin Kaepernick?
Colin Kaepernick began kneeling during the national anthem in 2016. Who was the first MLB player to kneel during the anthem?
In an exhibition game between the San Francisco Giants and Oakland Athletics, Giants manager Gabe Kapler and multiple Giants players knelt during the national anthem. Kneeling during the anthem has not really made its way into baseball. That's especially compared to the NFL after Colin Kaepernick did it in 2016 to protest racial injustices in America. However, it has happened prior to Kapler and the Giants doing it. So, who was the first MLB player to ever kneel?
Colin Kaepernick began the movement in 2016
Prior to the 2016 season, Colin Kaepernick had a lot of success while playing for the San Francisco 49ers. In his first season as the starter in 2012 (he started in seven regular-season games and every playoff game that year), Kaepernick led the 49ers to the Super Bowl. They ultimately lost to the Baltimore Ravens, but he threw for 302 yards and a touchdown in the game, in addition to running for 62 yards and a touchdown.
Kaepernick then led the 49ers back to the NFC Championship Game during the 2013 season and continued to succeed in the years that followed. In 2014, he threw for a career-high 3,369 yards and ran for a career-high 639 yards.
Then, during the 2016 season, Kaepernick began kneeling during the national anthem.
"I am not going to stand up to show pride in a flag for a country that oppresses Black people and people of color," Kaepernick said in 2016, according to NFL.com. "To me, this is bigger than football and it would be selfish on my part to look the other way. There are bodies in the street and people getting paid leave and getting away with murder."
Despite throwing for 2,241 yards, 16 touchdowns, and only four interceptions in 2016, Kaepernick has not played in the NFL since that season. Many people believe that it is because of his protests. 
Bruce Maxwell was the first MLB player to kneel during the anthem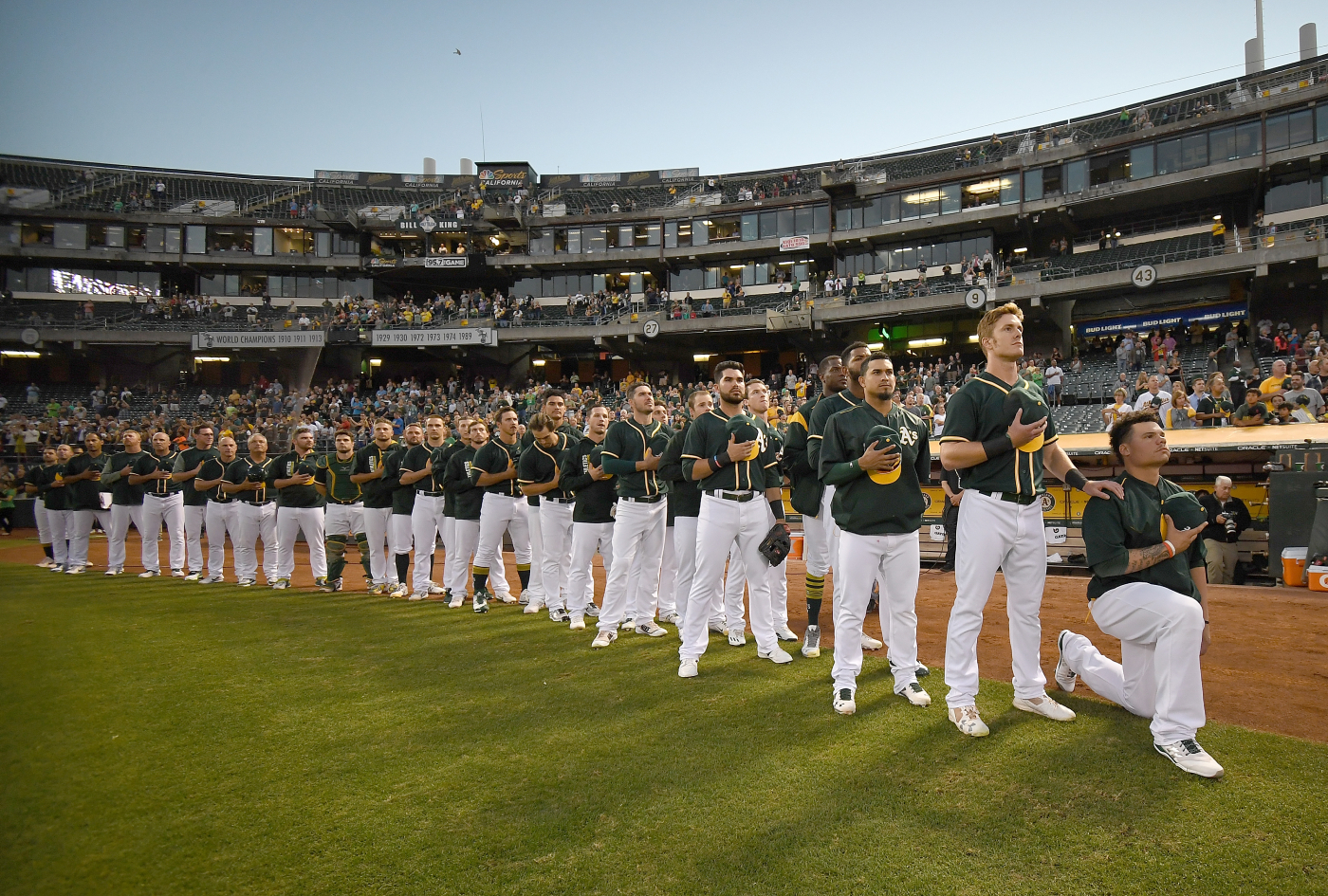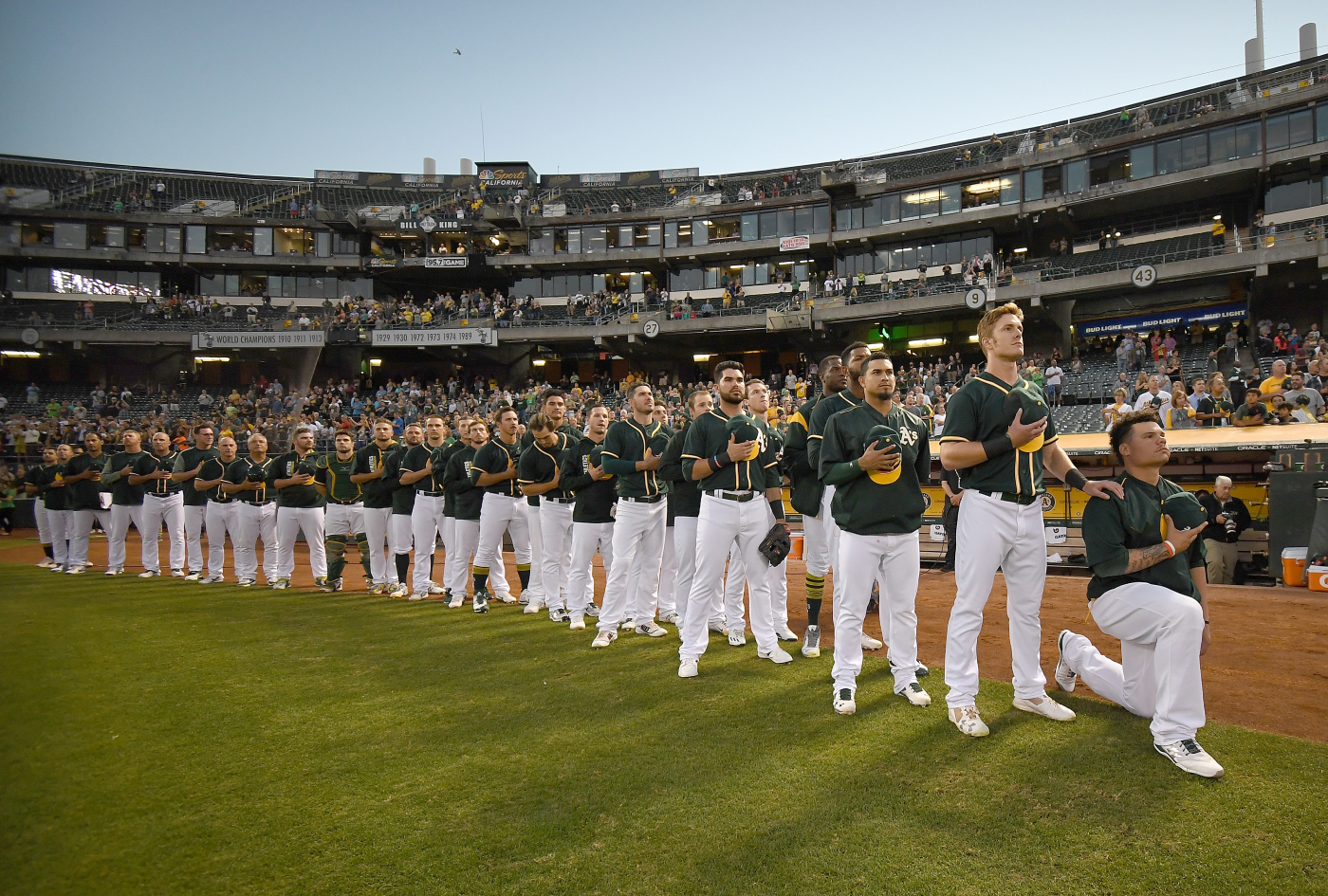 In 2017, former Oakland Athletics catcher Bruce Maxwell became the first MLB player to kneel during the anthem.
"The point of my kneeling was not to disrespect our military or our constitution or our country," Maxwell said in 2017, according to Sports Illustrated. "I am and forever will be an American citizen and grateful to be here, but my kneeling is what's getting the attention, and I'm kneeling for the people who don't have a voice."
According to AL.com, Maxwell knelt during the final nine games of the 2017 season. He did not kneel at all during the 2018 season, Sports Illustrated reported. He ultimately played in the majors in three seasons, and had a .283 batting average in 33 games in 2016. Maxwell, however, only had a .182 batting average in 18 games in 2018.
The Athletics ultimately released Maxwell following the 2018 season. In 2019, however, he hit .325 with 24 home runs and 112 RBIs in a Triple-A equivalent league, according to AL.com. 
Maxwell responded to his fellow MLB players kneeling
Three Giants players and two coaches knelt with Kapler during the national anthem before the exhibition game against Athletics.
Kapler shared his plans with the team beforehand. 
"I wanted them to know that I wasn't pleased with the way our country has handled police brutality, and I told them I wanted to amplify their voices and I wanted to amplify the voice of the Black community and marginalized communities as well," Kapler said, according to ESPN.
In an interview shortly after the exhibition, Maxwell expressed his emotions about seeing the Giants players and coaches kneel.
"I felt joy, honestly," Maxwell told NBC Sports California. "That was probably my primary emotion. To feel joy that the message and the purpose of the kneeling is being spread among our sport. We've all talked about it. To see the selflessness of the players and to stand as one, with Kapler, other players took a knee tonight, just to see it, man, it was joyous for me."
Moving forward, Kapler did not say if he will continue to kneel. However, he did say this. 
"We're going to have 60 chances in the regular season to make the same decision that we made today, to either stand or kneel or do something different," Kapler said, according to ESPN. "Right now, it's another opportunity tomorrow night."
It will be interesting to see if any other teams follow suit this MLB season.
Stats courtesy of Pro Football Reference and Baseball Reference