Who Wins a Game of 1-on-1 Between Luka Doncic and Dirk Nowitzki? Mark Cuban Answers the Question We've All Been Asking
The NBA GOAT debates are always low-hanging fruit, but that's the case for a reason. It's a ton of fun wondering who would win: LeBron James or Michael Jordan? Jordan vs. Kobe Bryant? For Dallas Mavericks fans, the most enjoyable fantasy is seeing Luka Doncic go 1-on-1 with Dirk Nowitzki.
One franchise legend is already an all-time great, while the other is well on his way to becoming one. So who would win in a pickup game if both players were in their primes?
There will never be a definitive answer to the dream scenario, but perhaps more than anyone, Mark Cuban is qualified to settle the debate, and the Mavs governor has weighed in with his pick.
Luka Doncic vs. Dirk Nowitzki: Tale of the career tape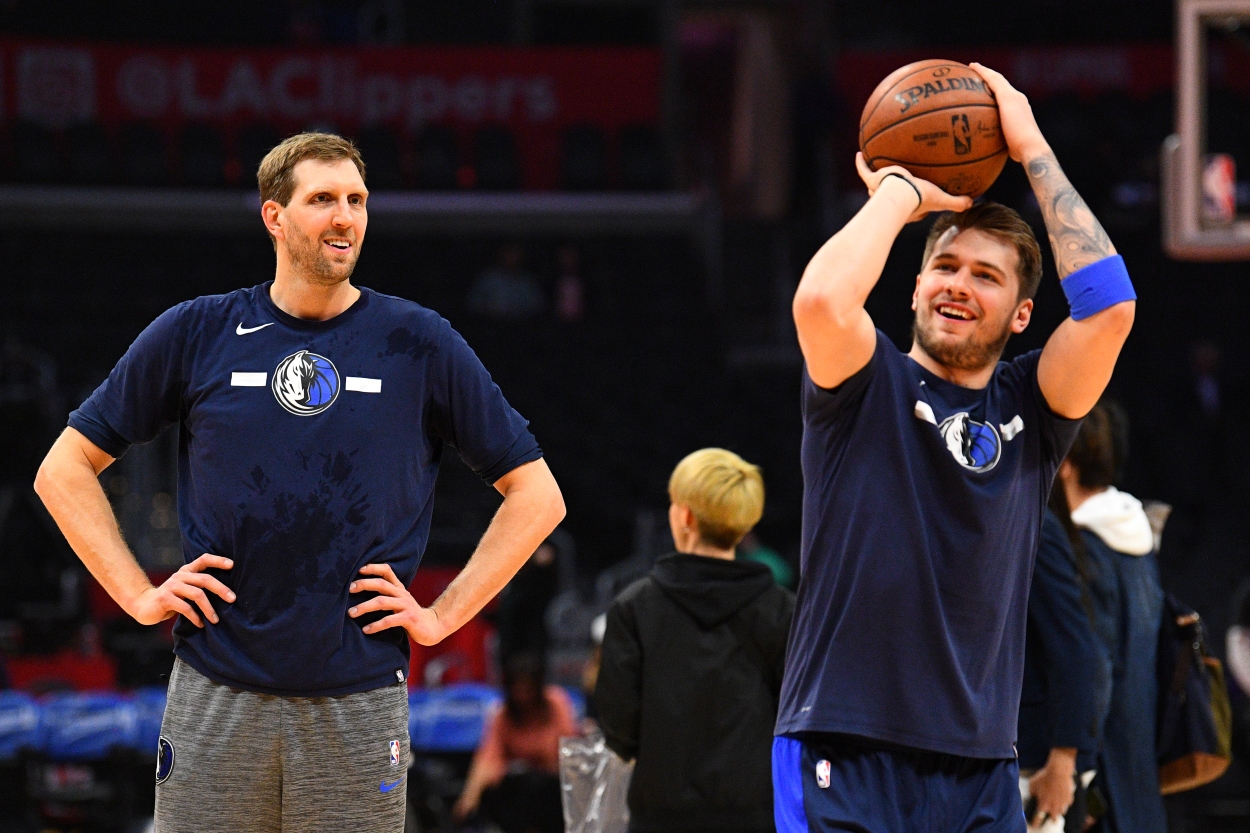 Obviously, Dirk holds the edge in most statistical categories simply because of longevity. Nowitzki played 21 NBA seasons, and Doncic has only played three.
But RealGM breaks things down further, and the No. 3 pick in 2018 does come out on top in certain divisions.
The German has a better win percentage, both regular season and playoffs. He won a championship in 2011, was the 2007 MVP, made four All-NBA First-Teams, and was a 14-time all-star. He bests Doncic with all of those career accomplishments.
On the other hand, the Slovenian was the 2019 Rookie of the Year, while Dirk struggled through his first NBA season.
Statistically is where things get interesting.
The 7-foot center has accrued more career points, but Doncic has a season-high average of 27.7, and Dirk's highest average for a season is 26.6. As a center, the 12-time All-NBA star averaged 9.9 rebounds per game in his best year at age 22, but Swaggy L hit the 9.4 mark in just his age 21 campaign.
Doncic has a clear advantage in terms of assists, and Nowitzki only holds the edge over the 22-year-old in PER by .26 points. Luka also has better career averages in rebounds, assists, and steals, while Dirk holds the edge in shooting percentages across the board.
And Cuban believes that last stat matters more than any other in a 1-v-1 scenario.
Cuban gives one player the edge in the most crucial category
Both players are generational offensive talents. And to put it gently, neither are fantastic athletes or lockdown defenders. But in a 1-on-1 pickup game, shooting usually trumps anything else, and that advantage goes to the 2011 Finals MVP.
On the 10 Questions With Kyle Brandt Podcast, Cuban voted Dirk in regular pickup rules where each basket counts as one point and the game is played to 11, win by two:
"I think Dirk because Dirk won't miss. Just in a regular one-on-one game, I think I gotta go with Dirk. Dirk couldn't stop Luka, but Luka couldn't stop Dirk and Dirk four years in (to his career) is a better shooter." 

Mark Cuban on who would win a 1-on-1 game between Dirk Nowitzki and Luka Doncic in their primes
It's hard to argue with Cubes on this one. Nowitzki is a career 47.1% shooter overall and a 38.0% shooter from deep. Doncic has career averages of 45.7% and 33.1%, respectively.
Dirk also has a height and length advantage over Luka, so it would be easier for The Tall Baller from the G to get his shot off.
Dirk has handed the Mavs franchise over to Doncic
Nowitzki is the greatest player in Dallas franchise history. He played all 21 of his seasons with the Mavericks and brought Cuban his only championship.
He has now literally and metaphorically handed the organizational reigns over to Doncic as the two-time all-star is on pace to become one of the greatest players in NBA history.
Cuban's franchise is in good hands with Doncic. Now the goal is to put a championship-caliber team around a generational superstar.
It took Dirk 13 years and 11 playoff appearances to win his title. For both Luka and Cuban's sakes, hopefully things move a little quicker during the Reign of Luka Legend.
All statistics unless otherwise noted courtesy of Basketball Reference.
RELATED: Dirk Nowitzki Became an NBA Legend but Prepared for His NBA Exit Before His Career Even Began