Who's the last NBA player to win three straight championships?
Patrick McCaw has been in the NBA for three years, and he's already accomplished more than most players have in their entire career.
McCaw could retire right now and will have more NBA championships then James Harden, Kevin Durant, Kyrie Irving, and many more.
McCaw is the only active player in the league who has won three consecutive championships. How did the guard from UNLV accomplish so much already?
Patrick McCaw winning two titles with Golden State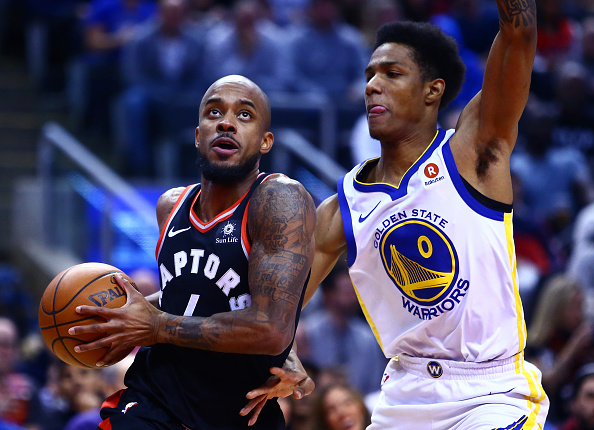 Patrick McCaw was a second-round draft pick in the 2016 NBA Draft. He was drafted by the Milwaukee Bucks and traded to the Golden State Warriors later on draft night.
On October 25, 2016, McCaw made his debut with the Warriors, and that's when it all started. That season the Warriors would go on to win the NBA title and give McCaw his first ring as a rookie.
That year, McCaw received a lot of playing time as a rookie in the playoffs. He played in 15 games and averaged 4.1 points per game. It doesn't get any better than that, winning a title your first year in the league. But McCaw was not done.
The next year the Warriors found its way back to the finals and once again holding up that trophy. Two up, two down for McCaw, who was now in his second year. McCaw and the Warriors were on pace to do something unique and win three in a row.
A new team, same result
Just when Patrick McCaw thought he was going to help the Warriors try to three-peat, he had some problems negotiating a contract with the team. McCaw would find himself a new team.
He joined the Toronto Raptors for the 2018-19 season. And where did he find himself? Back in the NBA Finals, this time with a different team.
McCaw's playing time dwindled after his first year in the league, but he was still a winner. When the Raptors defeated the Warriors, McCaw did something special. He was the only active player in the league to win three straight titles. No player or team has done that since the 2000-2002 Lakers with Kobe and Shaq.
McCaw only averaged 0.5 points per game during the playoffs with the Raptors, but that didn't matter because he was a champion, again. And to make things better, he beat his former team.
Patrick McCaw's future on winning more championships
If you had told Patrick McCaw that he would have three titles in his first three years, he probably would have laughed. But he found himself in the right place at the right time.
McCaw could win a fourth title in a row with Toronto. You never know. We don't know the next time a player or a team will three-peat.
But thanks to McCaw, he gave NBA fans something that does not come often. McCaw could have a long career in the NBA, and if he never wins a title again, he can always say he three-peated. He's a part of a select group of NBA players who have won three straight.