Who's the Worst QB to Ever Start a Game for the Dallas Cowboys?
One of the least interesting questions among NFL fans is, "Who is the Dallas Cowboys' best quarterback ever?" It's Troy Aikman. He's one of the best QBs of all time with the Super Bowl rings to back up his case. A great Cowboys QB like Tony Romo doesn't. Roger Staubach is an all-timer, of course, but come on. It could only be Aikman.
So how about the worst? Jerry Jones' hands-on approach to team ownership has led to odd acquisitions concerning QBs in particular. The expensive position causes Jones to seek deals in odd places. It makes for a long list of colorful, terrible players under the banner of America's Team. Here are three of the worst quarterbacks to start a game for the Cowboys.
Brandon Weeden's difficult run backing up Tony Romo
The stats that god Weeden cut from the Cowboys are deceiving, according to NFL.com. His 72.4% completion rate and his 92.2 passer rating, contrasted with just two interceptions, are solid enough. But it's his inability to move the ball down the field much at all that led to his demise.
It made for frustrating game day viewing for Cowboys fans. Weeden simply couldn't put the squad in scoring position in his role as Romo's injury replacement. His poor receiver selection meant, according to his Pro Football Reference page, the team averaged just 18 points per game at the end of his run.
The Cowboys chose Matt Cassel over Weeden. Did they choose wrong?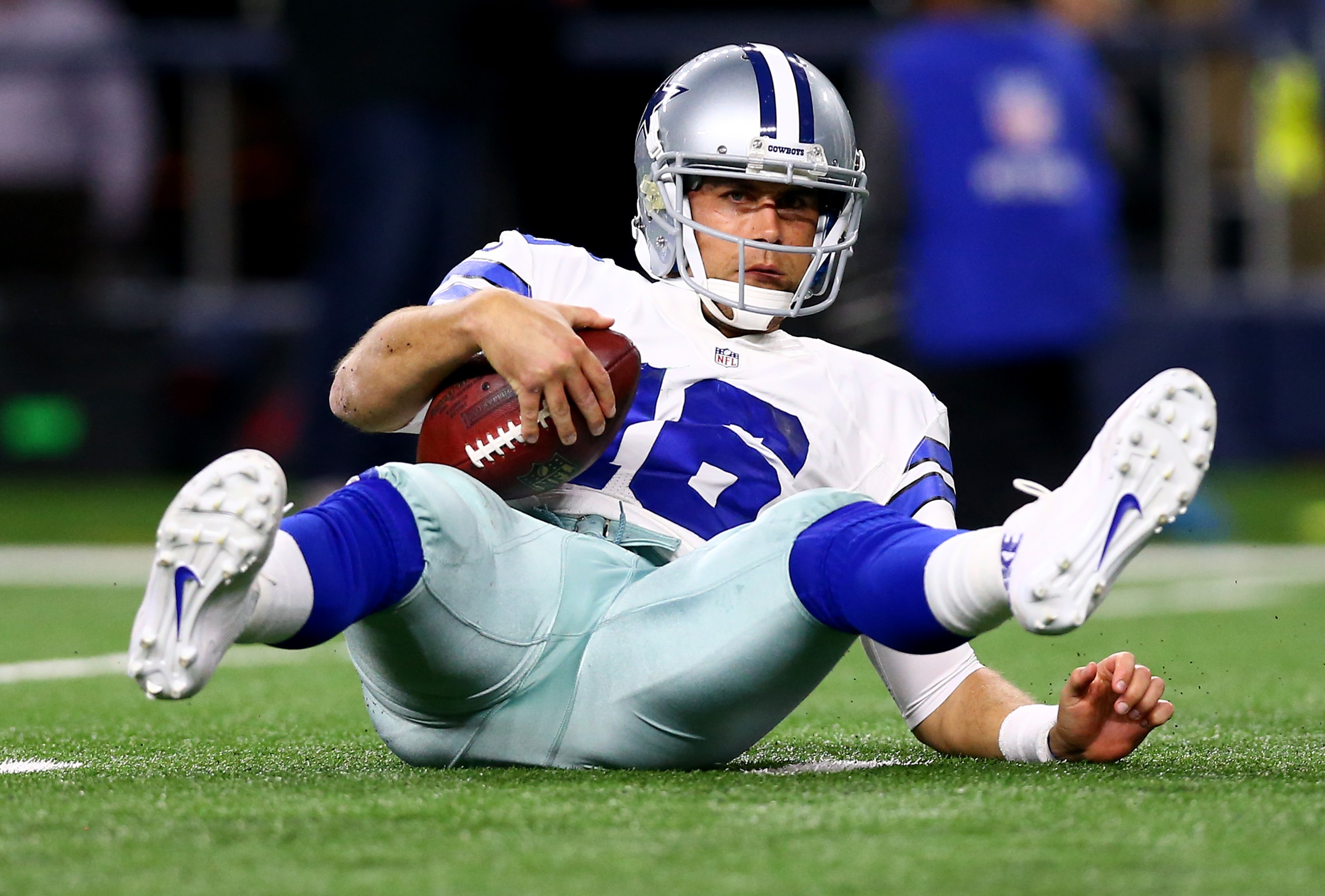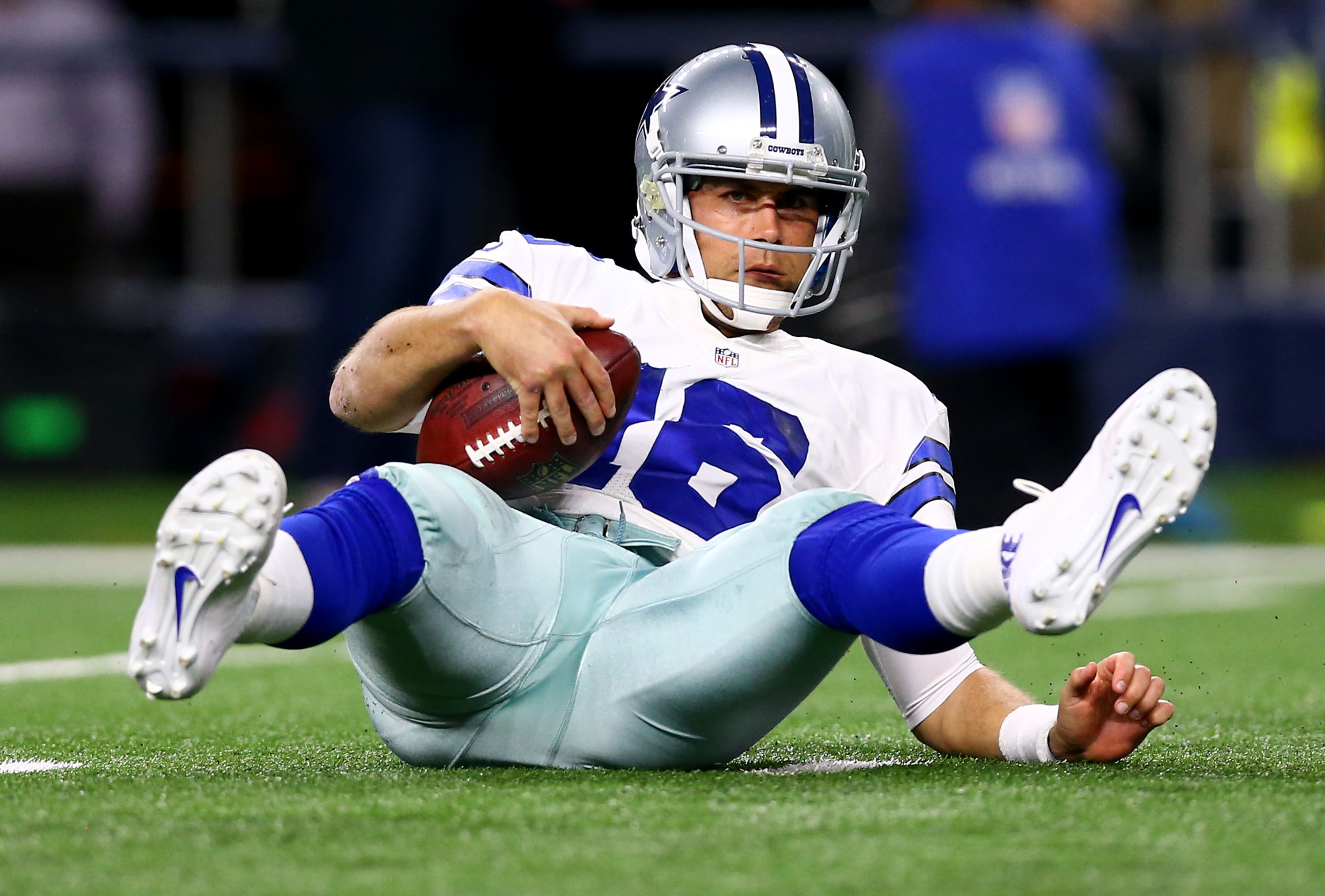 Weeden couldn't move the ball enough, so Jones and company tossed him in favor of backup QB Matt Cassel. NBC Dallas-Fort Worth puts him on their list of the worst Cowboys QBs of all time list over his thoughtlessly wild passes. That's how he gave up seven interceptions across a 1-6 run in Dallas.
NFL.com piles on more awful signposts of his time with America's Team. He completed just 58% of his passes. He put up five touchdowns in seven games. And, as the video above shows, he simply looked bad doing it all. He stumbled and tripped over his own feet while avoiding sacks.
To add insult to all the injury, he also cost the Cowboys a draft pick. Jones gave up a fifth-round pick for a seventh-round pick in the 2017 NFL draft, according to Bleacher Report. The Bills were thought to be on the losing end of that deal at the time, given there were hopes for Cassel to earn a starting job eventually. Their loss was, well, the Cowboys' loss, too.
Ryan Leaf's case as one of the most infamous busts in NFL history
Peyton Manning and Ryan Leaf are forever connected in NFL history. They were both hyped as the next big QB. Manning became, well, the Peyton Manning, a Hall of Fame lock and reliable force of nature who pulled off a successful late-career Super Bowl run.
Leaf, unfortunately, wound up as one of the worst busts in NFL history, as Bleacher Report tells it. The Cowboys took their chance on him well into his unproductive professional run. They were the third team to try to give Leaf the space to get healthy and return to his college-era success. It didn't work.
His best run was a 13-20 loss to the Atlanta Falcons. The rest only got worse. Pro Football Reference notes that he threw 11 for 26 and gave up two interceptions in the next start. The Associated Press reports that his run-ins with law enforcement hurt his public perception nearly as much as his poor play. If infamy is part of the equation, Leaf is the worst QB to wear a Cowboys uniform.