Why 6-Touchdown Games Don't Matter As Much As They Used To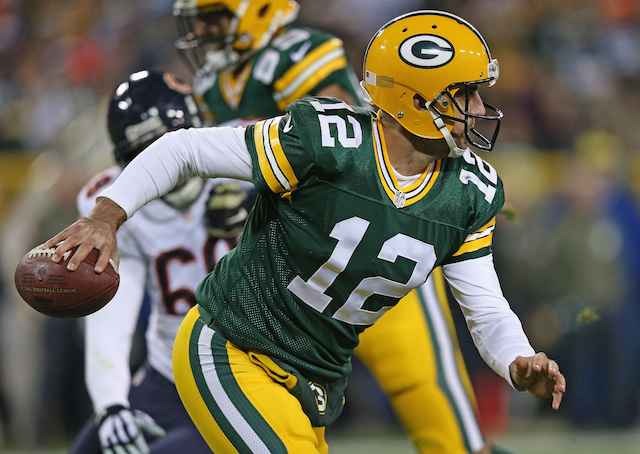 Remember the good old days? When a quarterback throwing for six touchdowns in an NFL game was actually a big deal? It used to be that a quarterback tossing a half-dozen scoring passes in the same game was a rare and impressive accomplishment. Now? Yawn. Snooze. Who cares? So what? Six scores equals a  mid-level headline on your favorite sports network or website, somewhere between a NASCAR race and baseball offseason speculation.
It wasn't always this way. In fact, six touchdown passes by one player in one game has still only happened 43 times in NFL history, according to Pro-Football-Reference.com. But, the frequency of late means that number is destined to skyrocket over the coming weeks, months, and years. What was once a mind-blowing feat is now a solid day for a top-tier quarterback. Nothing more, nothing less.
To put the historical significance into perspective, consider this: Over a 25-year span from 1970-1994, a QB threw six or more scores in a game only eight times. Eight. If that number sounds familiar, it's because the accomplishment has happened eight more times just since 2012! In the Super Bowl era, no quarterback has thrown for six touchdowns in a game in any of the following calendar years: 1967, 1968, 1970, 1971, 1973, 1974, 1975, 1976, 1978, 1979, 1980, 1982, 1983, 1984, 1985, 1987, 1988, 1989, 1992, 1993, 1994, 1996, 1997, 1998, 1999, 2000, 2001, 2002, 2005, 2006, 2010, 2011. Pretty amazing when you consider it's happened three times in the last three Sundays alone!
Let's face it: If Ben Roethlisberger (pictured) can throw six touchdown passes in back-to-back weeks, it's hard to see a 6-TD outing as still being a "career game." If Matt Flynn can throw six touchdown passes in a game (yes, Matt Flynn! Career backup Matt Flynn!),  then the six-touchdown feat is losing a tiny bit of its luster.
But, really, the last straw for 6 TDs as a milestone, at least in our opinion, came Sunday night in a primetime showdown between the Packers and Bears. That's when Green Bay quarterback Aaron Rodgers threw that "holy grail" sixth touchdown pass of the night with 19 seconds left…in the first half. Six touchdown passes in less than 30 minutes of football: Those are PlayStation-type numbers. And while it's obviously a scathing indictment of the Bears defense — or lack thereof — (a topic for another day, perhaps), how can we act like six touchdowns is a big deal in 2014 if it's something a quarterback can accomplish before intermission? If Aaron Rodgers can throw a half-dozen scoring strikes before heading to the locker room, it's time to set our standards higher when it comes to what number it takes to impress us.
The record for touchdown passes by an NFL player in a game is seven: That's happened seven times in history, most recently by Peyton Manning and Nick Foles in a two-month span last year. (That's correct: Nick Foles, the quarterback the Eagles reportedly aren't sure they even want to continue to use, threw seven touchdown passes in a game 12 months ago. Take a minute to let that soak in.) From our point of view, since six scores is pretty much mundane at this point, nothing less than seven is even going to pique our interest going forward. And really, with the proliferation of star quarterbacks shattering records in the last couple of years, how long will it be before we get to eight? Or, who knows, more than eight? Is a quarterback throwing 10 touchdown passes in an NFL game something we could see in the next 10 years? It seems unlikely, because the opposition would have to put up big enough numbers for the red-hot quarterback to stay on the field without running up the score. But, if Matt Flynn can throw six? If Nick Foles can throw seven? If Aaron Rodgers can throw six before halftime? Our advice would be simply this: Never say never.