MLB: Why We Should Never Have a Neutral Site World Series
Don't move the World Series to a neutral site. Please, just don't do it. Don't listen to super-agent Scott Boras's suggestion. Don't pay attention to those who have said through the years that the Fall Classic needs to be played in summer weather. Just say no.
In case you missed it, Boras went on the record with the Chicago Tribune a couple of years ago, saying that the MLB should adopt a Super Bowl-type model and select a neutral-site city ahead of time to host the entire World Series. He's completely, utterly, and hopelessly wrong. There are enough neutral-site sporting events already — more than enough, to be quite blunt. Why take more than a century of tradition and flush it down the drain to play baseball's signature event in front of a city that doesn't care what the outcome is?
The good news is that Boras's suggestion, while it's not new, hasn't yet caught on in baseball circles. Hopefully, it never will.
The Super Bowl approach has always meant more tickets for corporations and less for common, everyday fans. And if the added expense/decreased supply/increased demand wouldn't put enough of a financial damper on a pennant-winning team's fans as they try to see their favorite ballclub play for a title, why not throw in travel expenses? Airfare. Lodging. Food. All to support a different big city's economy instead of your own.
Don't try to convince Boras, though. His thoughts on the matter are clear: "There is a sacrifice of two, three, or four games for a team, but the betterment [his plan] brings to baseball on the whole far exceeds the detriment." Did we mention yet that he's wrong? We're not just talking about two, three, or four games for a team that will play more than 80 home games in a season. We're talking about ripping away the most important games of the season — or, for some teams, maybe the most important games in franchise history.
Picture the excitement in Kansas City when the Royals opened up the 2014 World Series at Kaufman Stadium after not qualifying for the postseason in each of the last 28 years. Imagine how those fans, some of whom had waited their whole lives to see their hometown team chase a title, would have felt watching the Series on TV from Arizona or Florida or Hawaii or some other destination city instead instead of participating in those priceless moments in person.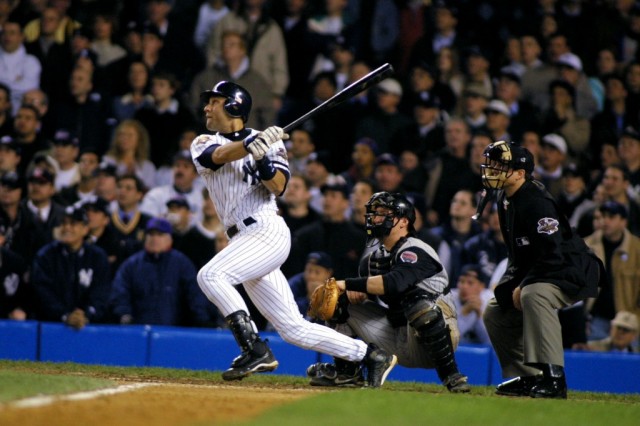 Think ahead to whenever the Cubs finally break the curse and win a World Series for the first time in more than 100 years. How could baseball live with itself if some of those October games aren't played in the Friendly Confines in front of the famous bleachers and ivy-covered walls?
What about when the Mariners get to the Fall Classic for the first time ever, only for Seattle fans to realize the games they've dreamed of for decades will be played in the opposite corner of the country — someplace like Miami? "Road trip, everybody! It's only 3,400 miles from here. Let's go!"
According to the Tribune, Boras is worried about "the need for the media and corporate sponsors to know the site." News flash: The World Series isn't for the media or corporate sponsors. It's for baseball fans. It's for the party and celebration inside the stadium to spill out into the local streets as thousands of people hug complete strangers and rejoice in a championship that, in many cases, has been far too long coming. When your team makes the World Series, your city just feels different. It's electric. Baseball shouldn't even entertain the thought of giving that emotion away to test out Boras's approach.
Try and visualize what the greatest postseason moments in MLB history would have looked like in front of a neutral crowd. We wouldn't have the Skydome faithful erupting as Joe Carter hit a walk-off home run to win the 1993 title. We wouldn't see New York scream as one when "Mr. November" Derek Jeter (pictured) hit an extra-innings home run in 2001. Kirk Gibson's dramatic 1988 blast would forever be somewhat muted by the polite "golf clap" from the thousands of bigwigs in a city nowhere near L.A. who got free seats from their companies. So forth and so on.
Yes, baseball is meant to be played in warm weather. So is football, for that matter. But that didn't stop the NFL from deciding to put the Super Bowl in New York/New Jersey in February. So taking World Series games away from Colorado or Detroit or Washington or Minnesota or wherever just to make sure the elements are climate-controlled (for those who argue that's the main reason this will happen eventually) is missing the point completely.
Baseball is baseball because of tradition. Baseball is baseball because of the fans. And whether the Cubs finally get back to the World Series in 2016 or 2026 or 2046 or 2076, they'd better be playing half of games at Wrigley Field. Any other city would be just wrong. Sorry, Mr. Boras.