Why Aaron Rodgers Never Thought He'd Play for the Green Bay Packers
Aaron Rodgers is one of the greatest quarterbacks in NFL history. But his legacy hasn't always been so stable. There was a brief time where his NFL career was in doubt, and it came during the first round of the 2005 NFL Draft. Heading into the draft, Rodgers never thought he'd play for the Green Bay Packers and was surprised to end up where he did.
Aaron Rodgers' college football career
Rodgers played two seasons for the University of California at the collegiate level. Here are the numbers he put up during his time as a Cal Bear:
424 completions on 665 attempts for a completion percentage of 63.8%
5,469 passing yards
8.2 yards per attempt
43 touchdowns
13 interceptions
Passer Efficiency Rating of 150.3
Rodgers declared for the NFL Draft following the 2004-05 season. At the NFL Combine, these were his measurables:
40-yard dash: 4.75 seconds
Wonderlic score: 39
Vertical leap: 39.5 inches
NFL scouts considered him one of the best quarterback prospects in the draft class that year — but he wasn't the only one.
Aaron Rodgers' draft day nightmare
According to many top NFL scouts, Rodgers and Utah quarterback Alex Smith were by far the top two draft prospects. Rodgers thought San Francisco would select him, but Smith went first overall to the 49ers.
After this, Rodgers thought he'd go to the Buccaneers at the fifth spot as their coach, Jon Gruden, had told Rodgers he would take him there. But Gruden passed on Rodgers for Auburn running back Cadillac Williams. The future Packers QB sat in the NFL Draft green room well past the time anyone else was there. It was agonizing, as he told ESPN:
"Next thing you know I'm four hours into this and still nobody's picking me. The toughest stretch was after we got past 16 … but between 17 and 23 there was no way I was getting picked. They all had established starters and I'm thinking to myself, 'That's 15 minutes for each team, so that's an hour and a half.' That was a tough hour and a half."
For an elite talent like Rodgers, it was the ultimate embarrassment.
Who drafted Aaron Rodgers and when did they draft him?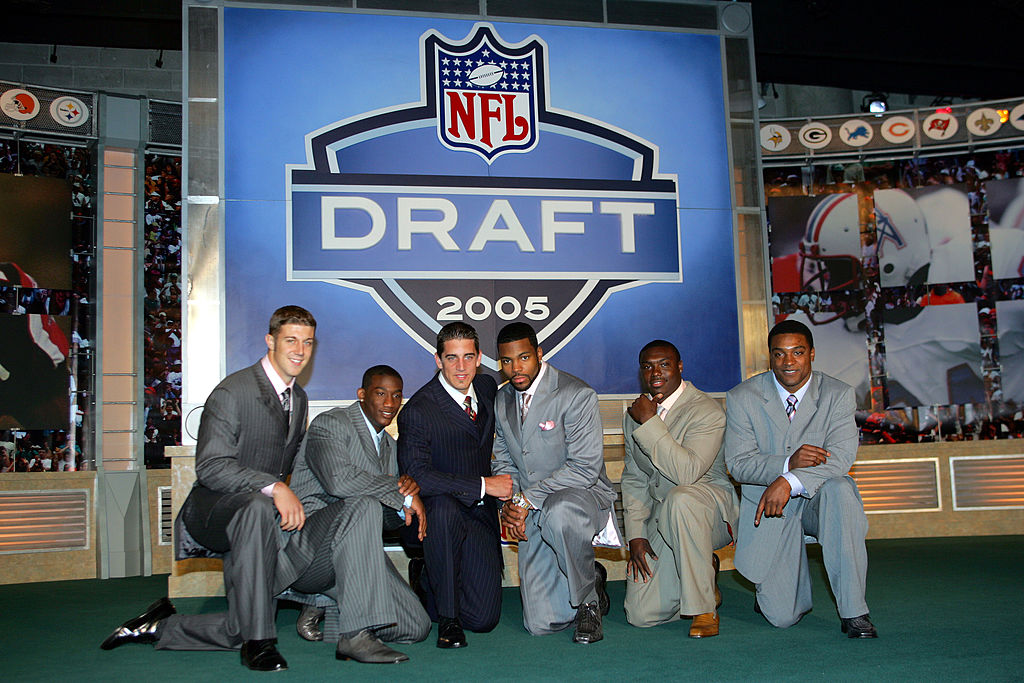 After waiting for what felt like an eternity, the Green Bay Packers selected Rodgers with the 24th pick of the first round. Rodgers was immediately in the middle of a quarterback controversy, as the Packers already had a future Hall of Fame quarterback in Brett Favre.
Suffice to say that Rodgers has made many teams look foolish. He went on to become a Super Bowl-winning quarterback and the best player of his draft class. While Smith has been a capable pro at quarterback, he's never reached Rodgers' heights.
Gruden summarized his mistake in not picking Rodgers the best, as ESPN explains:
"I can still remember it like yesterday. I watched tape with Coach Tedford and Aaron. Was really impressed in the film room and then we went out right there in the stadium … I've still got the picture hanging right here at the FFCA [Fired Football Coaches Association]. It's a memento of why I was fired. You can see one of the greatest regrets in my lifetime."
Despite the shame Rodgers felt, it's fair to say he's more than compensated for it with his Hall of Fame-worthy NFL career.