Why Alex Bowman, the 'Hack,' Goes Back-to-Back at Ruoff Mortgage 500
Believe it or not, Alex Bowman is becoming a dominant presence on the NASCAR Cup Series.
During his past 31 starts, he has five victories.
The "Hack" is becoming known for more than being the driver who "backs" into every win. Bowman is fast becoming not only a dominating presence but a dominant force.
It's why he's poised to capture back-to-back events.
Alex Bowman is making a believer out of Daniel Suarez, NASCAR masses
Daniel Suarez is a Bowman believer. The Cup driver and emerging Fox Sports personality has seen the raw talent emerge over the past three seasons. His seven career wins have come at seven different venues.
"Bowman is building a foundation," Suarez said on NASCAR Race Hub on March 8. "Not just to win, but to be competitive at these tracks is nice."
Two of Bowman's wins developed at 1.5-mile tracks, March 6 at Las Vegas Motor Speedway and 2019 at Chicagoland Speedway. Both times he outdueled Kyle Larson. The first time they weren't teammates. The second time, Bowman benefitted from a two-tire pit strategy to overtake Kyle Busch and then Larson, his teammate this time around.
Bowman, who earned the Stage 1 win, overcame pit-lane issues during the second stage, which dropped him to 19th. He worked his way back up through traffic and benefitted from crew chief Greg Ives' two-tire call.
Suarez spoke of Bowman's "amazing finish" and his growing confidence. Only one driver has won more races than Bowman since the start of last year.
Over the past 39 points races, seven drivers have won more than one NASCAR Cup Series race. Here's the list:
Kyle Larson, 11 wins
Alex Bowman, 5
Martin Truex Jr., 4
Ryan Blaney, 3
Denny Hamlin, 2
Kyle Busch, 2
Chase Elliott, 2
Kyle Larson gets the internal memo from above, play hard, play fair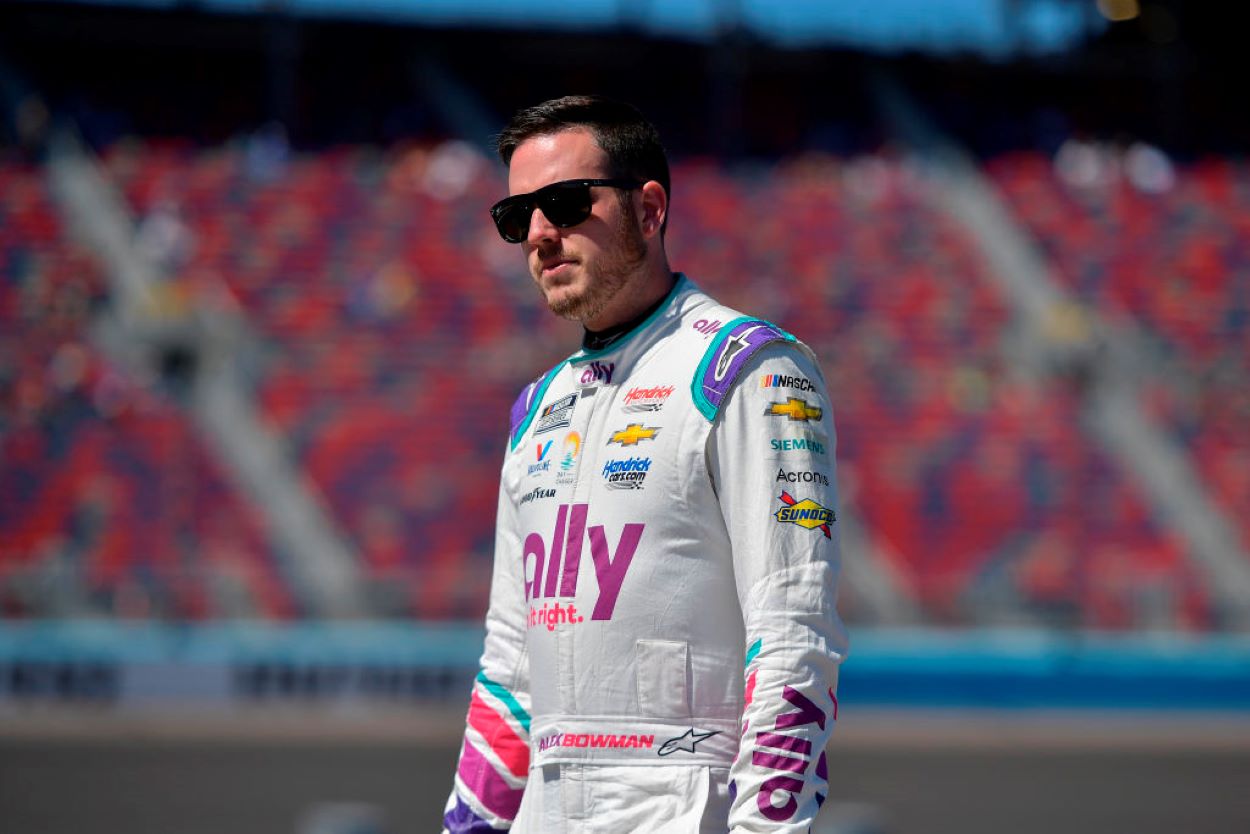 Racing side-by-side with Kyle Larson at Las Vegas, Bowman pulled slightly ahead.
He was fortunate Larson did not channel his inner-Dale Earnhardt Sr. Larson had an opening to give Bowman an aggressive tap, which could have spun him out of contention and propelled the defending series champion to back-to-back checkered flags.
One race after he walled his other teammate, Chase Elliott, to clinch the Wise Power 400 at Auto Club Speedway on Feb. 27, Larson backed off. At that moment, he didn't hear the call of "The Intimidator," he recalled Rick Hendrick's message. The team owner, who rarely joins the early-week competition meetings, made time to let his voice be heard:
"Play hard. Play fair."
During his post-race news conference at Las Vegas, Bowman described his late-race encounter with Larson and the moment he pulled away for the win.
"He was super tight on my door … he ended up getting tight between 3 and 4," Bowman said. "I think 'The Talk' was a big wake-up call. Anytime Mr. H talks, he's got your attention, especially a situation like that.
"Kyle and I historically have raced each other clean. This was no different."
The 'Hack' is poised to win back-to-back NASCAR Cup Series races
Bowman will start the Ruoff Mortgage 500 eight spots behind pole-sitter Ryan Blaney and seven spots behind his buddy, Hamlin. Their simmering rivalry started last season when an aggressive Bowman tapped aside Hamlin, the leader, late and cruised to the playoff win at Martinsville Speedway.
During a season in which Hamlin went winless, the temperamental future NASCAR Hall of Famer went on a post-race tantrum, blocking his celebratory burnout and unleashing a torrent of criticism.
Captured by NBC Sports, Hamlin said: "He's just a hack."
Bowman is beginning to prove otherwise, but considering the amount of "Hack" merchandise he has sold, he'll probably maintain the moniker for a while.
The "Hack" is poised to go back-to-back.
Like Sportscasting on Facebook. Follow us on Twitter @sportscasting19. 
RELATED: NASCAR Notebook: Kyle Larson, 2 Teammates in Prime Position; Daniel Suarez Welcomes 'Daniel's Amigos;' Team Stange Racing Introduced