Why Andrew Luck Decided to Retire from the NFL at Just 29 Years Old
In the late evening on Saturday, August 24, 2019, the football world was hit with a stunning announcement; Andrew Luck has decided to retire from the NFL. Luck is one of the best quarterbacks in the game when healthy and is just 29-years-old as he makes this shocking decision.
Andrew Luck has been dealing with a nagging calf strain this offseason, but Luck himself suggested that he would be ready for week one of the regular season earlier this month. Less than three weeks after declaring that the goal was to return for Week 1 against the Los Angeles Chargers, Luck has instead opted for retirement.
Why is Andrew Luck retiring?
In the same conversation that Andrew Luck expressed his desire to return by Week 1, he also expressed the frustrations that come along with a nagging injury.
"At times I do worry about it," Luck told NBC's Peter King. "It can be frustrating. The arc of an injury, whether it's a big surgical one or something you're rehabbing through. But no, because I've improved. Maybe I'm not improving as fast as I want and missing things is no fun. It eats at you. But I do know at the end of the day if I'm getting the most out of myself, if I'm being the best I can that day, then that's what I need to do."
The most important line of this quote is Luck saying, "it eats at you." This is in line with the report that Adam Schefter made on Saturday night when he said that "Luck is mentally worn down, and now checking out."
Andrew Luck has been dealing with nagging injuries throughout his entire professional career. His shoulder hasn't been 100% since he sprained it back in 2015 against the Tennessee Titans; that labrum injury eventually caused him to miss the entire 2017 season. He has also had a serious rib injury, concussion, and now this high-ankle strain.
We'll learn more in Sunday's press conference, but it seems safe to assume from what we know so far that Luck is tired of being in a perpetual state of rehab. He is also probably concerned about the potential long-term damage he could be doing to his body by continuing to try to play through these injuries.
Cut down in his prime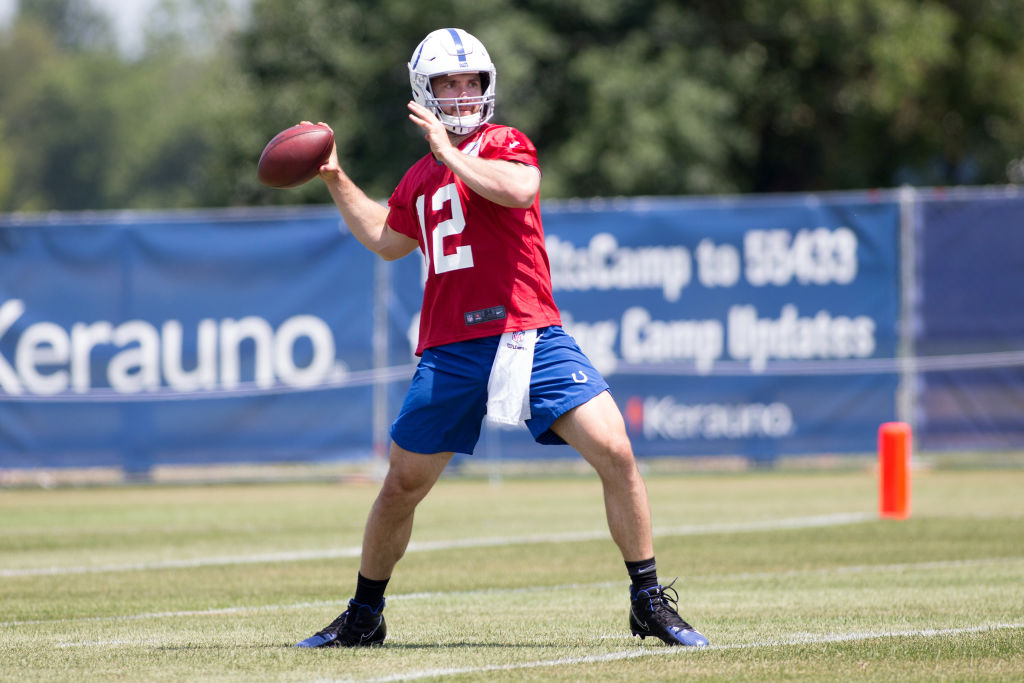 After missing the 2017 season, Luck returned in impressive fashion last season; he finished fifth in the NFL in passing yards with 4,593, second in passing touchdowns with 39, and fifth in total QBR. The 2018 season marked the fourth time he had thrown for at least 4,200 yards through his first six seasons and the third time he had thrown for at least 30 touchdowns.
Luck ends his career with 171 passing touchdowns and 23,671 passing yards in just 86 games played. He also has 16 comebacks and 20 game-winning drives to his name, as well as four Pro Bowl appearances.
A devastating end to what could have been a Hall of Fame career
Drew Brees, Philip Rivers, and Ben Roethlisberger are all still playing at an elite level into their late 30s. Tom Brady is doing so into his early 40s. With the advancements in modern medicine and physical training these days, careers are lasting longer than ever. This is especially true at quarterback as player safety rules look to limit the amount of dangerous high and low hits the quarterback takes.
This is what makes Andrew Luck's decision to retire so shocking and surprising. Even if he took a year or two off to rest and recover, he would still potentially have another decade of football left ahead of him.
It could not have been an easy decision for Luck and his family to come to. Hopefully, the former quarterback finds happiness and good health in his retirement. Andrew Luck will make his decision official in Sunday's press conference.