Why Are Lamar Odom's 2 NBA Championship Rings for Sale?
Lamar Odom put together a solid NBA career duriung his 14 seasons in the league. Most notably, Odom won two championship rings with the Los Angeles Lakers in the 2008-09 and 2009-10 seasons. Despite a recent attempt to reboot his career, Odom's post-NBA life has been marred by his very public struggles with drugs.

Odom also became the source of intrigue when TMZ revealed that his two championship rings would soon be going up for auction. Here we'll take a closer look at Odom's career in the NBA, his contribution to two Lakers titles, and the story behind the surprising auction of his precious—and highly valuable—championship hardware.

Lamar Odom's career in a nutshell
The Los Angeles Clippers drafted Odom with the fourth pick in the 1999 NBA draft. Almost immediately, Odom proved himself to be an impact player, putting up 30 points and 12 rebounds in his very first NBA game. He finished the season averaging 16.6 points, 7.8 rebounds, 4.2 assists, and 1.3 blocks per game — a strong enough performance to earn him NBA All-Rookie First Team honors.

Odom's play continued to improve in his second year with the Clippers. But in the following two seasons, he twice ran afoul of the NBA's anti-drug policy. As a result, Odom missed significant parts of those seasons.
Following the 2002-03 season, the Miami Heat signed Odom. Although the Clippers had the chance to retain their restricted free agent, they instead let him walk.

Odom had a solid season in Miami, but the Heat traded him at the end of the year as part of the package used to acquire superstar Shaquille O'Neal from the Lakers. Odom ultimately spent seven productive years with the Lakers, moving to more of a bench role in the last three years. He then finished out his career with year-long stints with the Dallas Mavericks and Los Angeles Clippers.

Lamar Odom helps the Lakers win two championships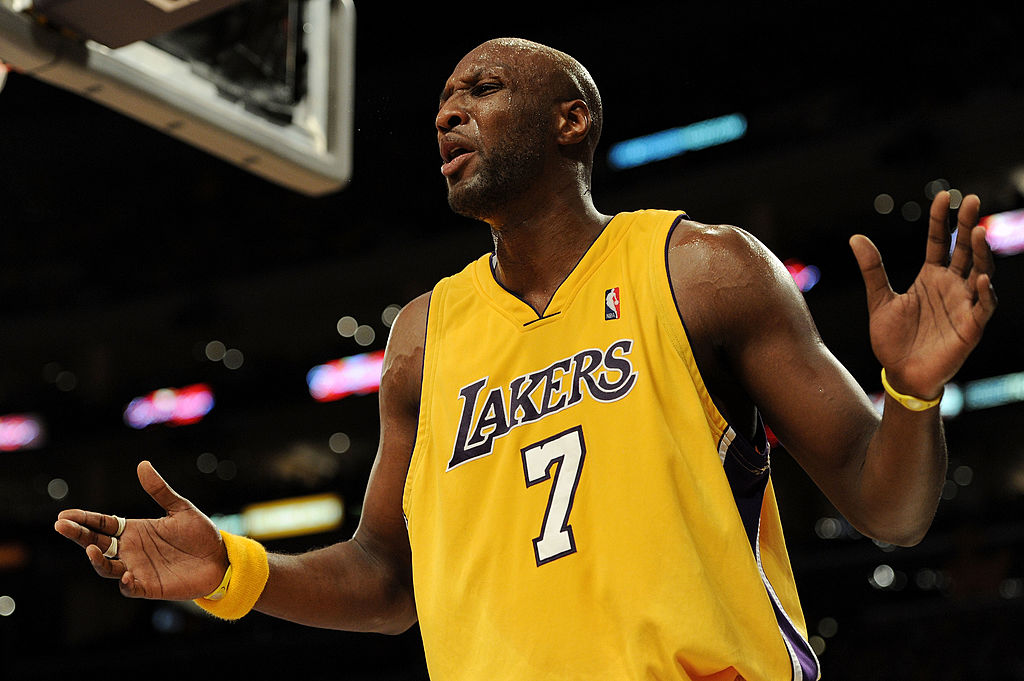 With the Los Angeles Lakers, Lamar Odom made the playoffs for an impressive six straight years. The team also made the finals in three straight playoffs. They lost to the Boston Celtics in the 2008 NBA Finals, only to storm back and capture the next two championships. Odom played a crucial role in both of those Laker's titles.

Starting in the 2008-09 season, then-Lakers' coach Phil Jackson moved Odom to the bench. Nonetheless, Odom averaged 32 and 29 minutes per game in the 2009 and 2010 playoffs, respectively. Odom won praise for his impactful performances not only from his coaching staff and teammates, but also from the media.

Why Odom's rings are for sale — and how much they might cost
Odom's two championships with the Lakers were arguably the crowning point of his entire NBA career. So why will his championship rings be auctioned off? The story goes back several years, to a point when Odom was still married to Khloe Kardashian.

During a troublesome time in their marriage, Odom pawned the rings for some quick cash. Ultimately, he and Kardashian divorced, and somehow Odom never went back to buy back his rings. Now the rings are in the possession of Heritage Auctions, who estimated their value at $50,000 each. Both of the diamond-studded rings feature engravings of Odom's face on their bands.

Bidding starts on January 31, 2020, with the auction itself set to occur on February 22-23. Interested parties will obviously need a significant amount of cash to take home the rings. In addition, if they ever plan to wear them, they will also need extra-large fingers, as Odom's two rings are both size 11.5. Who knows? Maybe even Lamar Odom himself will decide to get in on the action and reclaim his championship hardware.