Why Bubba Wallace is Michael Jordan's New Kwame Brown
NBA icon/NASCAR co-team owner Michael Jordan does not like to be held back. If he wants to do something, what has he not done since winning his first three championships with the Chicago Bulls?
Retire and play minor league baseball? OK.
Return and win three more NBA titles? Thank you.
Go to the Washington Wizards? Here's a first-class ticket.
Trade Kwame Brown? It was a sad final chapter.
Boost Bubba Wallace to the lead lap? Jordan's patience again will be tested.
Bubba Wallace is feeling the pressure to compete more consistently in his fifth NASCAR Cup Series season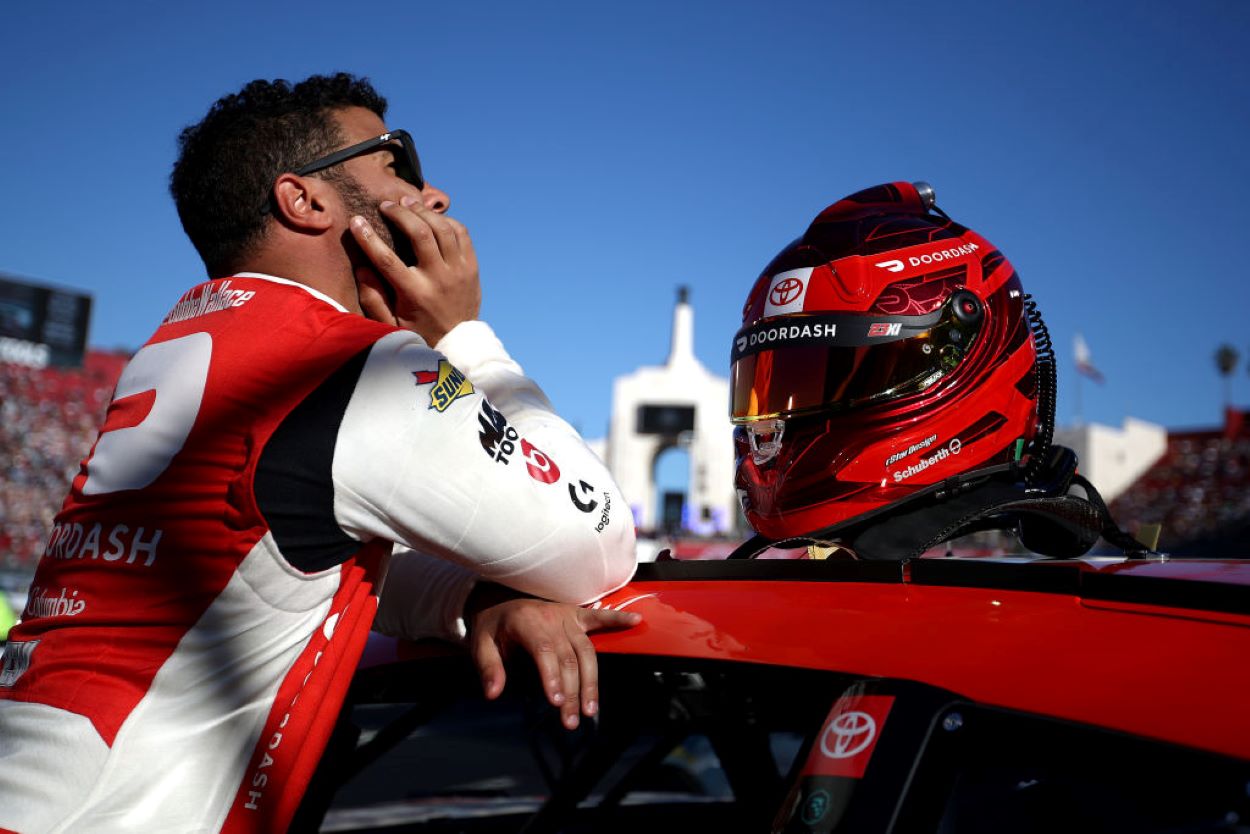 In the final thrilling moments of the Clash at the Coliseum, with television ratings soaring to unprecedented levels for an experimental exhibition, Wallace pulled over to the side, passively allowing the leaders to pass.
Wallace, again, missed his shot.
Last season, he may have made history by becoming the second Black driver to capture a NASCAR premier series race during the fall event at Talladega Superspeedway. However, in the final five playoff races following his Victory Lane appearance, Wallace placed 14th at the Charlotte Motor Speedway Road Course, 32nd at Texas Motor Speedway, 14th at a wind-swept Kansas Speedway, and 25th at Martinsville Speedway, and he crashed out in 39th during the money race at Phoenix Raceway.
In the clutch, Wallace's average finish was 24.8.
Jordan did better with the flu.
How good is Wallace? Entering his fifth full season on the premier series, he has just 12 top-10 finishes in 148 starts. Last season's three top-5s were a career high but half his career total.
As co-owner of 23XI Racing, Jordan's legendary competitive temperament will be tested if Wallace continues to pull over to the side of the track, several laps down, at the end of many more races.
Wallace needs to show more consistency or feel MJ's wrath, like Kwame Brown once did
Brown probably looks at Wallace and says, "Why is MJ giving him so many breaks?" He certainly didn't receive many, if at all. What Brown felt, as an 18-year-old No. 1 overall draft pick in 2001, was Jordan's competitive fury.
As Brown tells it, reported by Black Sports Online, Jordan, who offered his voice to front-office decisions, only wanted Brown to use as trade bait. Jordan needed Bulls All-Star Elton Brand to serve as his de facto Horace Grant, but then-Wizards governor Gabe Polian axed the deal.
Jordan was furious. Brown absorbed his vengeance.
Labeled a bust by Jordan, the label stuck. In 607 career NBA games, Brown averaged just 6.6 points per game. Only once in 14 seasons did Brown average double-digit scoring. He accomplished it during his third season (10.9 PPG), his first without Jordan as a teammate.
Did Jordan contribute to Brown failing to meet his potential?
As a teenage rookie battling wills with the six-time NBA champion and mega marketing force, Brown folded.
Wallace needs to discover his inner-Jordan and duplicate Talladega triumph
During his offseason, Wallace missed valuable Next Gen car tests while recovering from shoulder surgery. He finally returned in time for the final session at Phoenix before participating in the Clash at the Coliseum.
The recovery process could prove costly. If a driver needed extra seat time this winter, it was Wallace. After a profanity-laced practice run along the quarter-mile track at Los Angeles Memorial Coliseum on Feb. 5, Wallace placed fifth in his first qualifying run, forcing him into a last-chance qualifier.
He ended up advancing, but after allowing winner Joey Logano and runner-up Kyle Busch a free path to the finish line during the final moments of the Clash, Wallace came in 18th out of 23 — certainly not Jordan-esque.
How long until Wallace starts feeling Jordan's wrath like Brown once did?
Like Sportscasting on Facebook. Follow us on Twitter @sportscasting19.
RELATED: Happy Next 'National Bubba Day:' What is Bubba Wallace's Real Name and How Did He Get His Iconic Nickname?