Why Carlos Sainz Jr. Believes Lewis Hamilton and Max Verstappen Are Beatable
Carlos Sainz Jr. is not scared of Formula 1's big bad wolves, Mercedes' Lewis Hamilton and Red Bull Racing's Max Verstappen. The Ferrari driver stood on four podiums during 2021, compared to 18 for Verstappen and 17 for Hamilton.
Still, Sainz contends the discrepancies in Top 3 finishes point to the teams' uneven technology, not driver skill.
Sainz maintains that if he drove identical cars as Hamilton and Verstappen, F1's top two drivers last season would not only be vulnerable, but they would be beatable.
Carlos Sainz Jr. wants to drive on an even track with Lewis Hamilton and F1 champion Max Verstappen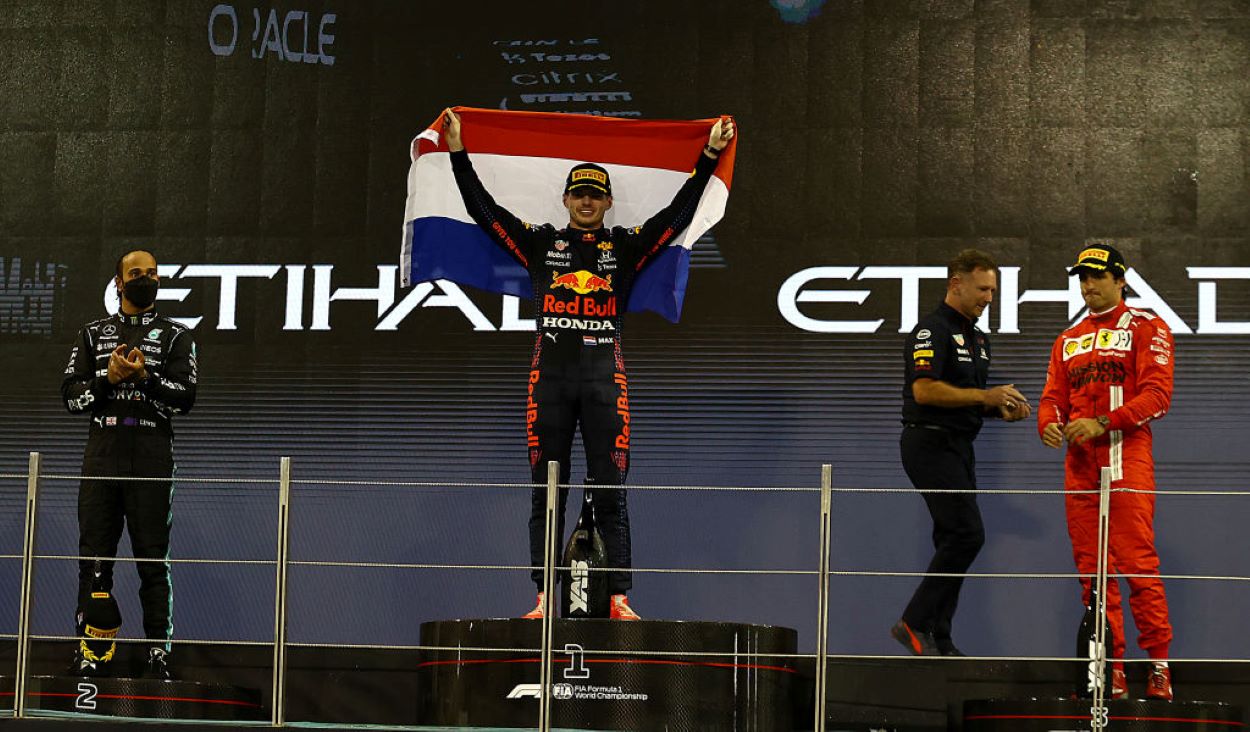 Does Sainz sound cocky?
Or confident?
Verstappen, who claimed the title on a controversial last-lap pass of the season finale, placed first in the drivers' standings with 395.5 points, scoring in 19 of 22 events. Runner-up Hamilton, who missed out on capturing his record eighth F1 title, finished with 387.5 points. Former Mercedes pilot Valtteri Bottas placed 169.5 points behind the leader at a distant third.
One of only three F1 drivers to score in 20 races, Sainz came in fifth, 231 points behind the champ. He placed 10th once, eighth and seventh four times, and sixth five times. Solid runs, but far behind Hamilton and Verstappen.
The difference is in the machines, not the men, Sainz said, reported by planetf1.com.
"With the same car, I think they can be beatable, or at least on more equal terms than they were this year," Sainz said on the Spanish television program "El Hormiguero" and translated by AS.
Sainz: 'The issue is at least as old as the history of Formula 1 itself' 
Sainz shared the season-ending podium with Verstappen and Hamilton following the Abu Dhabi Grand Prix on Dec. 12. His P3 helped Ferrari clinch third place in the constructors' standings, but, still, far behind powerhouse Mercedes, which earned its eighth consecutive title with 613.5 points. Verstappen-led Red Bull placed second with 585.5 points. Then comes Ferrari, 290 points behind Hamilton's crew. 
Like during a lopsided Qatar GP on Nov. 21, Hamilton and Verstappen often distanced themselves significantly from the field last season. The predominant image from 2021, outside of Verstappen's last-lap pass to clinch the championship, was seeing Hamilton-Verstappen run 1-2, or vice-versa. 
But Sainz still sees himself sharing the stage with two of F1's most intriguing personalities. In '22, he's looking to drive out of the F1 shadows.
"Mercedes and Red Bull were faster by eight-tenths of a second per lap, and I want to think that between all the drivers, there is no more than two or three-tenths of a second difference," Sainz calculated. "The issue is at least as old as the history of Formula 1 itself – 'if there is a driver who drives a car eight-tenths of a second faster, it doesn't matter how good you are, you will never be able to beat him.' " 
Sainz: 'I hope F1 can be more balanced next year so we can have more fun and compete at a similar level'
With a new set of F1 regulations coming in 2022, the concept remains to even the field. To make the machines more comparable.
Just like Sainz desires.
Sainz beat out his teammate, Charles Leclerc, by 5.5 points in the drivers' standings last season. It could be considered an upset. To Sainz, it was a significant statement, although he'll still enter '22 as the team's second car.
"In Formula 1, this battle is given importance because it's the only one with the same car as you, so you can only compare yourself with your teammate," Sainz said. "I hope F1 can be more balanced next year so we can have more fun and compete at a similar level."
The hyped potential rematch between Hamilton vs. Verstappen could come with a third wheel, Sainz.
Like Sportscasting on Facebook. Follow us on Twitter @sportscasting19.