NBA
Why Chris Broussard Doesn't Believe LeBron James' Lakers Are the Team to Beat in the NBA
This year's Los Angeles Lakers team came into the season with relatively high expectations, thanks to their superstar pairing of LeBron James and Anthony Davis. While some commentators expressed concerns about the Lakers' lack of depth, most assumed that the Lakers would enjoy a deep postseason run. Some, like basketball analyst Chris Broussard, even went so far as to pick the Lakers to win the title.

By most accounts, the Lakers' season so far has exceeded expectations. Not only are LeBron and AD a natural match, but the supporting cast has fit in perfectly around them. Yet while he still thinks the Lakers are capable of winning a title, Chris Broussard isn't completely convinced they're the best team in the league. Here's why.

The 2019-2020 Lakers
The current Lakers roster is significantly different from last year's, to put it mildly. The Anthony Davis trade cost the Lakers Lonzo Ball, Brandon Ingram, Josh Hart, and draft picks. The Lakers also lost trusted vets such as Tyson Chandler and Mike Muscala to free agency. On top of it all, pick-up DeMarcus Cousins tore his left ACL during the offseason — an injury that will keep him out indefinitely.

All of those factors led many people to express concern about the amount of depth on the Lakers' roster. Yet LeBron James and the Lakers came out of the gate at a torrid pace, racking up a 24-3 record over the first two months of the season. A lot of that success has been built on an amazing dedication to getting defensive stops.

In particular, additions like Danny Green and Avery Bradley have provided a significant defensive upgrade, while also spacing the floor with their three-point shooting. Meanwhile, Dwight Howard looks like the Superman of old as the Lakers' backup center.

LeBron James and Anthony Davis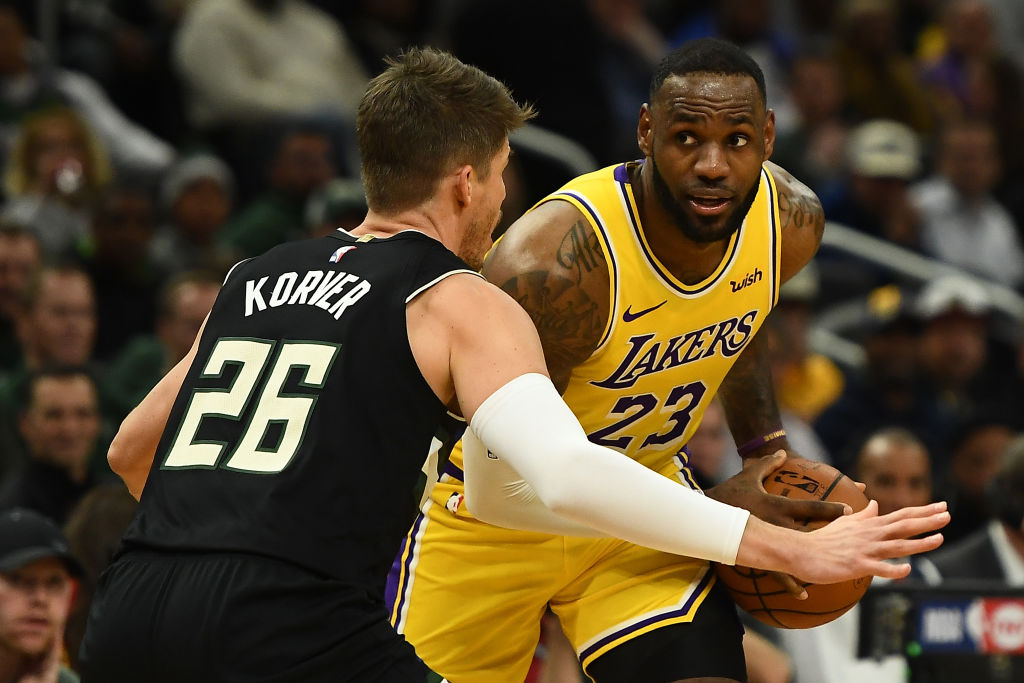 While the Lakers' role plays contributed to their early success, the impact of the tandem of LeBron and AD simply cannot be overstated. The two superstars have shown a remarkable synergy, with James' ability to score from anywhere proving the perfect complement to AD's dominant post play.

These complementary skillsets have led to a staggering number of assists. As of December 16th, James had dished a staggering 86 assists to Davis — more than any other teammate combo in the NBA so far. When LeBron and AD share the court, they have also sported the 6th best net rating of any duo in the league, at plus-12.2.

Chris Broussard's reservations
So, with all this evidence of excellence, why exactly did Broussard choose to qualify his earlier endorsement of LeBron James and his Lakers teammates? To begin with, it is important to note that Broussard did not take back his statement that the Lakers can win the title. Instead, he seemed to suggest that the season is too young to make predictions about this team's long-term capabilities.

Broussard referenced a few other recent hot starts that didn't pan out. The Celtics in Kyrie Irving's first year got off to a 22-4 start, only to falter in the playoffs. The 2019-20 Bucks also quickly built up a 21-3 record, yet nobody seems convinced that they will make it all the way to the NBA Finals.

Finally, and perhaps most dramatically, Broussard brought up the 2015-16 Golden State Warriors team, who posted a historically great 73-9 record, only to lose to the James-led Cavaliers in the playoffs. That team is the perfect example of the fact that regular season performance is no guarantee of postseason success.

Ultimately, Broussard didn't take back his pick that the Lakers would win it all. But he did emphasize that he wants to see more of how this team works together before he starts getting carried away with talk of championship rings.