Why Davante Adams' Unanimous Selection to the 2021 NFL All-Pro Team Made a Franchise Tag More Likely for the Green Bay Packers
Only five players were considered unanimous choices for the 20201 NFL All-Pro Team. Of course, Green Bay Packers wide receiver Davante Adams was one of those five.
It's well deserved. Adams has ascended to the upper-echelon of superstars in the NFL, not just wide receivers.
Ironically, though, this selection may make it more likely that he doesn't end up with a long-term contract this offseason. In fact, it makes a franchise tag the much more viable solution for Green Bay.
Green Bay Packers WR Davante Adams is one of five unanimous NFL All-Pros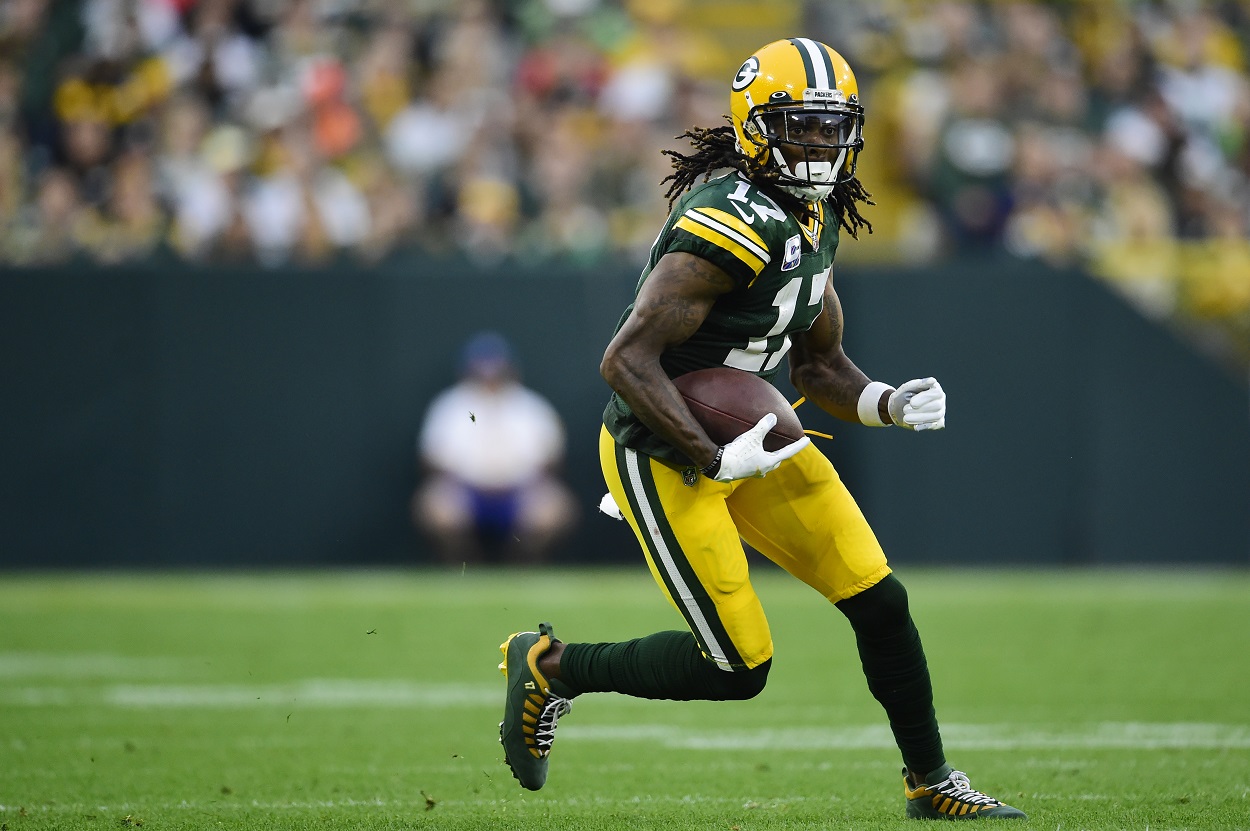 It's an honor that's 100% deserved by Adams, but it's really just icing on the cake. Anybody who has seen Adams play this season knows that he's, without a doubt, the most dominant receiver in the NFL. This just, on paper, proves it.
There's a saying in Green Bay that Adams is a top-two receiver in the NFL, and he's not No 2.
Los Angeles Rams wideout Cooper Kupp, also a unanimous choice for The Associated Press 2021 NFL All-Pro Team, may have something to say about that, but the eye in the sky that doesn't lie (the film) confirms that Adams has been otherwordly this season. Yes, Kupp won the wide receiver Triple Crown, leading the league in receptions (145), yards (1,947), and touchdowns (16), but Adams wasn't far behind him with 123 receptions for 1,553 yards and 11 touchdowns. Not only did he play in one less game than Kupp, but defenses had no choice but to double team him, if not triple-team him, on just about every possession.
He is Aaron Rodgers' No. 1 target by far, and he put up those numbers despite being every defensive coordinator's No. 1 focus.
Along with Adams and Cupp, Colts running back Jonathan Taylor, Steelers pass-rusher T.J. Watt, and Rams defensive tackle Aaron Donald were also unanimous All-Pros.
The Packers have a problematic salary cap situation brewing
Adams is in the final season of his deal with Green Bay and is set to be an unrestricted free agent in the 2022 league year. He's undoubtedly hoping that Green Bay will offer him a long-term contract and make him the highest-paid wide receiver in NFL history, but the Packers have somewhat of a cap issue on their hands over the next few seasons.
The downside of being a Super Bowl contender is that you eventually have to pay all the players that got you there and just in 2022 alone, there are some notable free agents. Adams highlights that list, but the Packers will certainly want to bring linebacker De'Vondre Campbell back. He's been arguably their best defensive player this season. Other notable free agents include tight end Robert Tonyan Jr. and wideouts Allen Lazard and Marquez Valdes-Scantling.
Tonyan might be expendable with the slight emergence of Josiah Deguara, but will the Packers want to move on from the player who caught 11 touchdowns in 2020 and clearly has the trust of Rodgers?
Lazard is another interesting case study. He was an undrafted free agent who the Packers picked off the Jacksonville Jaguars practice squad. He had the best regular season of his career in 2021, though, and became a staple of Green Bay's offense, catching 40 passes for 513 yards and eight touchdowns.
He's going to want to get paid what he's worth to the Packers this offseason.
Looking ahead to 2023, unrestricted free agents include Za'Darius Smith, Preston Smith, Adrian Amos, Elgton Jenkins, and Jaire Alexander. All five of those players are key pieces in any success Green Bay has had over the past few seasons.
Why a franchise tag is much more likely for Adams in 2022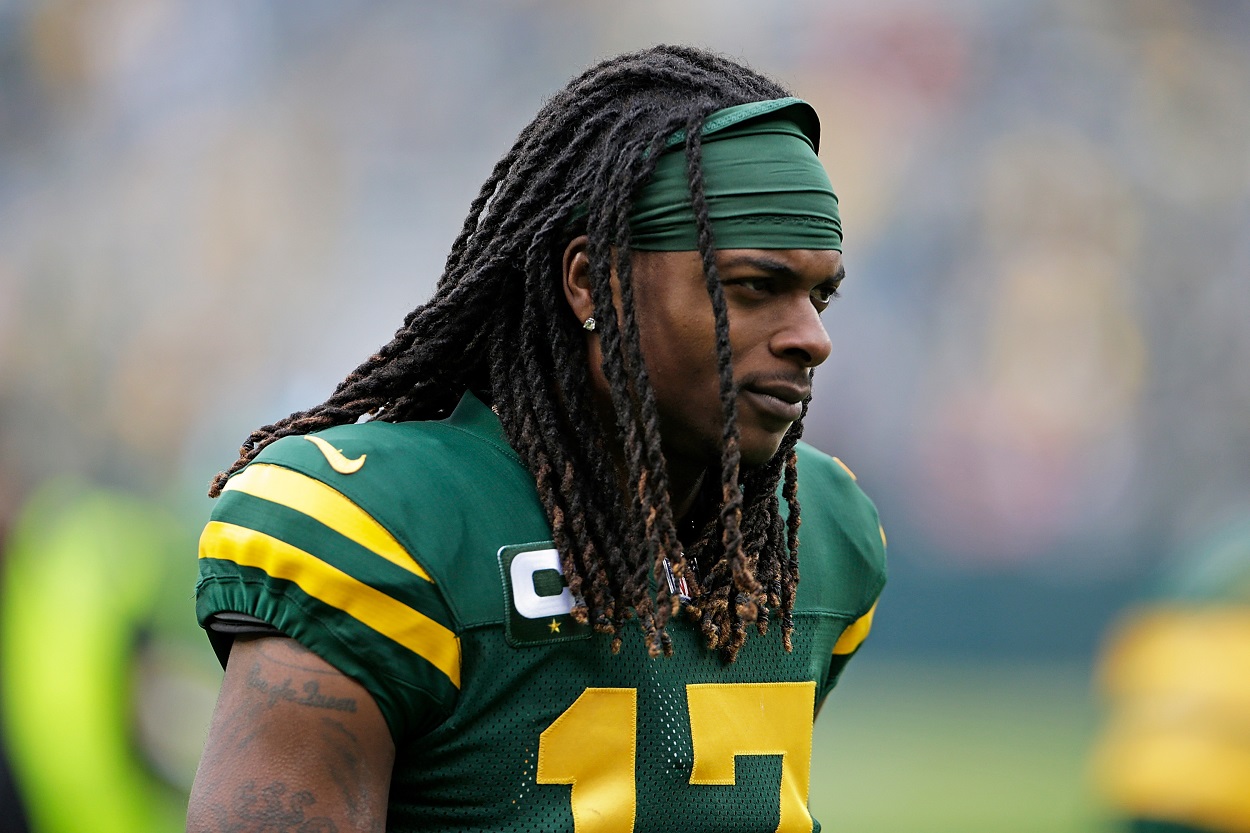 The long and short of it is that the Packers have a lot of good players who are going to want to get paid. Having arguably the No. 1 player at two positions, quarterback and wide receiver, makes that hard, though.
Adams has been explicit in the past that his negotiation starts at the very top. He wants to be paid more than DeAndre Hopkins, who signed a two-year, $54 million contract with the Arizona Cardinals with $42.75 million of it fully guaranteed. The case can be made that Adams is deserving of that money. The unanimous All-Pro selection is all he needs to point to as his negotiation point. And you can bet that if the Packers had it and could keep the rest of their core together, they'd give it to him. That seems like a tough pill to swallow, though, especially with Rodgers making $46.4 million in 2022.
Something is going to have to give, but the Packers do have an ace up their sleeve, and that's the franchise tag.
Ian Rapoport reported in early January that the Packers are heading toward giving Adams the franchise tag in the offseason. In fact, he called it an eventuality, according to his sources.
"The Packers give Adams the franchise tag following the season before attempting to work out a long-term deal," he reported. "Based off Adams' current salary situation, the franchise tag is expected to be about $20 million."
The franchise tag allows the Packers to save money in 2022 while keeping Adams out of the unrestricted free agency. That would buy Green Bay another season to work out its cap and hopefully work on a long-term deal for Adams. The downside, at least for Adams, is that there are no guarantees after 2022. If he went out and underperformed, or worse, gets injured, he could end up losing himself a ton of money.
It's a risky move for the Packers as they undoubtedly have some long-term tensions to sort out with Rodgers this offseason. Potentially angering his friend and favorite target with a franchise tag could make things very tense once again in Green Bay.
Without a doubt, though, the unanimous All-Pro selection makes this scenario much more likely. While it's a massive honor for Adams, it's also an enormous bargaining chip in his back pocket.
From a pure business perspective, the Packers can nullify that bargaining chip with the franchise tag.
Stats courtesy of ESPN and Pro Football Reference.
RELATED: Green Bay Packers QB Aaron Rodgers Explains His 'Mind-Meld' Connection With Davante Adams
Related post url: