Why Derrick Rose Needs to Give Up on Stardom
You have to feel for Derrick Rose.
Just when it seemed like the Chicago Bull was starting to find his form, things took a turn for the worse for the former MVP. The Bulls announced Tuesday that Rose suffered a torn meniscus in his right knee and will undergo surgery to repair the injury. And while the team will not discuss a timetable for his return until after the surgery, this is yet another crushing blow for one of the NBA's young stars.
This will be the third time in as many years that Rose will need to undergo major knee surgery. His latest injury is the same one that he obtained just 10 games into the 2013-14 season. And before that, Rose was forced to miss the entire 2012-2013 season after tearing the ACL in his left knee during the Game 1 of the 2012 NBA playoffs. It's safe to say that this has to be disheartening for a player whose career had such promise following his 2010-2011 MVP campaign.
No one likes to see a player suffer a major injury, let alone three. But you have to wonder how Rose is going to bounce back from this devastating situation. And unfortunately, the topic of discussion will once again revolve around whether Rose will be able to come back from this. However, the question we should really be asking ourselves is an even harder pill to swallow: Is it time for Derrick Rose to give up on stardom?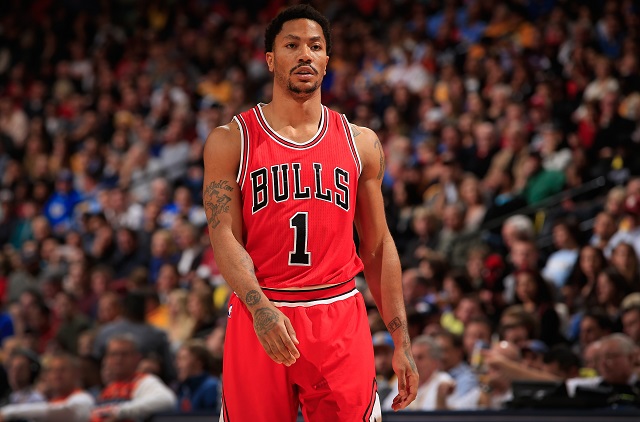 Rose played in 46 games this season, the most he's recorded since his MVP year. And before this current injury, Rose was doing solid work on the floor. He was averaging 18.4 points, 5.0 assists, and 3.1 rebounds per game, and it appeared that he was beginning to get comfortable again on the court. This is crucial for a player who relies heavily on his athletic ability.
It's this athleticism that can often give a player a leg up on an opponent. And for Rose, it's a part of his game that has distinguished him from most of his peers during his tenure in the NBA. Unfortunately, it's clear that he's no longer the same player he was prior to the injuries. We know this. And somewhere deep inside himself, Rose has to know this, too. It's time we all act accordingly.
Rose entered the league with crazy high expectations. It had been quite some time since anyone had ever seen that kind of explosive play. Rose was insanely fast and almost impossible to stop from getting to the basket. He absorbed the contact, made ridiculous shots, and looked to be the next great Chicago Bull. He was the face of the franchise, the hopes and dreams of a city that hadn't seen real success since the days of Michael Jordan.
Imagine the pressure he must've felt. Can anyone truly live up to that kind of hype? It's the kind of stress that only finds its way to anointed superstars. And this is how it's been for Rose his entire career. Imagine if he could take a step back and play without the fear of disappointing an entire fan base. Could this be exactly what he needs to have a successful NBA career?
It's time to let Rose off the hook. It's time to let go of all that you expected from the former Memphis standout. It's time to accept that Rose may never become the player you always assumed he would be. And if you don't, then you're only setting yourself up for disappointment. On top of that, Rose needs to be willing to give up his status as one of the league's superstars.
There is too much pressure surrounding Derrick Rose. Not only does it appear to drain him mentally, but his body clearly can't handle the stress. It's challenging enough to reach superstardom, but it has to be more difficult to maintain that kind of status. Rose has shown us firsthand that it doesn't always pay to be among the elite. Maybe it's time to give himself a break. Hasn't his body suffered enough?
All statistics are courtesy of Basketball-Reference.com.