Why Devin Hester Is the Best NFL Returner Ever
Devin Hester made headlines — and history — on Thursday, September 18, when he returned a punt 62 yards for a touchdown in a 56-14 win over the Tampa Bay Buccaneers. Hester's score (which ironically came against former coach Lovie Smith) set the all-time NFL record for most return touchdowns, giving the current Falcon and former Bear a total of twenty in his career. When Hester's career eventually ends, the 5-foot-11 speedster out of Miami will be remembered as the league's best return man ever. Here's why.
The numbers say so
Hester's 20 return touchdowns are the most of any NFL player ever, and have come solely on special teams (the next three closest contenders — Deion Sanders, Rod Woodson, and Ronde Barber — all got many more snaps toward their accumulated totals by playing defense). Hester has run one missed field goal, five kickoffs, and fourteen punts back for scores since he came into the league in 2006. The fourteen punt return touchdowns are the most in NFL history by a wide margin — no other player has managed more than ten. At only 31 years old, Hester has a chance to further put his records out of reach before hanging up the cleats.
Deion Sanders says so
The man whose record Hester broke, Deion Sanders, was in attendance to see Hester break their tie with his twentieth return touchdown. Hester even paid tribute to 'Prime Time' with one of Deion's classic celebrations en route to the end zone. Sanders posted on Twitter later, "@D_Hest23 like I said is the BEST EVER!! #TRUTH", and the two shared an emotional conversation as commentator/mentor and player/friend during a postgame television interview. If anyone is qualified to decide who the best returner in NFL history is, it should be Deion Sanders. Or, in Sanders' words, "Yeah I said that and I should know!"
The highlights say so
Take a few minutes and relive for yourself the magic of Devin Hester in the open field with the ball in his hands after a punt or a kickoff. The elusiveness, the blinding speed, and the predictable result. Times twenty. From the two kickoff returns in the same game as a rookie against St. Louis…to the pair of scores (punt and kickoff both) against Denver in 2007…to the opening kickoff of Super Bowl XLI…to the play that beat Dennis Green's Cardinals in 2006 and sparked the now-famous "They are who we thought they were!" rant…Devin Hester's special teams career is basically one giant highlight reel, and it's a film unmatched by any other player that's come before him. That only leaves us with one question…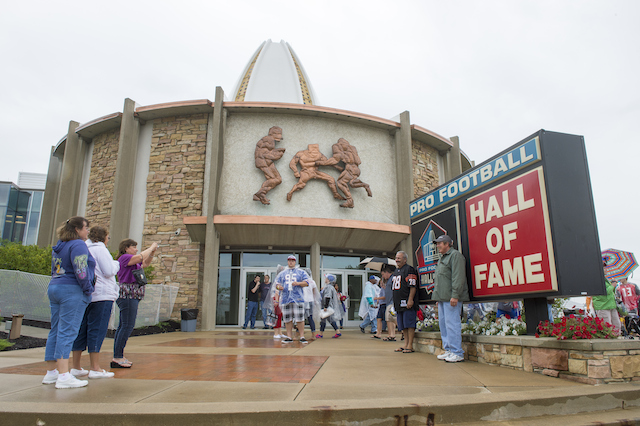 Will the Hall of Fame say so?
Hester has never broken through as a premier receiver in the NFL, and it remains to be seen if his special teams resume alone is enough to earn him a bust in Canton someday. The guess here is that it is, although it may take some time. Hester himself was glad to see punter Ray Guy inducted this summer, as every little bit of positive momentum for players whose main contributions came on special teams is a good sign for the Falcons returner's chances. When it's all said and done, expect to see the best NFL returner ever enshrined where he belongs — the Pro Football Hall of Fame — in recognition of a 'score' of scores that won't be equaled anytime soon.