Why Did Joe Rogan Quit the UFC and How Did Dana White Get Him to Return?
One of the UFC's most popular personalities, Rogan has earned his position through years of passion and hard work for the sport. The lifelong martial artist's knowledge of combat sports has helped him become the most famous UFC commentator. But Rogan actually quit working with the UFC for a time.
The early days of the UFC
During its very early years, the UFC first hired Rogan to work as a post-fight interviewer. This was back before current UFC President Dana White was even involved with the organization. Not only was the UFC different in the '90s, but Rogan was, too. 
The UFC had been banned from many places due to how violent it was. As a result, it was pretty much an underground organization. This ultimately led to money issues, which led to the UFC selling itself to White and his business partners. These issues also affected Rogan.
As he said on his podcast, he was "losing money" working for the UFC. This is because, before Rogan became a famous commentator and podcaster, he did standup comedy among other gigs. These jobs paid Rogan more than the UFC did. So, anytime he chose to work for the UFC instead of doing comedy, he lost money.
After two years, Rogan quit his job at the UFC. Not long after, White and his business partners bought out the UFC. 
How Dana White convinced Rogan to return
As Rogan explained on his podcast, after White bought the organization, the UFC started putting on small shows in Vegas. It needed to rebrand itself. One way the UFC did this involved paying famous people, like Rogan, to attend the events so audiences at home would see them.
Rogan didn't mind this; he was a UFC fan after all. So he got to attend the events for free with his friends. However, one day, Rogan said he was telling White about all these famous MMA fighters in Japan. White realized how knowledgeable Rogan was, so he asked him to be a commentator. 
It wasn't a real job though, as the UFC still had financial problems. So, instead of paying Rogan money, the UFC allowed him and his friends to attend the events for free. This started at UFC 37.5 in 2002, and it went on for 12 more events, according to Rogan.
Dana White's wild plan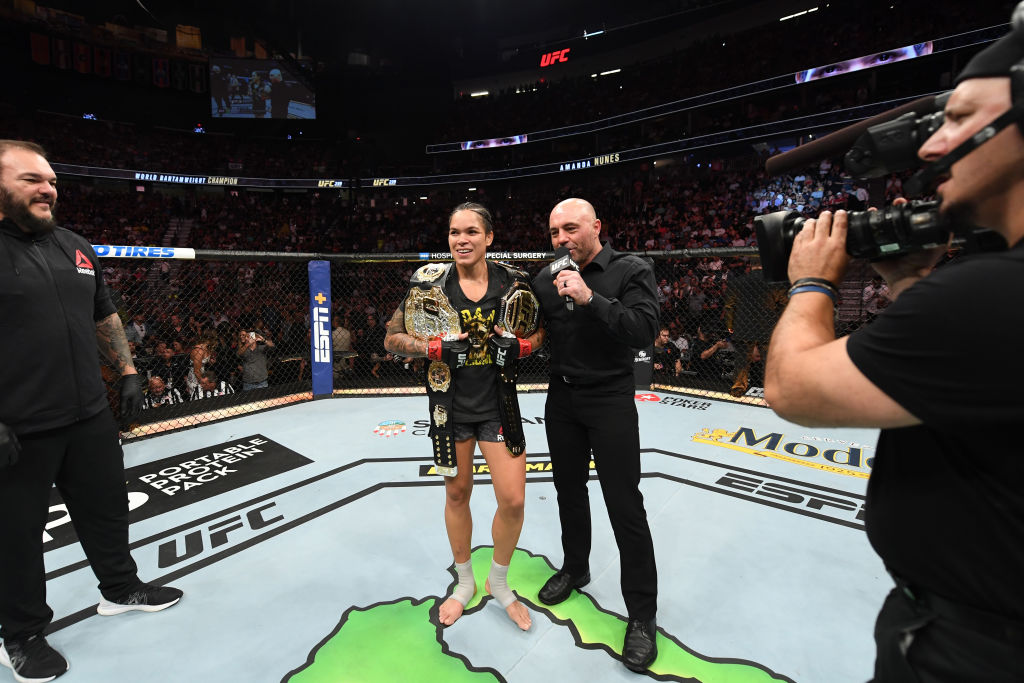 Despite the fact that Rogan was not a commentator, White thought he'd be a great one. Like Rogan said on his podcast, this was part of White's strange way of looking at things. For all intents and purposes, it worked. 
Rogan had no commentary training, but he used his knowledge of martial arts to discuss the fights as he saw them. He had help, too. The TV personality said he'd ask questions to Brazilian Jiu-Jitsu specialists on-air so he could give audiences an accurate picture of what was going on. 
This bootstrap style of commentating panned out, as the UFC has only been growing since then. While Rogan is getting older, he'll likely commentate for the UFC for a long time — especially since he's getting paid.
Follow more updates from Sportscasting on our Facebook page.