Why Did Jordy Nelson Decide to Retire When He Still Had NFL Offers?
Jordy Nelson spent 10 of his 11 years in the NFL with the Green Bay Packers. On August 4, 2019, Nelson signed a one-day contract with the Packers so that he could retire as a member of his former team. The 34-year-old retires as a Super Bowl Champion after he helped lead Green Bay to a Super Bowl victory in Super Bowl XLV.
Nelson had a productive season with the Oakland Raiders last season, so his retirement came as a bit of a surprise to many football fans who expected to see him back on the field in 2019. Here's a look back at this impressive career and the reason why Jordy Nelson decided to hang up the cleats.
Jordy Nelson is one of Green Bay's all-time great wide receivers
At first glance, Jordy Nelson's resume isn't all that impressive. The 11-year veteran made the Pro Bowl only once. But by the time it was all said and done, Nelson had established himself as one of the best wide receivers in Packers franchise history.
Per ESPN's Stats and Info, in 136 games played for Green Bay, Nelson had 550 receptions (ranking third in Packers history), 7,848 receiving yards (ranked fifth), 69 receiving touchdowns (ranked second) and 25 100-yard games (ranked third). The 65 passing touchdowns that he and Aaron Rodgers combined for broke the team record for a quarterback-receiver tandem that was previously held by Brett Favre and Antonio Freeman at 58 touchdowns.
Back when Nelson was playing in a more limited role in the offense in 2010, he saved his best performance of the season for when it mattered most. In Super Bowl XLV, Nelson out-performed Greg Jennings and James Jones when he caught nine passes for 140 yards and a touchdown in Green Bay's 31-25 Super Bowl victory.
Jordy Nelson also won NFL Comeback Player of the Year in 2016. After missing the entire 2015 season with a torn ACL suffered in the preseason, Nelson bounced back to lead the NFL in touchdown receptions with 14 in 2016 to go along with 97 catches and 1,257 receiving yards. From 2013 through 2016, he averaged 93 catches, 1,363 receiving yards, and 11.7 touchdowns per season.
He still had something left in the tank in 2018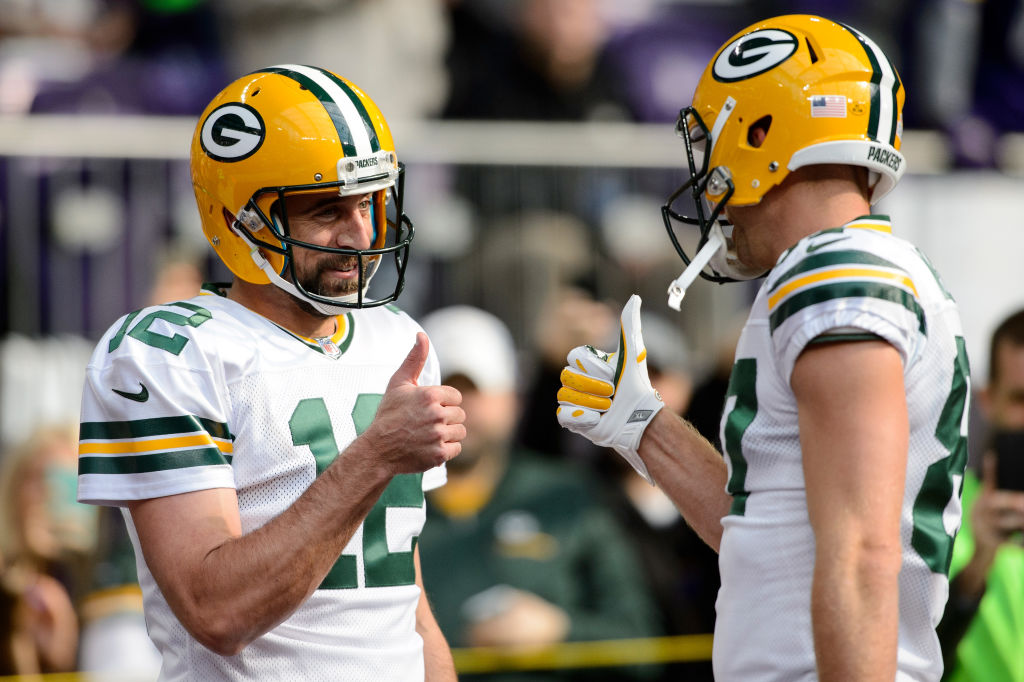 Nelson signed a two-year contract with the Oakland Raiders after being cut by the Packers at the end of the 2017 season. Through the first 11 games of the season, Nelson was used in a depth role behind the team's primary receiver Amari Cooper.
But after Cooper was traded to the Dallas Cowboys, Nelson's took on a larger role in the offense over the last five games of the season. He proved that he could still compete at a high level averaging 7.6 catches and 77.2 receiving yards per game over that stretch.
The Raiders released Jordy Nelson this offseason as they added Antonio Brown and Tyrell Williams to their roster. Nelson reportedly had offers around the league for a new job, but decided it was time to retire instead.
In the end, he decided to retire for his family
Jordy Nelson once told ESPN the Magazine that he identifies more as a farmer than a football player. During the offseason, he reportedly spends up to 12 hours a day working on his family farm in Riley, Kansas. After moving his family to Oakland and spending less than a year there, Nelson didn't want to put the family through another move to continue his career.
He also considered it a blessing that he could retire so healthy. "I enjoyed my eleven years in the NFL. I'm able to walk away extremely healthy, have myself ready to go workout or farm or whatever. I'm not hurting each and every day, so I'll take that as a blessing. If it's a year too soon, I'd rather have that than a year too late."
If the Kansas City Chiefs ever come calling and Nelson and his family can remain in Riley, he'd certainly take that phone call. But in the meantime, he'll enjoy his healthy retirement as a member of the Green Bay Packers.