Why Did Michael Jordan Treat Dennis Rodman Better Than Other Teammates?
Michael Jordan was determined to win every game he played and win the NBA championship every season of his career. Because of that, he demanded a lot from his teammates, and he sometimes came off as being abrupt with them and not being the friendliest teammate.
That wasn't always the case, though, as at least one teammate seemed to be treated better by Jordan than others. That player, Dennis Rodman, was already a star in the NBA before joining the Bulls for their second three-peat of the '90s.
Dennis Rodman's pre-NBA career
Rodman played nine seasons for the Pistons and Spurs before he joined the Bulls for the 1995-96 season. During his time with Detroit and San Antonio, Rodman averaged 7.2 points, 14.3 rebounds, and 1.6 assists per game.
He had earned NBA Defensive Player of the Year honors twice in that span, and he was named an All-Star twice before he joined the Bulls. He also won the league's rebounding title three times prior to teaming up with Jordan in Chicago.
So Rodman was already an established star before he joined the Bulls for what would end up being three seasons with the team. That may have helped his relationship with Jordan.
Michael Jordan treats Rodman better than other teammates?
Rodman says Jordan treated him differently than other teammates because he had a similar will to win as Jordan and — perhaps more importantly — because Rodman was already a winner in his previous stops in the NBA prior to the Bulls.
Jordan knew that Rodman knew what it takes to succeed in the league and, as a veteran, he could help Jordan lead the Bulls to more titles. In an interview with Piers Morgan, Rodman defended Jordan against accusations that he was "a bit of a bully" and could be "unpleasant to play with."
In response to that, Rodman said he didn't "pull that" on him because of his past with his previous winning teams and because Jordan viewed Rodman as the missing piece that the Bulls needed to get back to the top of the NBA ladder. Rodman said he thinks Jordan's teammates from his first threepeat felt that he was throwing them under the bus, implying they weren't good enough to continue winning championships and the team had to bring in a veteran like Rodman to get them back over the hump.
Rodman says he didn't care if Jordan took up most of the spotlight because he was already famous and didn't need Jordan to help him gain fame.
Rodman's fame off the court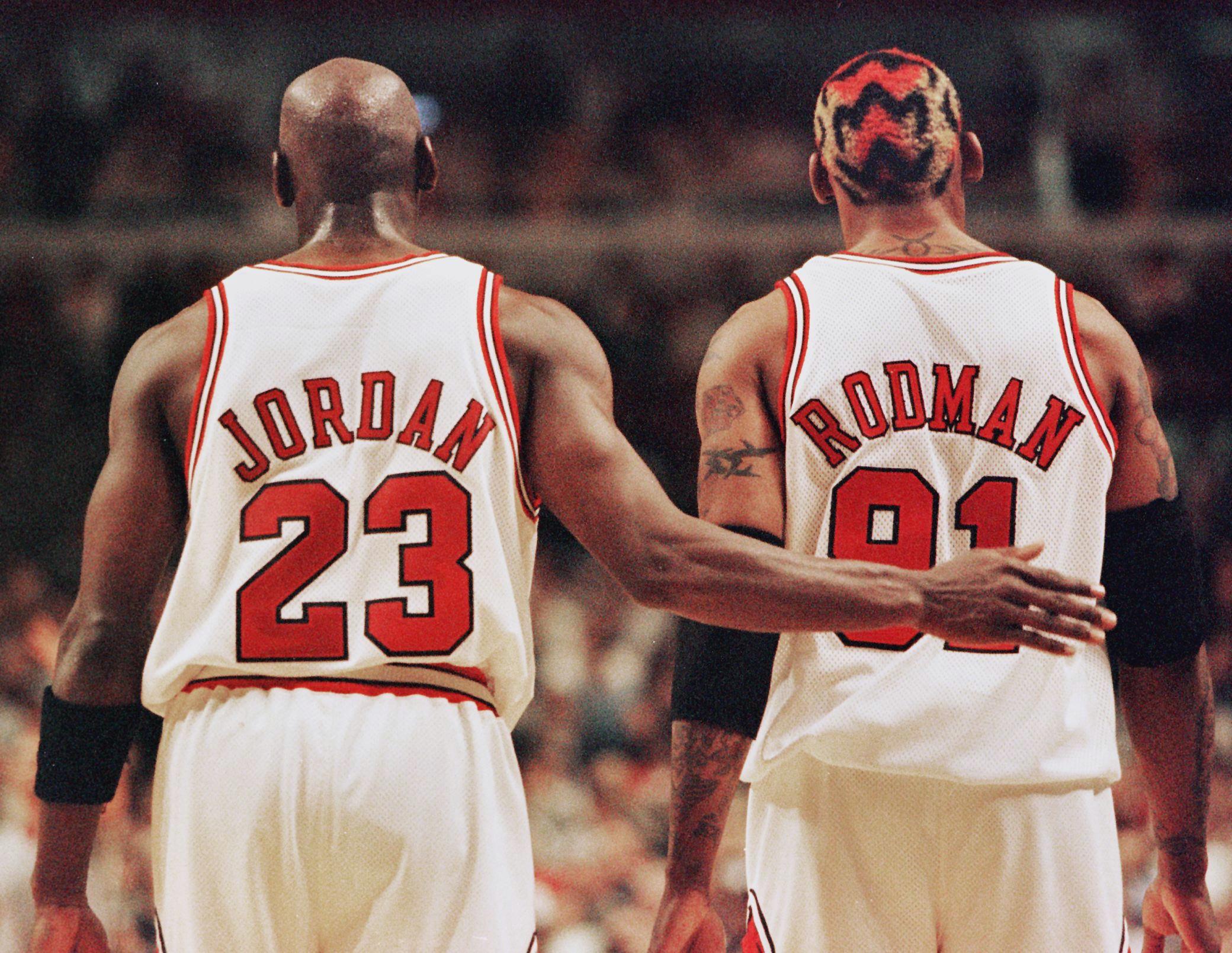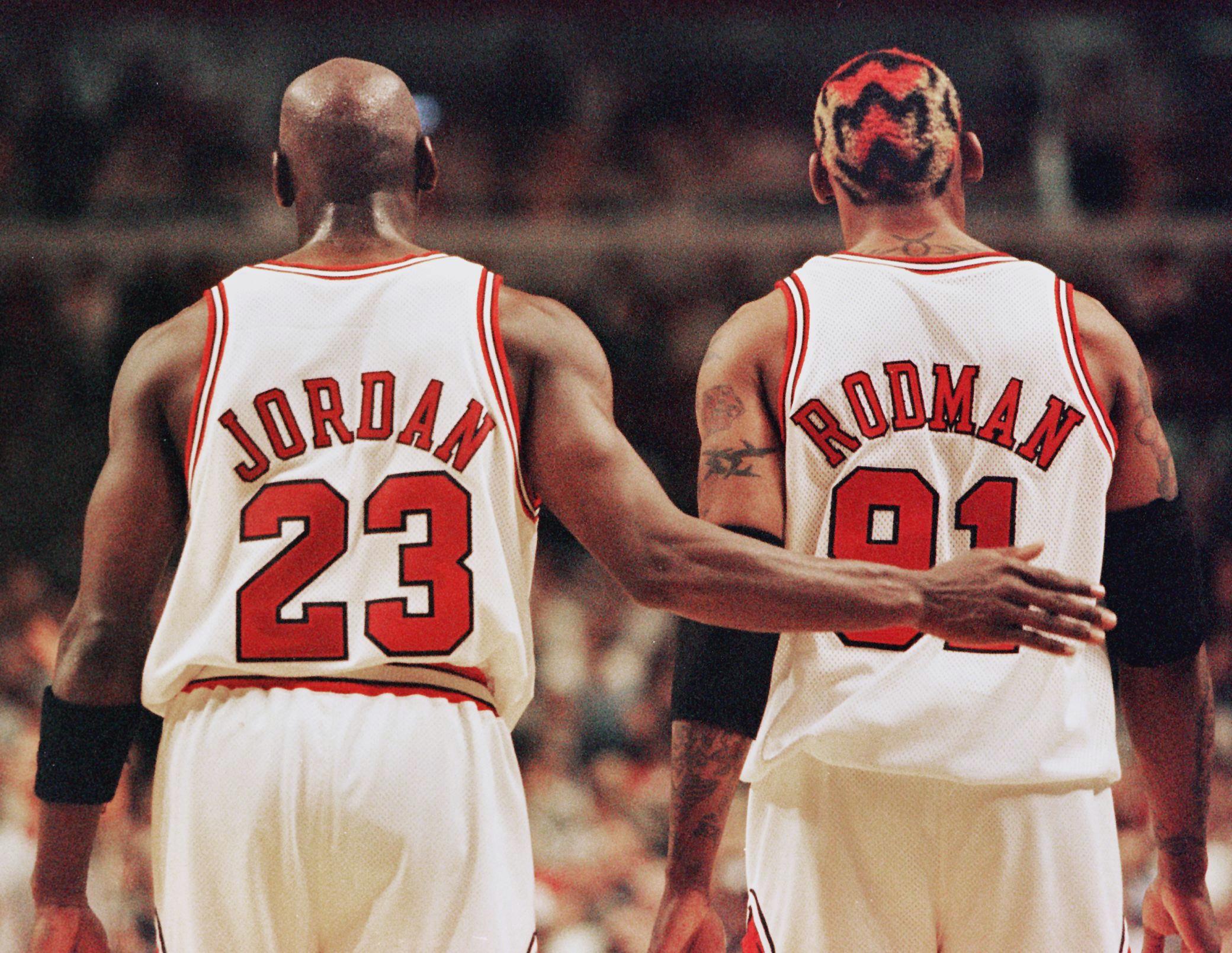 While Jordan's off-court fame was mainstream with movies like Space Jam and commercials for such well-known brands as McDonald's and Nike, Rodman's fame away from basketball was more of the gossipy and controversial variety. That includes relationships with famous women like Madonna, Toni Braxton, and Carmen Electra.
He also got involved in professional wrestling for a time in the '90s, working with his friend Hulk Hogan at WCW events. Rodman also starred in some movies, but none of them got the critical acclaim or box office success that Space Jam did. Rodman's most famous movie was probably 1996 action flick Double Team, in which he starred with Jean-Claude Van Damme.
Rodman also had several run-ins with the law during his playing career, which kept him in the headlines whether he wanted it or not. Those incidents included a domestic skirmish with Electra and a number of DUI arrests. More recently, Rodman has been in the news for his multiple visits to North Korea and his perceived friendship with the nation's leader, Kim Jong Un.
All stats courtesy of Basketball Reference