Why Did Tony Romo Retire and Go into NFL Broadcasting?
One of the best NFL broadcasters in the game right now is former Dallas Cowboys quarterback Tony Romo. Viewers love his ability to predict plays as well as the insight he gives into each snap.
The former quarterback's analytical ability is based on a long, successful NFL career. It hasn't been long since Romo actually played in the NFL. So why exactly did he retire and go into NFL broadcasting?
Tony Romo's NFL career
Romo played college football for Eastern Illinois and went undrafted. He caught on with the Cowboys in 2004 but didn't make a mark until 2006 when he replaced an injured Drew Bledsoe. He went 6-4 in 10 starts in his first season seeing significant action. Romo's career lasted until 2015. Here's how he fared:
156 games played
78-49 win-loss record
Completed 65% of his passes
34,183 passing yards
7.9 yards per attempt
248 touchdowns
117 interceptions
Four-time Pro Bowl selection
Pro Football Reference gives similarity scores that compare players to other players with similar careers for context. Romo's career compares favorably to the following quarterbacks:
Matthew Stafford
Roger Staubach
Joe Namath
Mark Brunell
Steve McNair
Joe Theismann
Jim Kelly
Three of those quarterbacks are Hall of Famers. Although Romo never won a Super Bowl in Dallas — and his stats aren't up there with some of the all-time greats — he had a productive career over nearly a decade. That's more than most NFL quarterbacks can say.
The end of Romo's football career
Romo retired in 2017. Despite some calls for him to possibly return in the event of an injured starter Dak Prescott, he never came back. Here's what he had to say at the time about his retirement and a possible return:
"I'm pretty happy and excited about the opportunity that was presented to me," Romo said. "I got coach [and veteran CBS play-by-play man] Jim Nantz teaching me all the tricks of the trade that I'm going to be behind on, but I'm improving fast. I'm excited about it. It gives me a chance to compete, get better and improve. I get to be passionate about the game, hopefully teach a little bit, hopefully make it a little bit entertaining along the way. It's going to be fun."
Fans and teammates may have wanted him to tease a comeback, but the end of Romo's career was definitive. This was good news for anyone who became a fan of him in the broadcast booth.
Why did Tony Romo retire and go into NFL broadcasting?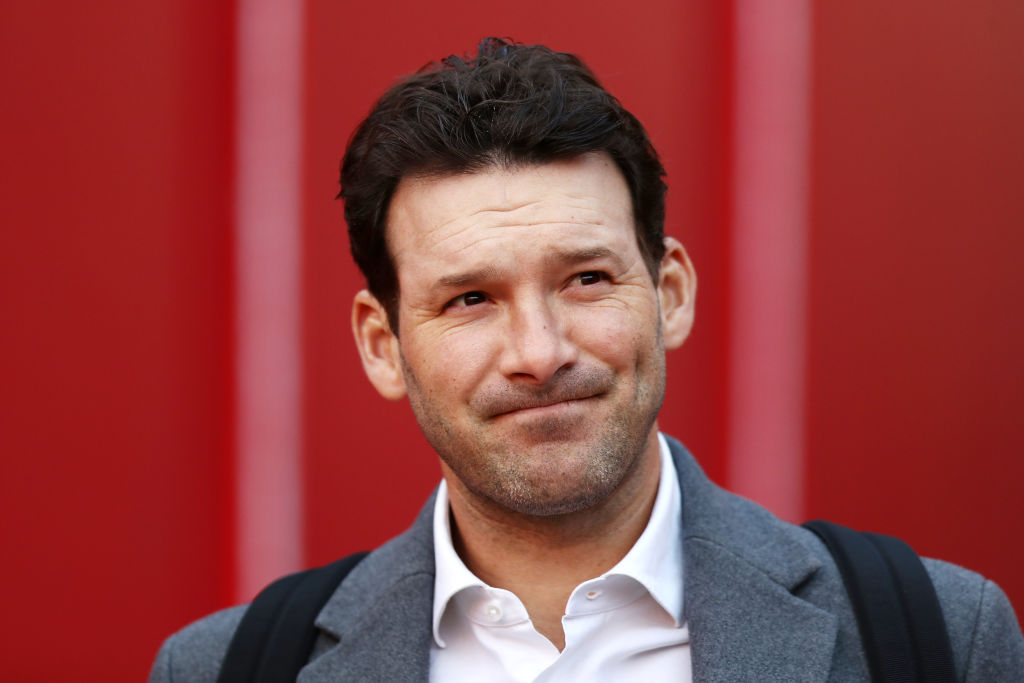 Romo appeared in only five games in his last two seasons due to a neck injury. The Cowboys replaced him with Prescott and he retired prior to the 2017 NFL season. Romo asked for his release from the team, retired, and signed a deal to call games for CBS.
Now, he is known as one of the best broadcasters in football. What makes him so great in the booth? If you ask Romo himself, it's because of how well he can get the viewer to care.
"Why is this really special with this coach schematically? Why did this quarterback protect this play?" Romo recently told Richard Deitsch of The Athletic. "Do you care about the story I am about to tell? You are trying to get people to care about things." Romo was a very good quarterback. He may be an even better broadcaster.