Why Do People Still Argue Over Dak Prescott and Carson Wentz?
Two of the four starting quarterbacks in the NFC East were selected in the 2016 NFL draft. Those two quarterbacks are Dak Prescott of the Dallas Cowboys and Carson Wentz of the Philadelphia Eagles. Because of them both being a part of the same draft class, and because of them playing in the same division, people have always compared the two. It is, however, time for everyone to stop.
Carson Wentz has a lot of talent
RELATED: Jalen Hurts Will Make Carson Wentz a $128 Million Backup for the Eagles
Only stars with a lot of potential get selected second overall. That's precisely why Carson Wentz went No. 2 overall to the Philadelphia Eagles in 2016. Wentz had unreal potential coming into the NFL.
He then had an OK year during his rookie season in 2016. Wentz threw for 3,782 yards, 16 touchdowns, and 14 interceptions. In 2017, though, Wentz was one of the best quarterbacks in the entire NFL. Through 13 games in 2017, Wentz threw for 3,296 yards, 33 touchdowns, and seven interceptions. His play was good enough to earn a Pro Bowl selection, and he led the Eagles to an 11-2 record in games he started.
However, after getting hurt in Week 14, Wentz missed the last three games of the regular season. He missed the playoffs too. The Eagles did not need him, though, as they won the Super Bowl with Nick Foles as the starting quarterback. 
Wentz then only played in 11 games in 2018. He had a 5-6 record as a starter and threw for 3,074 yards to go with 21 touchdowns and seven interceptions. He could not play in the playoffs again, though. Foles played in his place again and led the Eagles to a playoff win that season. 
Wentz then played in all 16 games last season. He threw for 4,039 yards, 27 touchdowns, and seven interceptions. He finally played in a playoff game, but he only threw four pass attempts as he got hurt early in the Eagles' 17-9 loss to the Seattle Seahawks.
Dak Prescott has been a great surprise for the Cowboys
RELATED: Donovan McNabb Believes Cowboys Have a Brewing Problem With Dak Prescott's Contract
The Dallas Cowboys selected Dak Prescott in the fourth round of the 2016 draft. With Prescott being a fourth-round pick, expectations were not that high for him. He has played excellent so far, though. 
Prescott earned a Pro Bowl selections in his rookie season as he threw for 3,667 yards, 23 touchdowns, and four interceptions. He helped lead the Cowboys to a 13-3 record that season and won the AP Offensive Rookie of the Year award.
Prescott then had somewhat of a down year in 2017. He threw for 3,324 yards, 22 touchdowns, and 13 interceptions. However, in 2018, Prescott earned a Pro Bowl selection again as he threw for 3,885 yards, 22 touchdowns, and eight interceptions. Prescott went 10-6 as the starter and helped the Cowboys win a playoff game too.
Then last season, the Cowboys did not make the playoffs, but he had a fantastic year. Prescott threw for 4,902 yards, 30 touchdowns, and 11 interceptions. He was easily one of the best quarterbacks in the entire league in 2019. 
Prescott has been the much better option than Wentz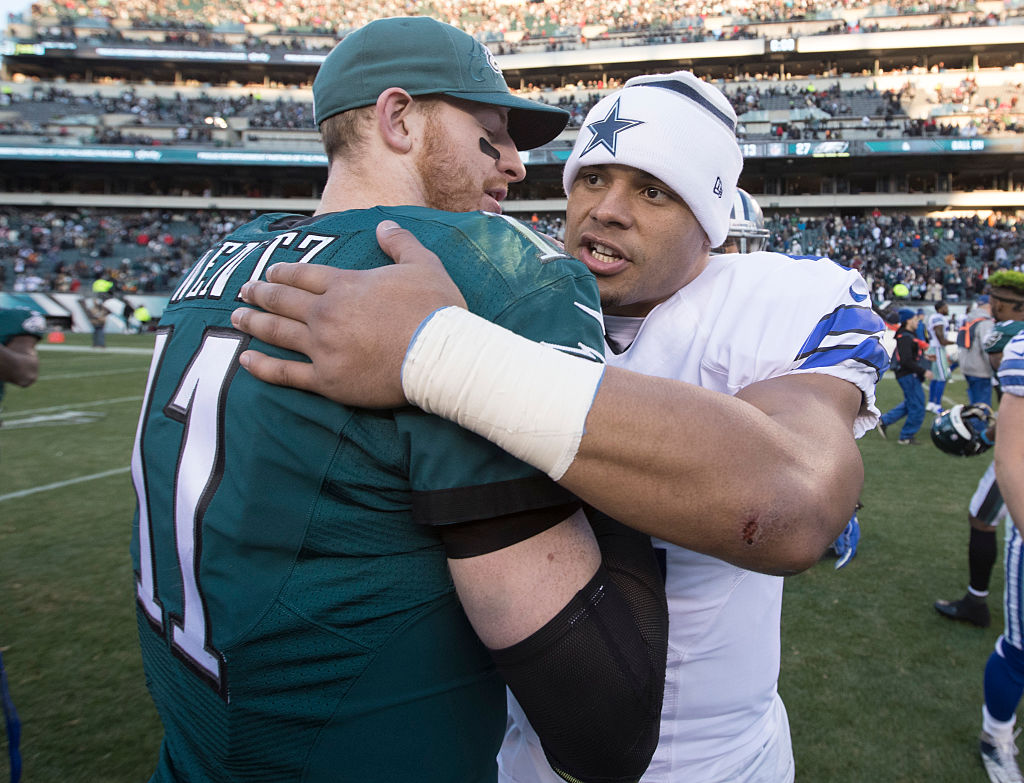 RELATED: Jerry Jones Just Sent a $7 Million Message to Dak Prescott
When looking at the play of both Wentz and Prescott, why do people even try to compare them? Yes, Wentz had an excellent year in 2017 before he got hurt, but his stats since then have been pretty mediocre. 
So far in his career, he has only thrown for over 4,000 yards once. He barely got over it too as he had 4,039 yards in 2019. Prescott almost threw for 5,000 yards last season. Prescott has accomplished more too, earning two Pro Bowls compared to one, and it is a shame that he did not get his third Pro Bowl this past season. 
The biggest argument in support of Prescott, though, is health. In four seasons, Prescott has not missed a game. He has played in 64 of all possible 64 regular-season games. In that same time, Wentz has only played in 56 games. That is not including all of the playoff games he has missed too.
Lastly, while the Cowboys have not gone on a deep playoff run with Prescott, he has at least won a playoff game. Wentz has barely even played in one, and his team won a Super Bowl without him. The Cowboys would not be able to even be Super Bowl contenders without Prescott.
Both Dak Prescott and Carson Wentz have a lot of potential. Comparing them, though, needs to stop. Prescott has been the better option through their first four seasons.
All stats courtesy of Pro Football Reference