Why Does Everybody Love Larry Fitzgerald?
Larry Fitzgerald is Arizona royalty. The Cardinals wide receiver spent 16 years working his way toward legend status. And apparently he'll be back for at least one more NFL season before it's all said and done.
Fitzgerald's one-year contract marks the 17th year he's spent on the same team. But his longevity isn't the only reason he's so beloved in Arizona and by sports fans in general.
Larry Fitzgerald: future Hall of Famer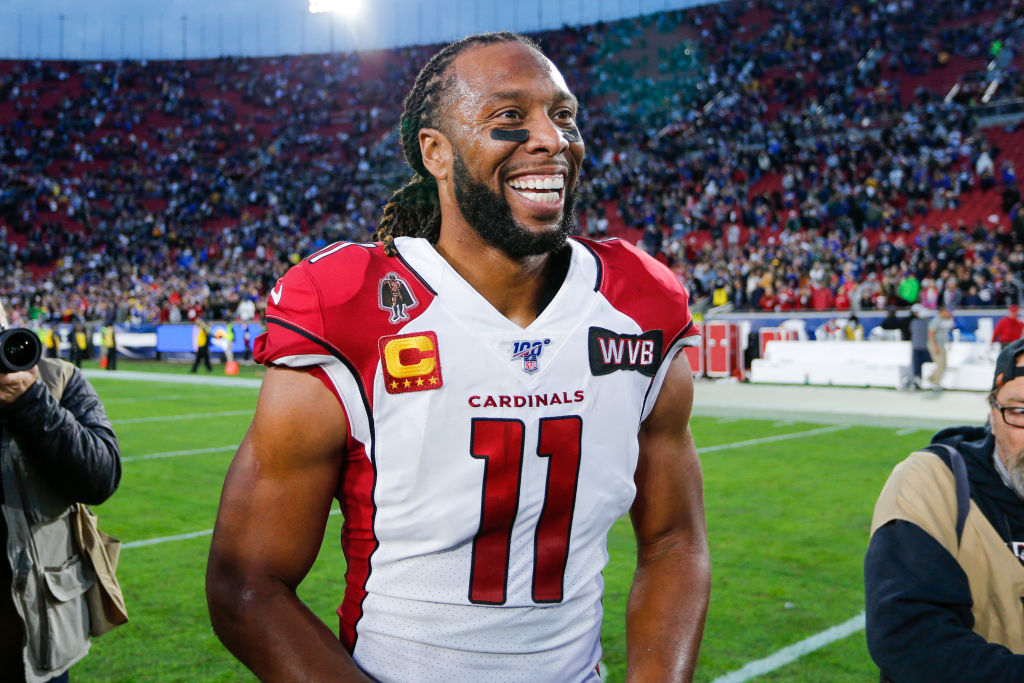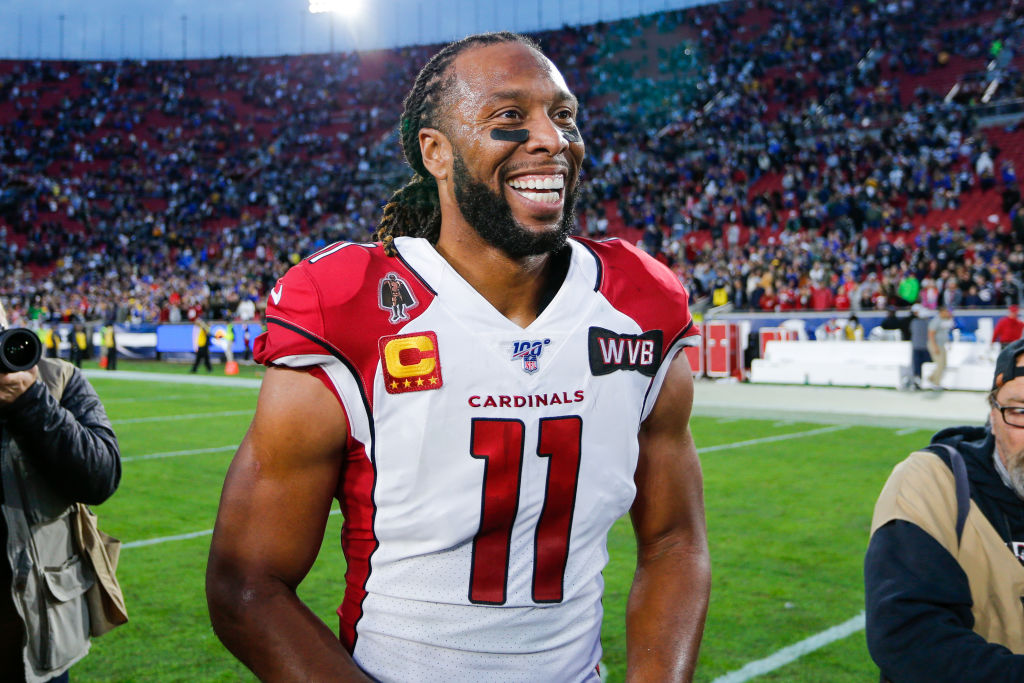 Larry Fitzgerald's Hall of Fame chances are so strong, it's basically a foregone conclusion. The 36-year-old has an incredible collection of career stats across his 16 years so far.
He's second in all-time career receiving yards, with 17,083. For all-time receptions, Fitzgerald also ranks second with 1,378. He also has 120 touchdown receptions to his name, making him the sixth most successful in that category — ever.
This puts him in rare territory only comparable to other Hall of Famers, like Jerry Rice. Fitzgerald's consistent performance across his career is why he's been tapped for 11 Pro Bowls so far. And his greatest honor — at least until he officially gets inducted into the Hall of Fame — is a special one.
Fitzgerald was the only active receiver to be named to the NFL 100th Anniversary All-Time Team. His place in NFL history is all but sealed. But there's much more to Larry than his athleticism.
How Larry Fitzgerald became a media favorite
Larry Fitzgerald isn't beloved just because he's an incredible football player; he's also a charismatic guy. Unlike some players, he doesn't reserve his likability for his teammates alone.
The University of Pittsburgh alum always comes up to sideline reporters with a smile on his face and a perfectly quotable quip. This is especially key considering how little reason the Cardinals' overall performances lately give him to be happy.
With only eight wins across the last two years, how can Fitzgerald stay chipper? It speaks to his character that his love for the game and his team stays alive even during the most brutal stretches. And there's also more to his character than this.
Larry Fitzgerald's dedication to charity work
Talk is key, but it's only worth so much, especially when you pull in up to $11 million a year from your job. It should surprise no one that Fitzgerald puts his money to work in all the right ways.
The wide receiver set up one of the largest charities in the NFL, the First Down Fund. This nonprofit manages donations and apportions them among 300 unique charities. Fitzgerald also hosts many annual events in Arizona, from softball games to dinners, in order to raise money for his charity projects.
In particular, Fitzgerald works with the Starkey Hearing Foundation. People who cannot afford surgeries or equipment to help them hear receive the treatment they need with the help of this remarkable organization. It's not all charity and football that tie Fitzgerald to Arizona, though.
How one investment shows that Fitzgerald is in it for the long haul
All of the above puts Fitzgerald in "greatest of all time" status for Cardinals fans. Recently, he took his investment in the state of Arizona even further.
Fitzgerald bought a sizable number of shares in the Phoenix Suns. This makes him the second active NFL player to hold stake in an NBA franchise. The other is Aaron Rodgers, who shows similar dedication to his adopted city. Fitzgerald may be a Minnesota native. But Arizona is clearly his home.
Follow more updates from Sportscasting on our Facebook page.