Why Does James Harden Wear No. 13?
The Brooklyn Nets got a needed piece of good news on Dec. 23, announcing three players — including superstar James Harden — cleared the NBA's health and safety protocols in time to play on Christmas Day when the Nets visit the Los Angeles Lakers. Harden missed four games in the protocols but hasn't played since Dec. 10. But Harden's familiar No. 13 will be back on the court, and that must be a welcome sight for beleaguered Nets fans.
Brooklyn had three games postponed because of a coronavirus (COVID-19) outbreak. As many as 10 Nets have been in the protocols simultaneously. Harden's return, along with Paul Millsap and Jevon Carter, was tempered when three more Brooklyn players entered protocols on Thursday.
James Harden and the Brooklyn Nets might not practice before Christmas
While the Brooklyn Nets expect to have enough players to take the court against the Lakers, coach Steve Nash said he might not have time to get a practice in for James Harden or the other players returning. They also lost rookies Cam Thomas, David Duke Jr., and Kessler Edwards to the protocols on Thursday, according to ESPN. One step forward, one step back for the roster.
The Nets haven't practiced as a group this week. Currently, Harden, Millsap, Carter, Blake Griffin, Nic Claxton, and Patty Mills are available. Brooklyn added the maximum of emergency replacements by signing James Ennis, Wenyen Gabriel, Langston Galloway, and Shaquille Harrison to 10-day contracts.
It's been a rough year for No. 13. He averages 20.8 points, 9.6 assists, 7.9 rebounds, and 1.4 steals. The scoring mark is the lowest since he became a full-time starter in 2012–13. He's also shooting 40.4% overall, the second-lowest of his career, and is a career-worst 33.7% from 3-point range.
Harden spent much of the abbreviated offseason rehabilitating from the hamstring injury that hampered him in the playoffs. The protocols offered a break but probably won't help his timing.
It seems the bad luck often associated with No. 13 has caught up with Harden, at least a bit of it.
James Harden chose No. 13 while in high school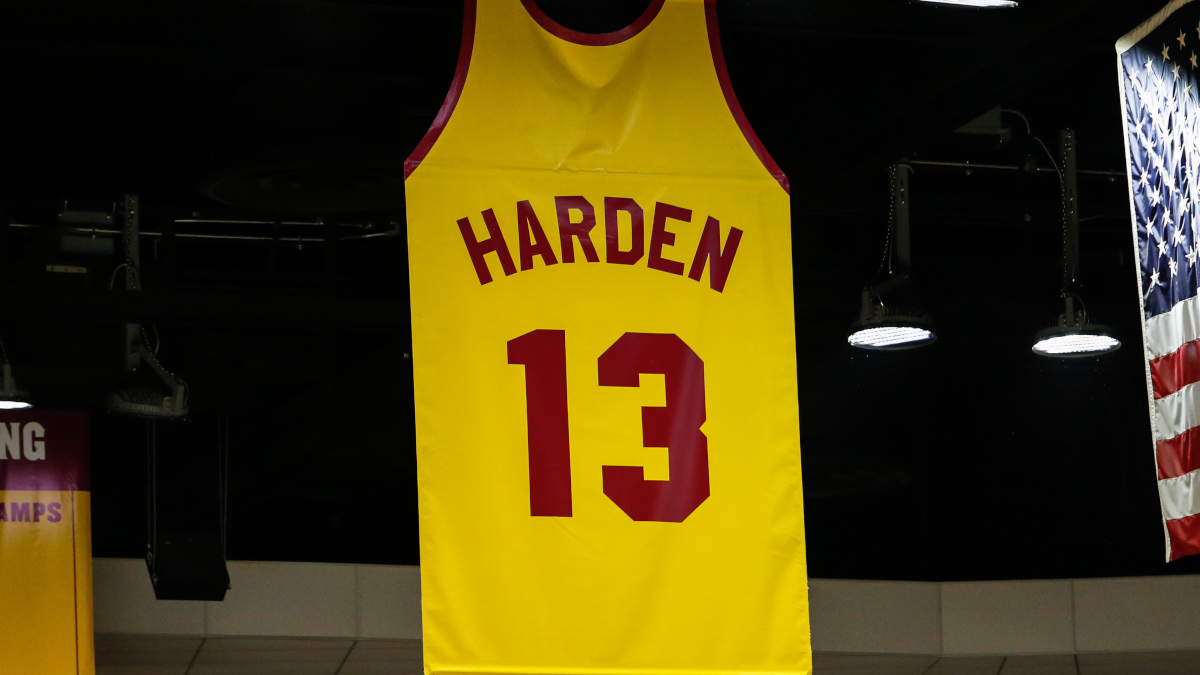 James Harden has worn No. 13 since he played at Artesia High School in the southern Los Angeles County city of Lakewood, California. He donned the digits for his two seasons at Arizona State University and has continued to wear it throughout his 13 NBA seasons.
As part of the NBA 75 series, Harden told NBA.com how he picked the number:
"When I was a freshman, I had to choose my jersey number last, and it was between 13 and 52. I rocked with 13 just because it's known for bad luck, but it's done unbelievable things for myself and my family and the people I'm surrounded with. So I turned it into good luck."
He's got a point. Harden was NBA MVP in 2017–18, joining Bill Walton as the only player to win both the MVP and Sixth Man of the Year awards. A nine-time All-Star, Harden has made seven All-NBA teams and was a clear choice for the league's 75th-anniversary team announced in October.
Houston Rockets already plan to retire Harden's No. 13
Though the Houston Rockets traded James Harden to the Brooklyn Nets in January 2021, it's already been decided no other player will wear No. 13 for the franchise.
In March 2021, Jonathan Feigen of the Houston Chronicle reported the decision. Team governor Tilman Fertitta announced as part of Harden's first return to Houston as a visiting player that the number will be retired.
"James Harden will always be a Rocket," Fertitta said. "Of course, we will retire his jersey. He made my first three years of owning this franchise unforgettable. The success he brought this franchise over eight years and the memories he created for our fan base/community (are) truly remarkable."
The Rockets have retired six numbers: Yao Ming (11), Clyde Drexler (22), Calvin Murphy (23), Moses Malone (24), Hakeem Olajuwon (34), and Rudy Tomjanovich (45). Arizona State also retired Harden's No. 13.
The Oklahoma City Thunder, who drafted Harden third overall in 2009 and with whom he spent his first three seasons, have reissued No. 13 four times since Harden was traded to the Rockets in October 2012.
James Harden is the 14th Net to wear the number. He acquired it from Landry Shamet when he arrived in Brooklyn
Statistics courtesy of Basketball Reference.