Why Does Jerry Seinfeld Love the Mets so Much?
"If you know what happened in the Met game, don't say anything. I taped it. Hello."

That is how Jerry Seinfeld answers the phone in a classic moment from his legendary sitcom, and it isn't just a throwaway reference to the second-most popular baseball team in New York City. It's art imitating life.

Throughout his career, Seinfeld has broken away from the mold of New York celebrities who fawned over the beloved Yankees in the Bronx and instead is an outspoken fan of the New York Mets.

But, where did this fandom come from? Why the Mets? In a 2014 interview with Jerry Seinfeld, ESPN writer Mark Simon pressed him on the matter, and as the comedian continues to entertain with his hit show Comedians in Cars Getting Coffee, it's worth looking back on.

"I was probably 10 or 11.."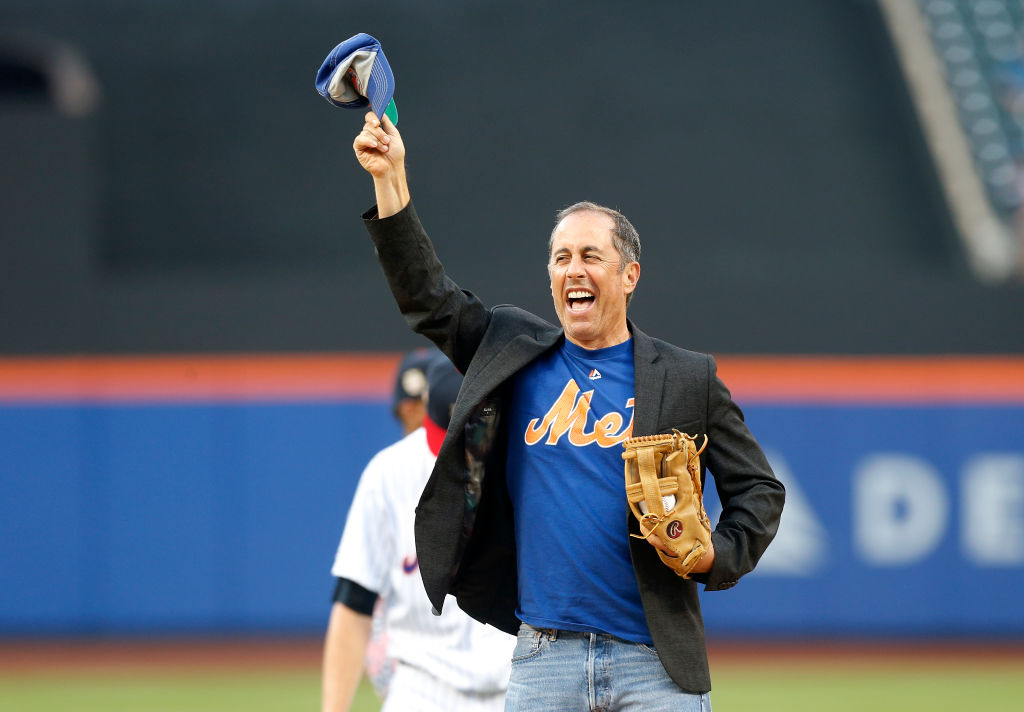 Jerry Seinfeld didn't randomly become a Mets fan as an adult. He grew up going to games at Shea Stadium, and he told Simon about his first memories as a baseball fan.
"It's a cliche," Seinfeld said, "but walking through the tunnel at Shea Stadium of a night game, seeing that color — the green and the seats and the lights. My cousin took me. That's my first really powerful baseball moment."

It's a story not unlike many stories of how kids get into sports. The atmosphere, the players, the gear, the stadium — all sports fans have a memory of when they first decided to go from a casual observer at that specific game to a fanatic follower.

"I just started watching the Mets…"
Seinfeld discussed his evolution as a fan of the Mets after that memorable night at Shea Stadium, vividly recalling sitting down on his family's orange La-Z-Boy recliner in Long Island and watching them on television.

"I fell in love with them instantly," Seinfeld said. "I never liked the American League. The Yankees weren't my kind of team. I loved the Mets, the players they had and the way they played. I still love them."

Naturally, as Seinfeld began to watch the team, he began to notice specific players who stood out among the rest.

"I still love anyone that's fast."
Speaking about his favorite player as a kid, Jerry Seinfeld recalled what helped him choose Tommie Agee as his favorite player as a kid. He commented on his love for fast, stylish players who make the fans excited to watch as individuals.

Agee, who was a multiple-time All-Star, a Rookie of the Year, a two-time Gold Glove winner, and a World Series winner, was a man ahead of his time. He impressed fans with his highlight plays, including a pair of catches from the 1969 World Series which still stick with him to this day.
"I love speed," said Seinfeld. "He was one of the great ball hawks of his time. He had a great running style. I also like stylish guys."

Seinfeld also listed Curtis Granderson, Jacob deGrom, and Matt Harvey as his other favorites.

"The life of a stand-up comic is very similar to that of a baseball player."
Seinfeld continued his interview by talking about a brief period in the '70s and '80s where he briefly fell out of love with baseball as he set his entire focus on doing standup. That's when it became hard for the comedian, who was quickly becoming one of the biggest names in comedy, to keep up with a long and drawn-out baseball season.
That is where he equated comedy with baseball, talking about how, like the athletes, he was expected to go out there every night and give A-plus effort to an audience full of unforgiving fans and critics. Luckily, Seinfeld has fallen back in love with baseball, and to this day, he is one of the highest-profile celebrity sports fans in the world. The Mets recently honored him with a special Seinfeld night to pay tribute to his years of dedicated fandom.