Why the Eagles Shouldn't Rush to Label the Carson Wentz Trade a Massive Success
Following the Indianapolis Colts' Week 15 win over the New England Patriots, quarterback Carson Wentz officially passed the 75% snap threshold required for Indy's first-round pick to convey to the Philadelphia Eagles. The two sides agreed on a trade this past offseason, with the kicker being Wentz had to play a certain percentage of snaps for a Colts second-round pick to turn into a first-round pick. Wentz has been healthy all season long, meaning he crossed the mark three full weeks before the season ended.
On paper, this feels like a massive success for the Eagles. Their 2022 first-round pick total shoots up to three, setting them up for a productive offseason.
Not so fast.
Carson Wentz is playing better than the Eagles would like to believe
What made Week 15 memorable for most Eagles fans and reporters is that Wentz arguably had the worst game of his NFL career. He passed for a measly 57 yards against a stifling Patriots defense, making it easy for Philadelphians to point and laugh at Indianapolis for giving up its first-rounder for him.
However, after zooming out a bit and looking at the 2022 season in its entirety, one can see that Wentz has actually been one of the better-performing quarterbacks in the NFL. While he wasn't the reason the Colts beat the Patriots this past weekend, his steady performances week over week are a big reason why Indy weathered the storm after a slow start and currently finds itself in the AFC's top wild-card spot.
Wentz currently ranks 10th in passing touchdowns (23), third in interception rate (1.4%), and sixth in quarterback rating (58.2).
Yes, you read that correctly. Through 15 weeks of NFL action, Wentz has the sixth-best QBR in the league. He has a higher rating than household names like Kyler Murray, Russell Wilson, Lamar Jackson, Joe Burrow, Josh Allen, and Dak Prescott.
Despite what some media outlets may have suggested after his sloppy performance against New England, Wentz has been exactly what the Colts traded for. He's been an efficient passer who throws a lot of touchdowns and minimal interceptions.
The Eagles are still in quarterback purgatory
When the Eagles first traded Wentz this past offseason, a sense of relief seemingly swept across the fan base. People were happy to get out of Wentz's big salary and were excited at the opportunity to see a new face (Jalen Hurts) under center.
While the Eagles have quietly moved into a fringe playoff spot thanks to an underperforming NFC, they still find themselves in a concerning position in the grand scheme of things: quarterback purgatory.
Hurts is an elite runner; there's no denying that. However, his passing performances this year have been comparable to some of the worst quarterbacks in the league. Hurts ranks 25th in passing touchdowns, 17th in interception rate, and 19th in QBR. His speed undoubtedly adds a positive layer, but as a pure passer, he's been bad.
Sure, Hurts could continue developing year over year if the Eagles opt to stick with him. We've seen this type of patience work out for teams like the Dallas Cowboys (Dak Prescott) and Seattle Seahawks (Russell Wilson). However, we've also seen this lock teams into multi-year tank jobs (New York Jets with Sam Darnold, New York Giants with Daniel Jones).
What next for Philadelphia?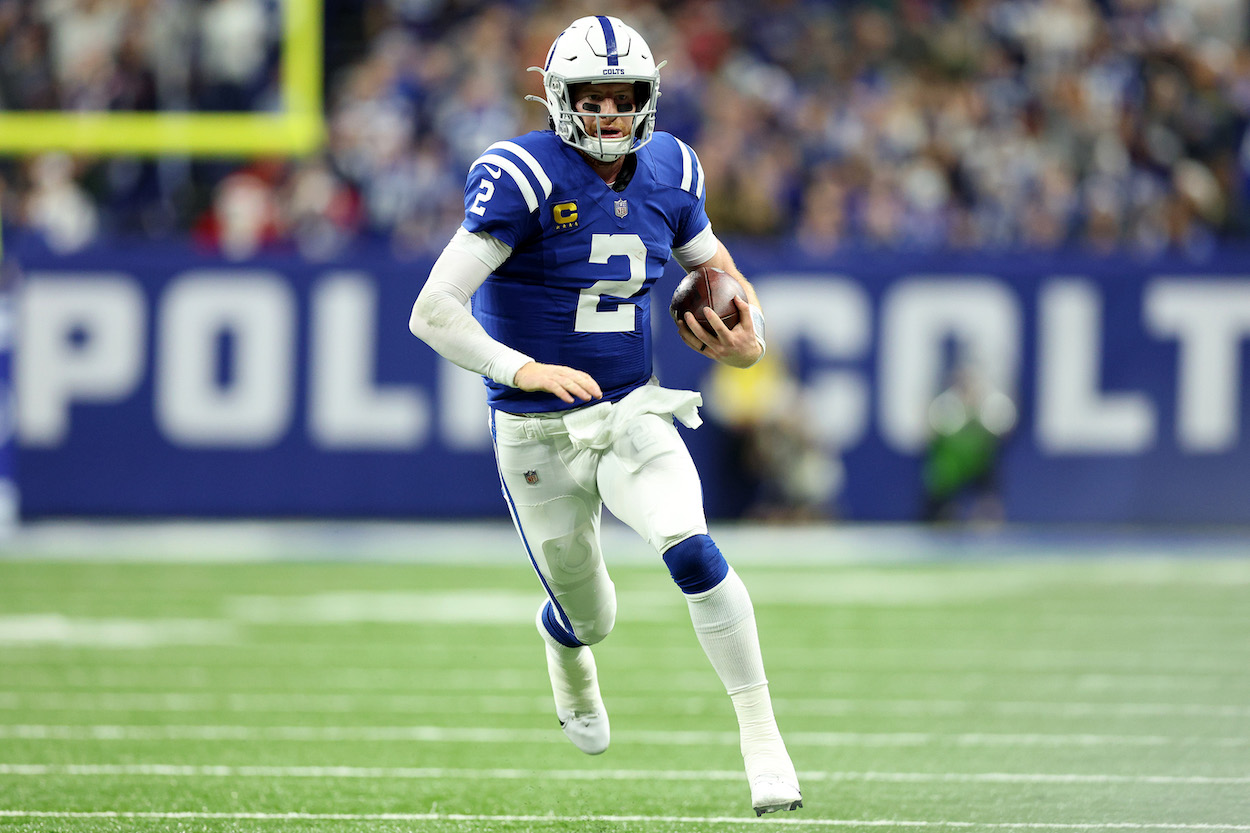 Whether you think he's a top-10-caliber quarterback or not, the Colts have their guy. They acquired a franchise quarterback without going through the growing pains of developing a struggling rookie and appear set up for several postseason appearances over the next few years.
The Eagles, on the other hand, still didn't have a concrete plan for the position.
They could rock with Hurts for another year or two but run the risk of wasting the final few years of some of their veterans as they continue the evaluation process. Or, they could trade multiple first-round picks for someone like Russell Wilson, who currently has a worse QBR than the guy in Indy they just ran out of town.
On paper, recouping a first-round pick for Wentz after the worst year of his professional career is a big win. However, upon a closer look, it's far more complicated. Acquiring a starting-caliber quarterback is the most challenging job in the NFL. The Colts have one. The Eagles don't.
Who's the real winner?
All stats courtesy of Pro Football Reference.