Why the Green Bay Packers Will Destroy the Baltimore Ravens in Week 15
The Green Bay Packers and Baltimore Ravens square off in Week 15 of the 2021 NFL season, and though anything can happen in the NFL, everything is pointing to a big Green Bay win.
The NFC North-leading Packers are 10-3 and winners of two-straight as well as three of their last four. The Ravens are 8-5 and do have a slight lead in the AFC North, but they are losers of two in a row.
Here are three reasons why the Packers are an easy bet to win this contest.
Green Bay Packers QB Aaron Rodgers is on a roll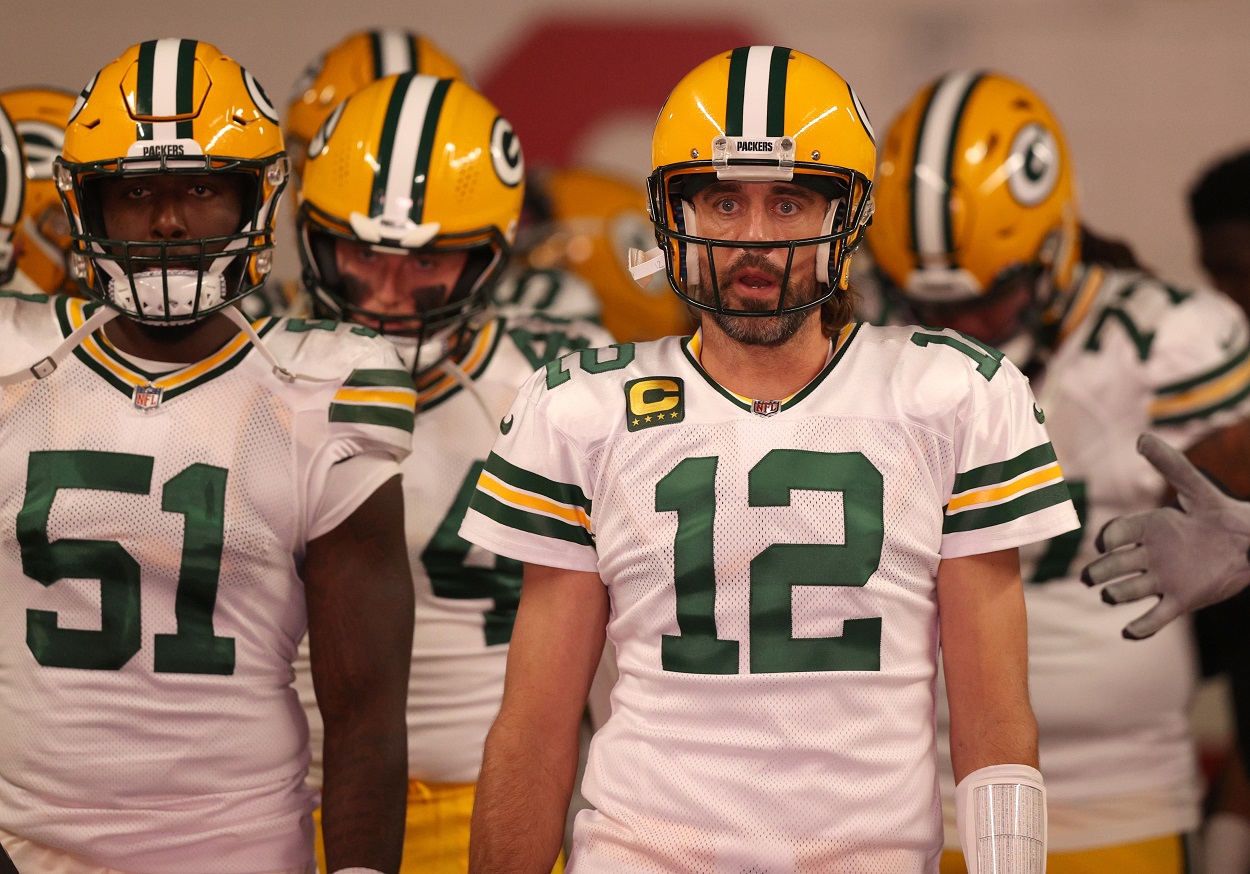 Everything starts and ends with Aaron Rodgers when evaluating the Packers. Yes, Green Bay has an elite defense this season, and sure, Aaron Jones and A.J. Dillon are a terrific one-two punch in the backfield and Davante Adams is the best wideout in the NFL.
The Packers largely go how Rodgers goes, though, and that's good news for Green Bay heading into this contest.
That shouldn't be a surprise, either. He's a three-time NFL MVP as well as the reigning MVP. The only quarterback better than him in the NFL is the greatest of all time, Tom Brady.
When Rodgers plays well, the Packers are basically unbeatable, and he's playing at an MVP level once again.
He looked off in a no touchdown, one interception performance against the Seahawks earlier in the season after his return from a ten-day stint on the reserve/Covid-19 list. He's also been dealing with a toe injury that just won't go away, and that's caused him to miss a ton of practice. Since that off Seahawks game, though, Rodgers has thrown 10 touchdowns and no interceptions. He's put up two four-touchdown games in this stretch and has thrown for over 300 yards in all three games. His average quarterback rating has been 128.9.
If it wasn't for Brady's exceptional season, Rodgers would likely be the favorite to win the MVP yet again.
Don't expect him to slow down, even against a Ravens defense that finds itself in the top 10 league-wide. Though the Ravens do only give up 21.8 points per game on defense, they're second-worst in the entire NFL in passing yards given up per game with 266.1.
Baltimore Ravens QB Lamar Jackson will be playing hurt, if he plays at all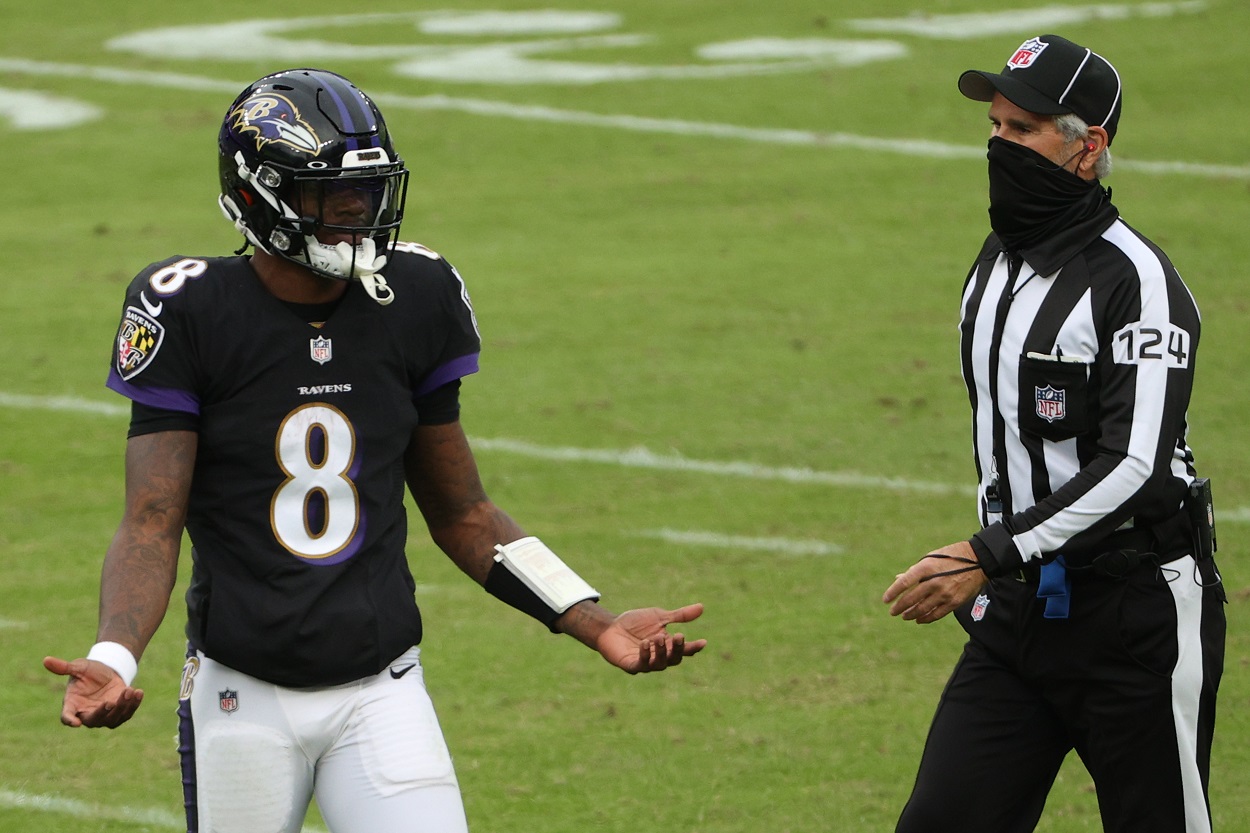 Baltimore's star quarterback, Lamar Jackson, was injured in the second quarter of the Ravens' 24-22 loss to the Browns this past weekend. Head coach John Harbaugh did say on Monday that he's expecting Jackson to play against the Packers because while he did sprain his ankle, it wasn't a high ankle sprain. That's the good news. Now here's the bad: You never want to see your star quarterback in a walking boot, but that's how Jackson left Cleveland this past weekend. Jackson has also been inactive in practice all week for the Ravens, and they went as far as to sign another quarterback, Josh Johnson, in case they'll need someone to back up Tyler Huntley, who would be the starter if Jackson can't go.
Baltimore needs every win it can get here at the end of the season, so if there is any possibility that Jackson can play, and it sounds like there is, then he will get the start for the Ravens against Green Bay.
Here's the problem in that scenario: Even if he can play, he's doubtful to be at 100% by game day. One of Jackson's most remarkable abilities as a football player is his otherworldly speed and shiftiness as a runner when the play breaks down. This is not to say he won't be able to run against the Packers, but it's easy to see a scenario where the ankle injury limits his ability to move around, and that could make him extremely one-dimensional.
Jackson would have had a tough assignment going up against a strong Green Bay pass rush and aggressive secondary while fully healthy. If he's limited due to the ankle injury, it could be a very long day for Baltimore's offense.
Turnover differential strongly favors the Packers
Smart football people say that turnover differential is one of the biggest indicators of success or failure in the NFL, and that's bad news for the Ravens, especially playing a Packers team that's very strong in that category.
Green Bay has the second-best turnover differential in the NFL at +12. The Packers have secured a total of 22 takeaways this season thanks to an incredibly opportunistic defense. Rodgers is notoriously careful with the football on the offensive side of the ball, which has led to the Packers giving up only 10 turnovers on the season, five interceptions, and five fumbles. Rodgers has thrown 27 touchdowns compared to just four interceptions (Jordan Love threw one in his start against Kansas City). The Packers, as a team, have fumbled and lost the ball just five times this season.
Green Bay's +12 is in stark contrast to the -9 turnover differential from Baltimore, which is near the bottom of the league. The Ravens have given up the football 20 times and have only 11 takeaways to their name. Only the Bears, Jets, and Jaguars have a worse turnover differential at this point in the season, and those three teams are a combined 9-30 right now.
Jackson has 16 touchdowns on the season, but he's also thrown 13 interceptions. All told, the Ravens have thrown 14 interceptions as a team, and they've fumbled the ball away six times.
Ball security, or lack thereof, is often one of the main differences between winning and losing. That would be troubling enough for the Ravens heading into his game against the Packers because there's such a discrepancy between the two clubs. Combine that with Rodgers' hot play as of late as well as Jackson's injury, and it becomes easy to pick Green Bay to run away with this one on Sunday afternoon.
Stats courtesy of ESPN and Pro Football Reference. Contract information via Spotrac.