This is why Gregg Popovich Loves Coaching Team USA
No NBA coach is as respected or as highly regarded throughout the league as Gregg Popovich. He's quite simply one of the best to ever do it. He's won multiple championships, and he's done so over a 20-plus year career as a head coach. He's got both longevity and success and has absolutely nothing left to prove to anyone, but Popovich agreed to coach Team USA this summer at the FIBA World Cup. While this is certainly an honor, it's also quite a challenge as well. Why is Popovich not only doing it, but why does he love coaching Team USA so much?

Gregg Popovich and his career accomplishments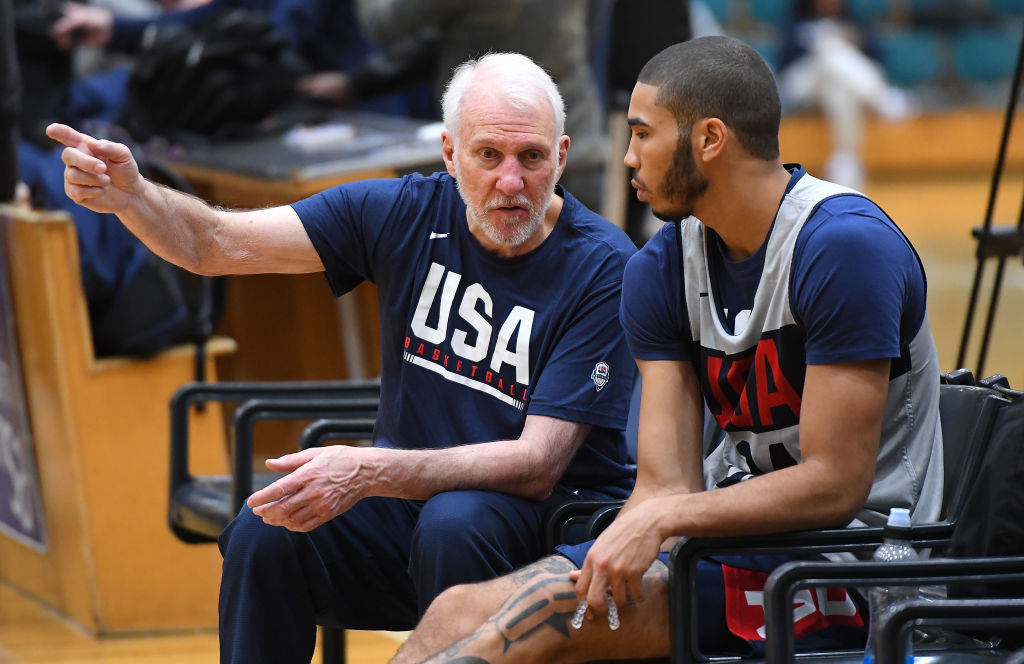 Popovich's coaching career began during the 1988 season. He was an assistant coach for the Spurs from 1988-1992. He then served as an assistant for Golden State for two seasons before returning to San Antonio as an executive. He became the head coach of the team during its disastrous 1996-1997 season in which David Robinson missed the majority of the season with an injury. This injury led to the team getting the number one overall pick and drafting Tim Duncan from Wake Forest.

To say this gave Popovich's career a boost is an understatement.

The Popovich and Duncan tandem became one of the most successful player-coach combos in league history. Together, the two won five NBA championships. They also won an additional Western Conference title as well.

Popovich's career win-loss record is 1,245-575, good for a .684 winning percentage. He's 170-114 in postseason play for a winning percentage of .599. The NBA has named him its Coach of the Year three times: In 2002-2003, 2011-2012, and 2013-2014.

Despite losing many of his team's former stars — Tim Duncan, Manu Ginobili, and Tony Parker to retirement and Kawhi Leonard to a trade — Popovich still has the Spurs in contention. They went 48-34 last season while making the playoffs.

When did Gregg Popovich agree to coach Team USA?
Popovich was named the 2017-2020 Team USA head coach by USA Basketball in 2015. He had previously served as an assistant coach, but he had never led Team USA in international competition. He served under Larry Brown at the disastrous 2004 Olympics where the USA finished with a disappointing bronze medal.

The previous Team USA coach was Duke head coach Mike Krzyzewski, who had overseen the Team USA Olympic teams in 2008, 2012, and 2016.
Gregg Popovich has achieved plenty in his coaching career, and as mentioned above, at the age of 70, he has nothing to prove. So why did he accept the job?

Why Pop loves coaching Team USA
Team USA will compete at the FIBA World Cup this August, and it will be a great challenge for Popovich. Almost no stars outside Kemba Walker have agreed to participate. The team is young and inexperienced at both the NBA and international levels.

Gregg Popovich attended a service academy — the Air Force. His sense of duty is strong, and he sees coaching Team USA as his patriotic duty. Here's Popovich's explanation per an ESPN piece on his foray into coaching Team USA:

"I thought about it," he said. "I met with Mr. [Jerry] Colangelo [Team USA's managing director]. I took a little bit of time. We talked several times. I knew what I was getting into. It's your country. You say yes. You man up and try to surround yourself with as much brainpower as you can."

There's also no doubt that this will be a challenge and a test of Popovich's coaching ability. Installing and winning with a system rather than using a star-based approach could appeal to him as well. It's much easier to coach LeBron James, Anthony Davis, and James Harden to a tournament championship than it is to coach Kemba Walker, Khris Middleton, and Jayson Tatum to one.

No matter what happens at the FIBA World Cup or the Olympics in 2020 for Team USA, it's hard to imagine them being in better hands than Popovich's.