Why Harrison Burton Will Win Wise Power 400, NASCAR Rookies Keep Rolling at Fontana
Harrison Burton was a rookie when he first followed NASCAR's path to Fontana, California. He is a rookie again, back at "worn-out" Auto Club Speedway. 
In 2020, the legacy driver earned his maiden Xfinity Series win. In 2022, Burton is poised to capture his first Cup Series race. 
He did it then.
He'll do it there again.
Harrison Burton ready to strike it rich again during 2nd gold rush in California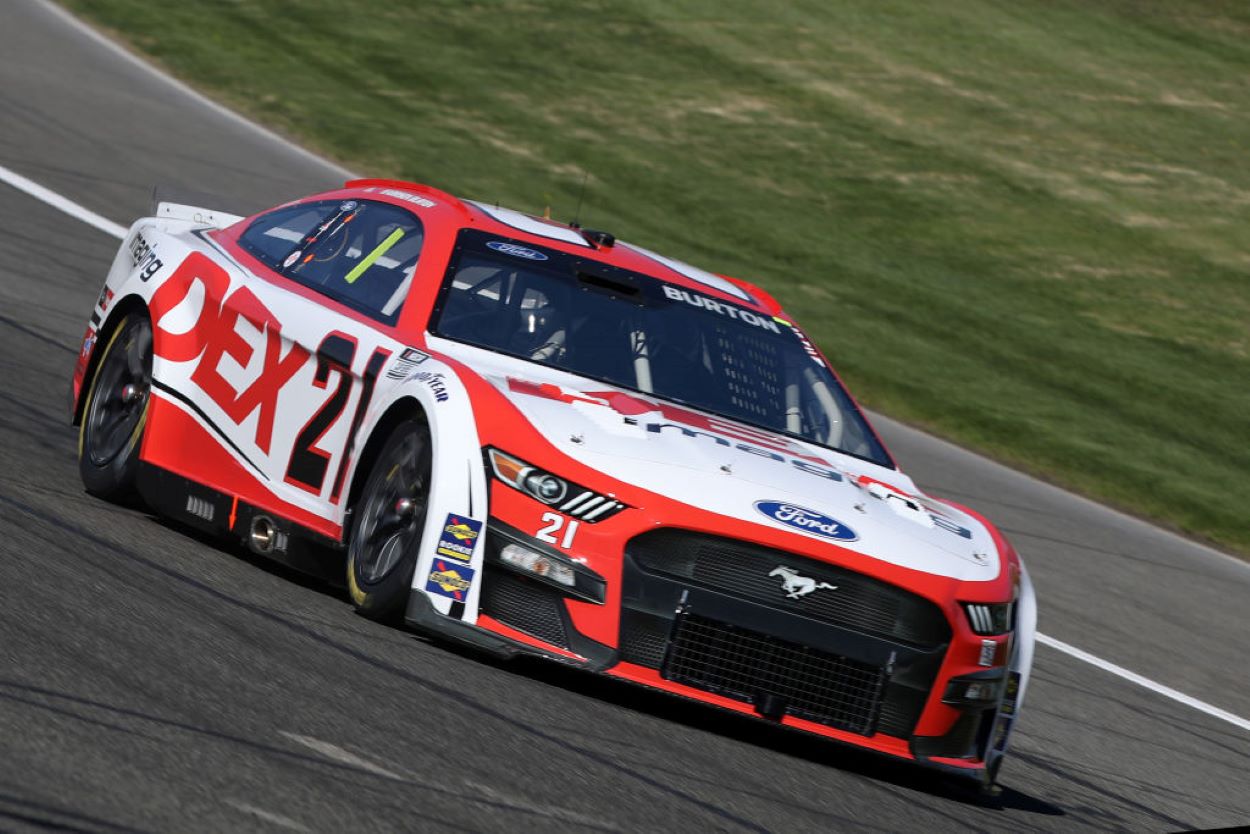 The antiquated venue has seen better days. The track surface, which has not received a facelift in 24 years, remains bumpy and "rough" to handle.
It's not so different from Burton's last gold rush to Fontana. At the time, the NASCAR weekend was billed as the site's last two-mile venture. This weekend was supposed to feature a new half-mile (or so!) track. 
But with high estimated construction costs, uncertainty with surrounding business opportunities, and the ongoing coronavirus (COVID-19) restrictions, track officials never broke ground.
Burton doesn't care.
He likes the track just the way it is.
"I'm super excited to get to Fontana and race on that old worn-out surface," Burton said via DEX Imaging press release. "It's an awesome race track full of character and lane choices. That really puts it in the drivers' hands.
"The last time I was there I won my first Xfinity race. so that naturally makes it one of my favorites."
Burton on 1st Xfinity win: 'Heck yeah, man, this is awesome' 
The last time Burton raced at Auto Club Speedway, the then-19-year-old Xfinity driver claimed the lead with 19 laps to go. Trailing, but providing pressure, Joe Gibbs Racing teammate Riley Herbst hunted for his first win at any grand national level.  
Herbst was hungry, but Burton remained balanced.
Ahead, slower traffic threatened his progress. Behind, he received friendly fire. But Burton retained his poise and beat Herbst to the finish by 0.455 seconds. Austin Cindric, the first rookie to capture the Daytona 500 last weekend, placed third, 0.642 seconds behind Burton. 
"Heck yeah, man, this is awesome," Burton said after the race, reported by nascar.com.
The trip to Victory Lane was Burton's first after going winless in 38 Camping World Truck Series starts and 11 Xfinity appearances.
"There's times when you go through a little bit of a drought, and you doubt yourself," Burton said. "But to get a win feels so good."
Herbst is still looking for his first career win. 
Burton will not be looking for his first Cup checkered flag for long. Following Cindric's career-defining effort, Burton will make his own history. The rookies will continue to roll.
Burton will have plenty of Ford friends to find early draft opportunities 
Don't worry about Burton's P22 starting position.
His flank is secure with Fords. Chris Buescher and Cole Custer, who captured the Xfinity Series' Production Alliance Group 300 on Feb. 26, are two spots ahead, and Michael McDowell and Chase Briscoe will start two places behind. Burton should have ample draft opportunities to gradually work his way up the field.
Running in the middle of the pack early will give him time to learn – and get used to – how the new technology handles the old track.
"One of the biggest challenges I expect is learning how this Next Gen car will handle slipping and sliding and which tools can the driver use to help get through those moments," Burton said.
He learned quickly as a rookie in 2020.
He'll do it again in 2022.
Like Sportscasting on Facebook. Follow us on Twitter @sportscasting19. 
RELATED: Austin Cindric's Win Highlights Start of Intense NASCAR Rookie Battles