Why Hasn't Ben Simmons Played for the Brooklyn Nets Yet?
A disgruntled (massive understatement) Ben Simmons was sent from the Philadelphia 76ers to the Brooklyn Nets just hours before the NBA trade deadline on Feb. 10 in a megadeal that saw James Harden land in Philly.
The blockbuster shook up the NBA and gave the Nets a defensive tool they needed beside Kevin Durant and Kyrie Irving.
Harden has already shown significant promise with the 76ers, albeit in a small sample size, with new teammate Joel Embiid.
But why hasn't Simmons played for Brooklyn yet?
Ben Simmons landed with the Brooklyn Nets as part of the James Harden trade
The basketball world exploded on deadline day when the rumored Swimmons-Harden swap came to fruition.
The former Sixers point guard left the team last summer and never returned. It's been nearly nine months since Big Ben played in an NBA game.
The Beard quickly and dramatically tanked the final two weeks of his Nets career away, and the rumors of a trade between the two organizations concerning their two star players picked up in the days leading up to Feb. 10.
Eventually, Simmons, Andre Drummond, Seth Curry, and some picks headed to Brooklyn and Harden headed to Philadelphia, and both sagas came to an end. (Only for two more to begin, really).
The Sixers' new dynamic duo has gotten off to a torrid start, while things have crawled along at a snail's pace with the Nets organization on multiple fronts. Ben still hasn't played since Game 7 of last year's Eastern Conference semifinals.
When will he finally see NBA action again?
Kevin Durant is returning to the Nets, but why hasn't Simmons played for Brooklyn yet?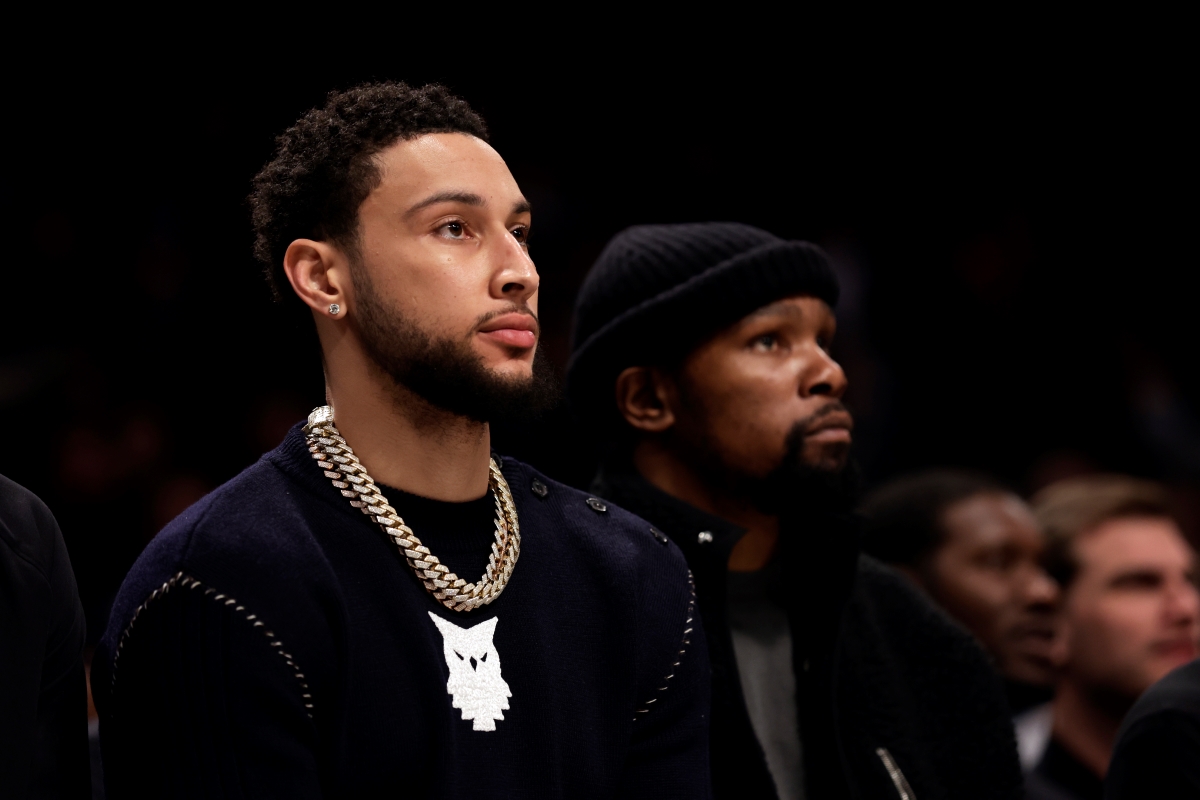 KD will return for a game against the East-leading Miami Heat on March 3. He hasn't played since Jan. 15, when he went down with a sprained left MCL.
Simmons was expected to enter the Nets' lineup before Durant, but that scenario has now swapped. It's reportedly still uncertain when the former Philly point guard will put on a Brooklyn uniform.
The 6-foot-11, three-time All-Defensive player was initially set to return before a March 10 game against his former team. That plan has been "scrapped" according to ESPN's Brian Windhorst, who reported that Simmons' status is now "week-to-week" rather than day-to-day.
The former LSU star joined the Nets and was expected to work his way back into basketball shape before taking the floor. He's now out with a back injury and, according to Windhorst, hasn't taken part in five-on-five workouts yet.
"There's been so much obfuscation and protection and difficulty with this Simmons situation," he said. "It's very hard to get your arms around it, but I think you can scratch March 10."
The ceiling for this team remains a mystery for now
Heading into a crucial matchup against the Heat, Brooklyn is only a game over .500 at 32-31. The Nets will need Durant to immediately return to MVP level as they sit eighth in the East and in line for only a play-in berth.
Irving could be cleared to play full-time if New York City lifts its mask mandate, but at the moment, he's still only able to play in road games.
Brooklyn is 4.5 games behind the sixth-seeded Boston Celtics, the spot the team would need to reach to avoid the play-in tournament. However, they're closer to the 11th-place Washington Wizards (three games), and that would put them out of the playoffs altogether.
The Nets have a championship-level ceiling with a healthy trio of Durant, Kyrie, and Simmons. But the litany of question marks surrounding each of those three, let alone the combination, makes everything a mystery.
Big Ben's status remains unclear, but what is clear is that Brooklyn needs him to have any chance at making a run to the NBA Finals.
All statistics courtesy of Basketball Reference.
RELATED: Kevin Durant and the Nets Can Send Message to Top-Seeded Heat