Why Hawaii QB Cole McDonald Could Be the Patrick Mahomes of the 2020 NFL Draft
The pressure is on NFL teams now. Several teams famously slept on, and even traded up past, Patrick Mahomes in the 2017 draft. Now Mahomes and the Kansas City Chiefs have brand new Super Bowl rings, and the NFL must reckon with how he slipped through the cracks.

Before we dive in on this topic, we must confront the truth — there isn't going to be a straight-up clone of Patrick Mahomes anytime soon. An MVP in his first year as a starter? A master of all the disparate tools of his position? That's a generational quarterback talent.

But some players in the 2020 draft share traits with Mahomes. They're sleepers on like Mahomes. They're going to frustrate savvy fans if their favorite team doesn't pick them. At the top of that list: Hawaii QB Cole McDonald.

Cole McDonald's Mahomes-esque background
Cole McDonald entered the serious phase of his football career with an important resume-builder — like Mahomes, he was a two-sport athlete. That correlates heavily with later success at the professional level. Mahomes excelled at baseball as well as football; McDonald was a track star.

McDonald ran track in the 100- and 200-meter dashes in high school. That investment in athletics looms large over Mahomes' agility and hustle in the NFL today.
At Sonora High School in Orange County, California, McDonald upped his football game quickly. He totaled 4,500 passing yards and threw in 32 touchdowns in three seasons. It got him offers from two schools, and he settled on the University of Hawaii.

McDonald's rapid year-over-year improvement bodes well for the NFL
Cole McDonald earned the starter spot and stuck to it for his final two years at Hawaii. It's the contrast between these two years that makes the best case for his potential in the NFL.

He wrapped up his first year as a starter with passable results. Notably, a 58% completion rate put him on the bubble for being considered an NFL prospect. His 2019 run quickly changed that perception. He shot that number up to 63% the very next year.

His 2019 season demonstrated his ability to improve both mentally and physically. On 33 touchdowns, he tossed 14 total interceptions. That's a number that doesn't look too bad when Hawaii's Run and Shoot offensive style is taken into account. Heightened turnover risk is simply accounted for as part of that particular attack.

McDonald started pulling off wild Mahomes-style on-the-run throws that can only come from a combination of raw athleticism and high football IQ.
While commentators often think of McDonald as something of a dark horse pick, he's a favorite among QBs at the NFL combine. Hitting targets deep is his best attribute, but he is a well-rounded QB. Continued improvement isn't guaranteed. He does have some flaws that will keep NFL teams cautious.
The issues that might cause Cole McDonald to get slept on in the 2020 NFL draft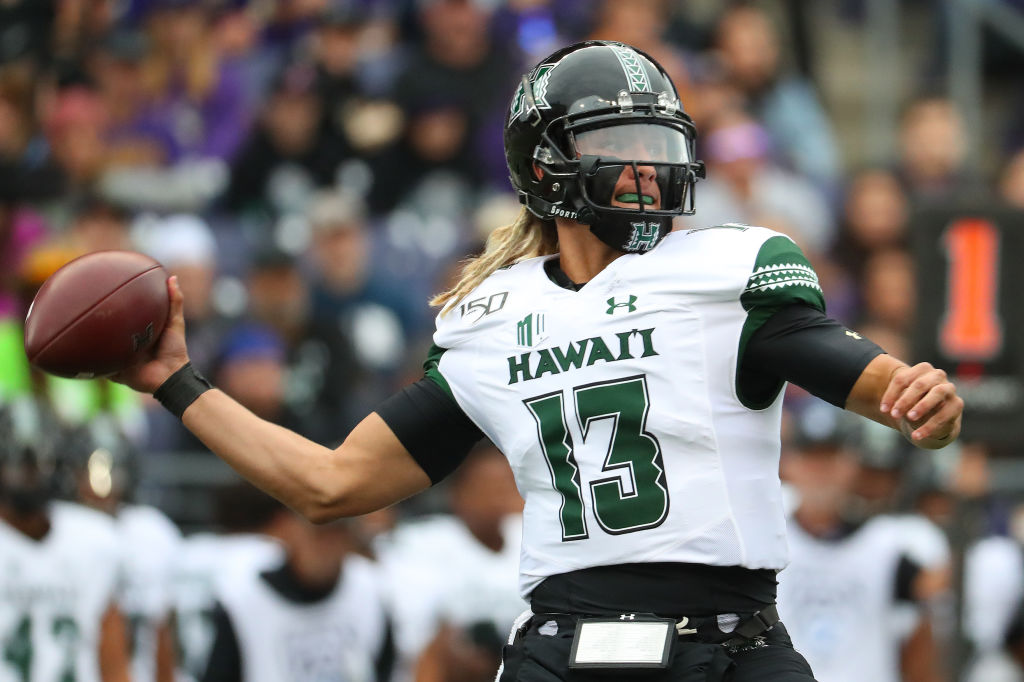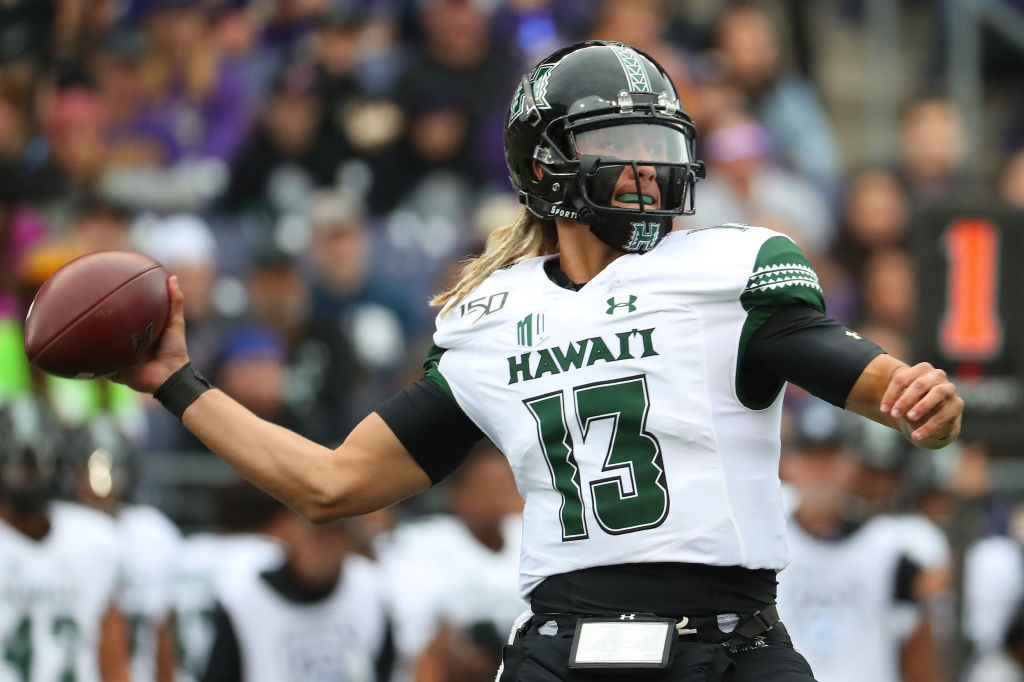 Similar to how Mahomes' flaws became the focus in the 2017 draft, McDonald's deficiencies paper over how good he is in so many categories.

As mentioned above, his high turnover rate is unique to his situation in Hawaii. Still, he hasn't proved himself fully on that front. That raw number sits on his stat sheet. It will make NFL teams nervous.

McDonald has a long windup. That serves as a tell and allows attentive defensive backs to get a jump on a possible target. It is an area where McDonald isn't all like Mahomes. It will make his NFL experience challenging if it doesn't change.

He leans on his speed and physicality in the pocket. That often leaves the ball exposed. It's a habit that NFL-level defenses will not let him get away with too often.

But those aren't uncommon issues for college QBs, especially those working under an aggressive shoot-from-the-hip coaching staff. If these flaws are focused on too much, they could lead to Cole McDonald being the next Patrick Mahomes-style sleeper QB in the 2020 NFL draft.