Why International Basketball Could Wind Up Excluding NBA Players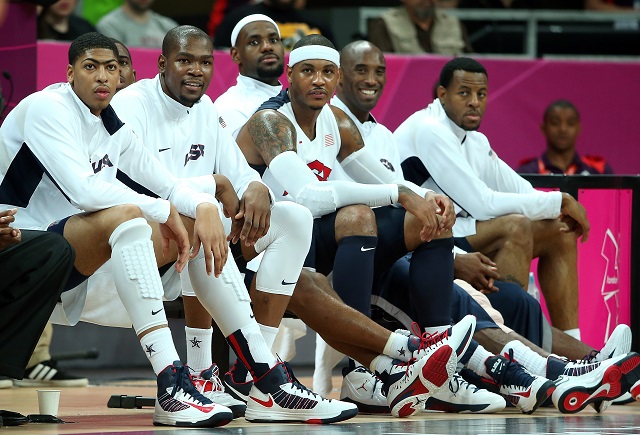 While not every variation of worldwide basketball receives equal amounts of coverage from the average NBA fan — the Olympics come first, obviously, then there's a vast swathe of space, then some order of FIBA, the Eurocups, and the Euroleagues (but really that's just to scout draft prospects on YouTube) — the FIBA championships can be a great testing ground for NBA players to ply their trade against other ways of playing the game. The stretch four, now a staple in the National Basketball Association, got its start in Europe, and watching international innovations is one way for players, fans, and front office types to keep a finger on the pulse of the evolution of the sport. And, also, more basketball is better basketball, most of the time (never forget the lockout leagues of 2011).
Similarly to FIFA's World Cup, the FIBA World Cup requires countries to play their way in through qualifiers: matches that determine whether a country can participate in the tournament. To the surprise of basically no one, NBA players tend to do well in these qualifiers, because basketball's best talent is largely concentrated in North America's basketball league. The qualifying games are usually held in the late summer, in the heat of the offseason. But now, FIBA has proposed a schedule that would move the tournaments, as well as the qualifiers, to the fall, winter, and early summer (February, June, November, and December), which means that many NBA players might not be able to play at all.
This doesn't affect Team USA so much, but it certainly hurts countries that have fewer superstar players at their disposal, which is why countries like the Philippines will expedite citizenship for NBA players like Andray Blatche and JaVale McGee.  Phoenix Suns point guard and pride of Solovenia Goran Dragic told ESPN exactly what having an in-season tournament would mean for him.
"Coming from Phoenix," Dragic said, "I have to switch planes three times and it takes 22 hours to get back to my home country. I lose one day and then to play a game, then go back to the United States to play, that's too much, and a lot of NBA players won't do it." He also added that even during the All-Star Break, NBA players only get five days off, effectively closing the window on a player's ability to make the qualifiers, which must be played at home (in their country) and on the road (in another country).
The tournaments, which currently affect Olympic eligibility as well as World Cup participation, would certainly suffer if less NBA caliber talent was able to participate. There are also concerns about a FIBA overture toward decoupling the Eurobasket and the Americas championship from World Cup/Olympic standings, which would turn them into relative backwaters for international basketball competition.