Why Is Baker Mayfield so Famous?
Baker Mayfield is becoming one of the most recognizable faces in the NFL's youngest generation, and fans across the world are wondering why. Although Mayfield had loads of success during his college career, his NFL career has not yet shown to be worth the hype that came with it.
With so many commercials and media appearances, one might wonder if Mayfield is getting undue attention, while others may believe that his time would best be spent working on his game, not his image.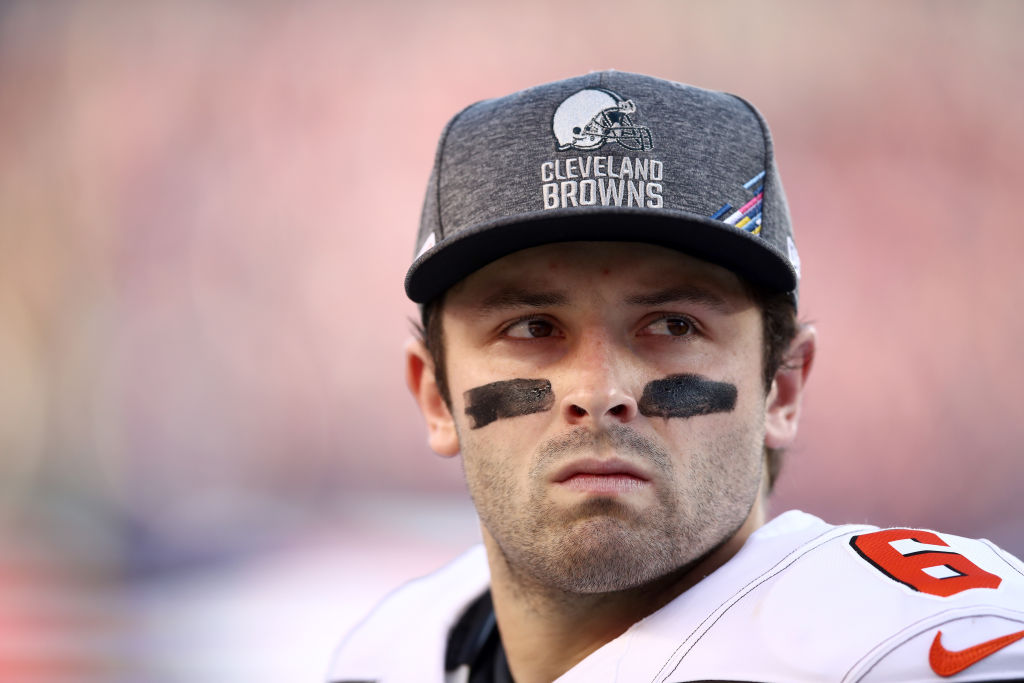 Baker Mayfield's rise
Mayfield was something of a Cinderella story in college football. After a brief and largely unspectacular freshman season at Texas Tech, Mayfield transferred over to Oklahoma, where he was a Heisman finalist during all three years at the school. He won the award in 2017.
His numbers at Texas Tech did not show much promise. He threw 12 touchdowns and nine interceptions in eight games, although his 2,315 yards showed he could get it down the field. 
At Oklahoma, however, Mayfield erupted. He never matched the nine interceptions he got at Texas Tech, throwing only 21 interceptions throughout three seasons. His Touchdowns skyrocketed, with Mayfield accumulating 119 touchdowns over those three years to go along with over 12,000 total passing yards during his time there.
Baker Mayfield became one of the biggest names in college football and the consensus number one pick in the 2018 NFL draft. 
Aside from his game, Mayfield has showcased a vibrant personality. His interviews are often done with passion, with Mayfield giving more insight than many of his more even-keeled colleagues. He became an ideal face for the NFL and its advertisers, and once he escaped the confines of the NCAA, Mayfield was able to capitalize on his image. 
The fall?
Baker Mayfield had a decent rookie season with the Cleveland Browns. Not only did he have a 6-7 record as a rookie, an unspectacular, but somewhat commendable feat for a rookie quarterback, but he showed some of the promise he displayed at Oklahoma. He threw 27 touchdowns and 14 interceptions, found his receivers 63% of the time, and accumulating 3,725 passing yards in the process. 
This year, however, despite one of the best receiving corps in the NFL in Odell Beckham Jr. and Jarvis Landry, Mayfield has been markedly worse. He has thrown for only seven touchdowns through his first eight games, and with 12 interceptions, he will more-than-likely end with more than last year. He's throwing wild passes and failing to get the job done as the leader of the offense, yet he remains one of the most marketable players in the NFL.
Baker Mayfield as a brand
Mayfield's face may even be recognizable to the most casual football fans in the country. Not only is he the face of ad campaigns for insurance company Progressive, but he can be seen selling everything from underpants to Hulu subscriptions on ad campaigns, and he only appears to be getting more attention as his young career progresses.
Mayfield has lots of microphones in his face after every game, and whatever he says can get a lot of attention for a second-year quarterback who has not yet proven his place in the NFL.
Although he is articulate, passionate, and often-times candid with his feelings, fans may question whether Mayfield's hype is dictating his standing in the NFL more than his performance. 
Mayfield isn't the first NFL player to capitalize on his image before he proved himself. Tim Tebow, for example, continues to find himself in the spotlight both on ESPN and in minor league baseball leagues thanks to the brand he built in college.
This early on, however, Mayfield may need to think about whether he wants to be seen as the guy from the commercials or the quarterback who's winning football games.