Why Is Donald Trump Throwing Out the First Pitch Before a Yankees Game?
For the first time in his presidency, Donald Trump intends to take the mound.
Alongside close friend and legendary Yankees closer Mariano Rivera, Trump announced he would throw out the first pitch at a New York Yankees game this summer.
How did Trump and the Yankees reach that agreement, and what, if anything, will his ceremonial first pitch mean for baseball? Let's examine what could be one of baseball's more fascinating storylines this summer.
Yankees executives invited Donald Trump to throw out the first pitch
In his nearly four years as U.S. President, Donald Trump hasn't thrown out the ceremonial first pitch at an MLB game. That includes the hometown Nationals, who welcomed Dr. Anthony Fauci to do that honor on opening night.
That is scheduled to change on August 15. Before the Yankees host the rival Red Sox, Trump will take the mound and throw the first pitch in front of what will likely be an empty stadium.
In his coronavirus briefing on July 23, Trump said Yankees executive Randy Levine invited him to throw the first pitch. Trump called Levine, the Yankees' president, a "great friend."
During that briefing, Trump praised Major League Baseball for its return to play. Gerrit Cole and the Yankees defeated the Nationals, 4-1, in a rain-shortened opener; on the west coast, the Los Angeles Dodgers routed the rival Giants 8-1 at home.
"I think Major League Baseball is setting an example by playing to empty stadiums. And so are other sports. … We want to get back to normal. The key is to get back to normal."
Trump and Rivera, a unanimous Hall of Fame inductee in 2019, played catch with Little Leaguers after the briefing ended.
Donald Trump is a Yankees fan and loves baseball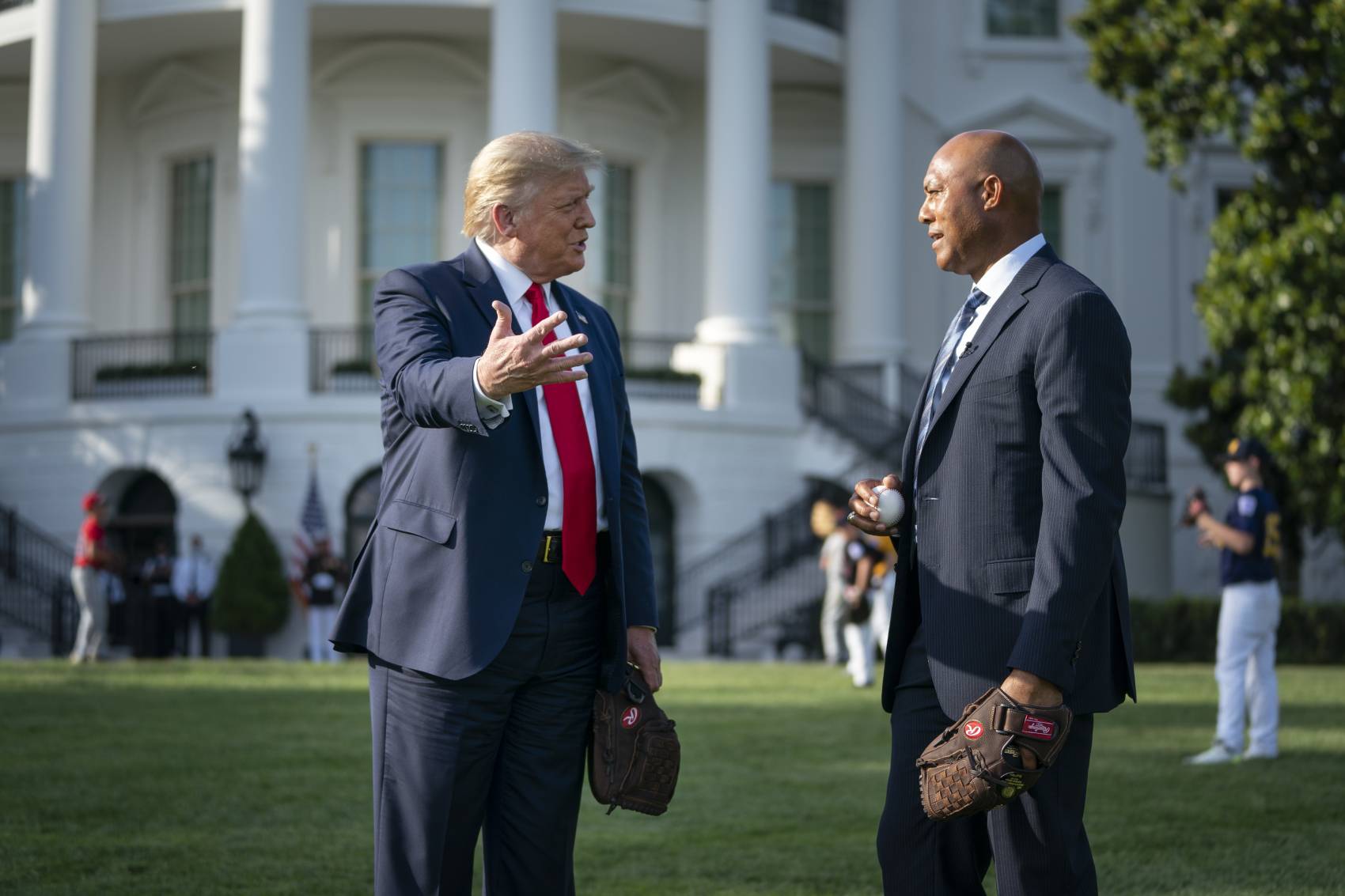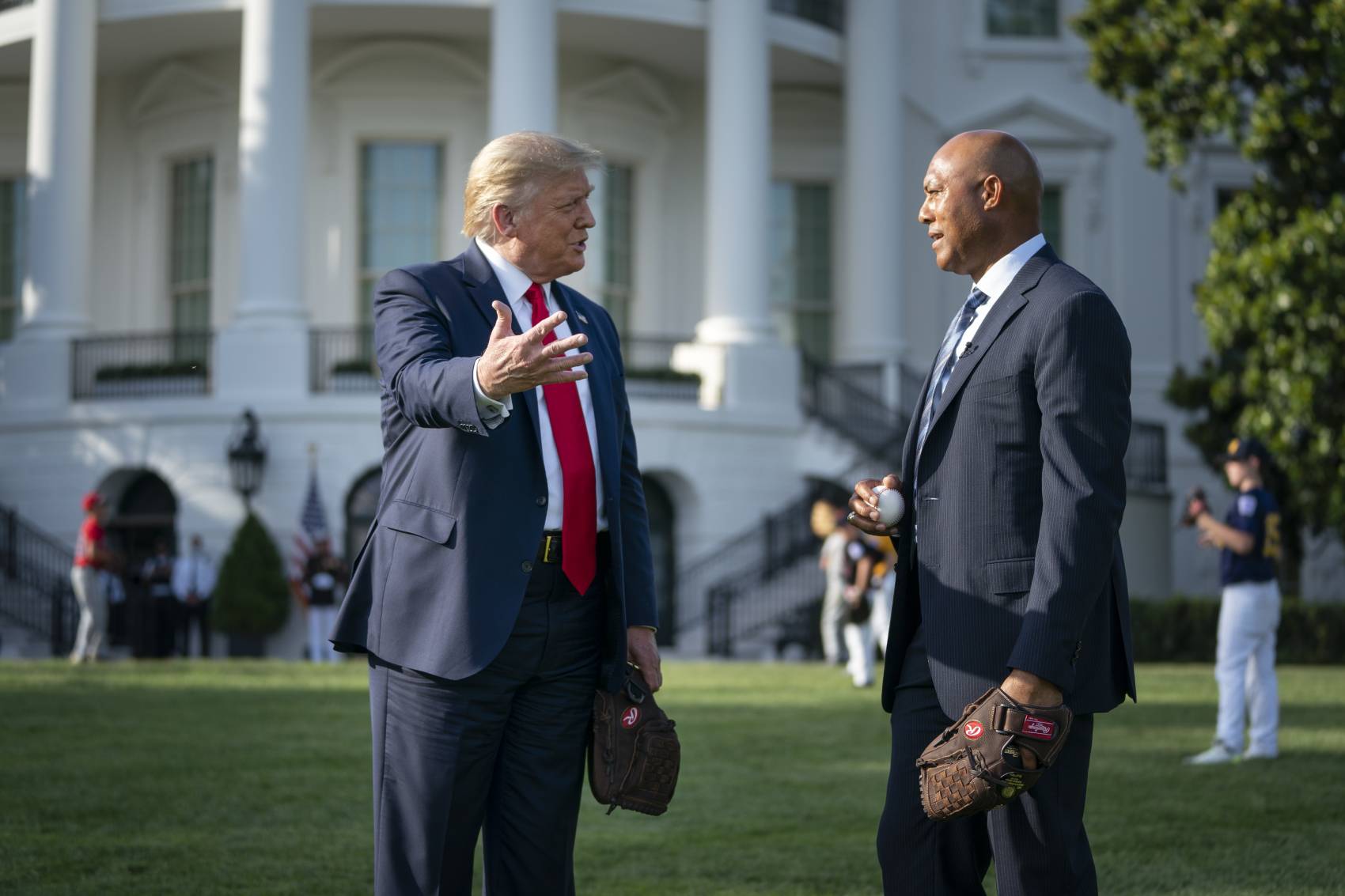 Before he ran for President in 2015, Donald Trump was like many other New Yorkers. He would tweet his thoughts on the Yankees, in both wins and losses, from his iPhone.
Trump considered late Yankees owner George Steinbrenner his best friend, according to NBC News. Steinbrenner, who passed away in 2010, often invited Trump to sit with him in the owner's suite.
Trump reportedly called former Yankees slugger Alex Rodriguez for his advice on the coronavirus response earlier this year.
Trump previously didn't think highly of Rodriguez. He tweeted in November 2012 that "[e]verything A-Rod touches turns bad."
Trump awarded Rivera the Presidental Medal of Freedom in September 2019. It is one of the highest civilian honors in the United States.
Trump could create problems for the Yankees and baseball
The Yankees have placed themselves in a very difficult situation by inviting Donald Trump to throw out the first pitch.
Trump has criticized teams and players in sports for kneeling for the national anthem. The Yankees and Nationals took a knee before the national anthem, but stood when the song played on opening night.
Dodgers outfielder Mookie Betts kneeled during the national anthem before the Dodgers' first game.
No Yankees players have publicly spoke out against Trump's first pitch as of July 24.
Major League Baseball finds itself in a tough situation. Even if the league receives enough pushback, it is not known if they can tell the Yankees to rescind the offer.
If either MLB or the Yankees do tell Trump he's not welcome, they open themselves to a potential firestorm. Trump hasn't held back in ripping sports, especially the NFL and NBA.
If the Yankees allow Trump to throw out the first pitch, they risk significant public relations hits.
For now, the Yankees seem aware of the risks and are still willing to have Trump take the mound. If that's the case, Trump should do his best to throw a better pitch than Fauci did.