Why Is Mike Tirico Calling 'Sunday Night Football' in Week 6 Instead of Al Michaels?
Football fans who expected to hear Al Michaels wax poetically about Seattle Seahawks quarterback Geno Smith will instead get to hear Mike Tirico attempt such a fool's errand in Week 6.
Although Sunday Night Football will be live from Heinz Field to cover the Seahawks' showdown with the Pittsburgh Steelers, Michaels won't be there. Instead, it will be Tirico — who is expected to replace Michaels as SNF's lead play-by-play announcer in 2022 — on the call alongside Cris Collinsworth.
Mike Tirico is calling 'Sunday Night Football' in Week 6 instead of Al Michaels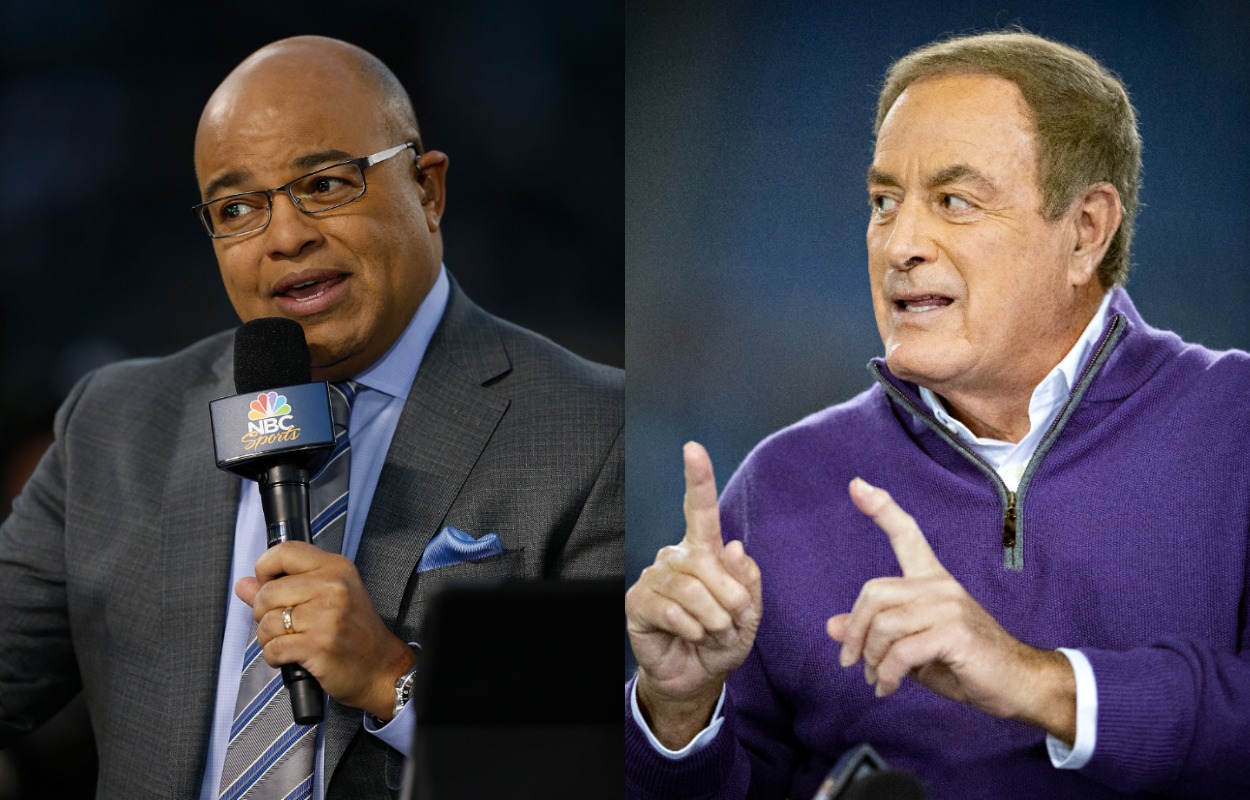 Michaels is channeling his inner Kawhi Leonard in Week 6 and enjoying load management. The 76-year-old called six NFL games in the season's first five weeks and is off this weekend.
That opens the door for Tirico, who turns 54 in December, to call his first NFL game of the season. As a result, he will not serve as the studio host for Football Night in America.
The timing of this week worked out perfectly. Although Tirico is the television play-by-play voice for Notre Dame football, the Fighting Irish are off this week. Drew Brees, his partner on Notre Dame broadcasts, will continue working on FNIA this week.
Barring any unexpected late issues, there will be no other changes to the Seahawks-Steelers broadcast. Collinsworth, sideline reporter Michelle Tafoya, and rules analyst Terry McAulay will continue in their current roles.
Tirico called several NFL games last year, including a Wild-Card Round showdown, for NBC
Although Michaels has served as Sunday Night Football's lead voice since 2006, this won't be the first time he's turned the role over to Tirico for a week. The longtime Monday Night Football play-by-play announcer served as a replacement several times throughout the 2020 season.
Notably, Tirico and Collinsworth teamed up for a Wednesday afternoon showdown on Dec. 2, 2020. You read that correctly. The Baltimore Ravens had a COVID outbreak which pushed a Thanksgiving matchup with the Steelers back six days and resulted in the NFL's first Wednesday game in eight years.
Despite missing star quarterback Lamar Jackson and over a dozen players for COVID-19 reasons, the Ravens kept things close and only lost 19-14.
Tirico, longtime NFL head coach Tony Dungy, and sideline reporter Kathryn Tappen called last year's NFC Wild-Card Game between the Tampa Bay Buccaneers and Washington Football Team on Saturday, Jan. 9. Michaels, Collinsworth, and Tafoya worked the Steelers' home playoff game against the Cleveland Browns a night later.
Joe Buck, much like Michaels, isn't calling an NFL game this weekend
Michaels isn't the only lead NFL announcer who won't be working on Sunday, Oct. 17. Fox Sports' No. 1 broadcast team — Joe Buck, Troy Aikman, Erin Andrews, and Tom Rinaldi — are all off and will not be calling a game this weekend.
However, there is an important difference to note. Buck, Aikman, and Andrews worked the Thursday Night Football game between Brady's Buccaneers and Jalen Hurts' Philadelphia Eagles. Kristina Pink, who replaces Rinaldi on TNF broadcasts, is also off the Sunday slate.
Buck, though, did work this weekend. He and Atlanta Braves legend John Smoltz are tasked with a New York Yankees fan's worst nightmare: the 2021 American League Championship Series featuring the Boston Red Sox and Houston Astros. The teams split the first two games at Minute Maid Park in Houston.
Barring any weather postponements along the way, a possible Game 7 of the ALCS is scheduled for Saturday, Oct. 23. As of publication, it was not yet known if Buck would call an NFL game on Oct. 24 if the series goes that long.
Like Sportscasting on Facebook. Follow us on Twitter @sportscasting19.
RELATED: Al Michaels Cost Himself $5,000 With a Single Swing as a High School Student