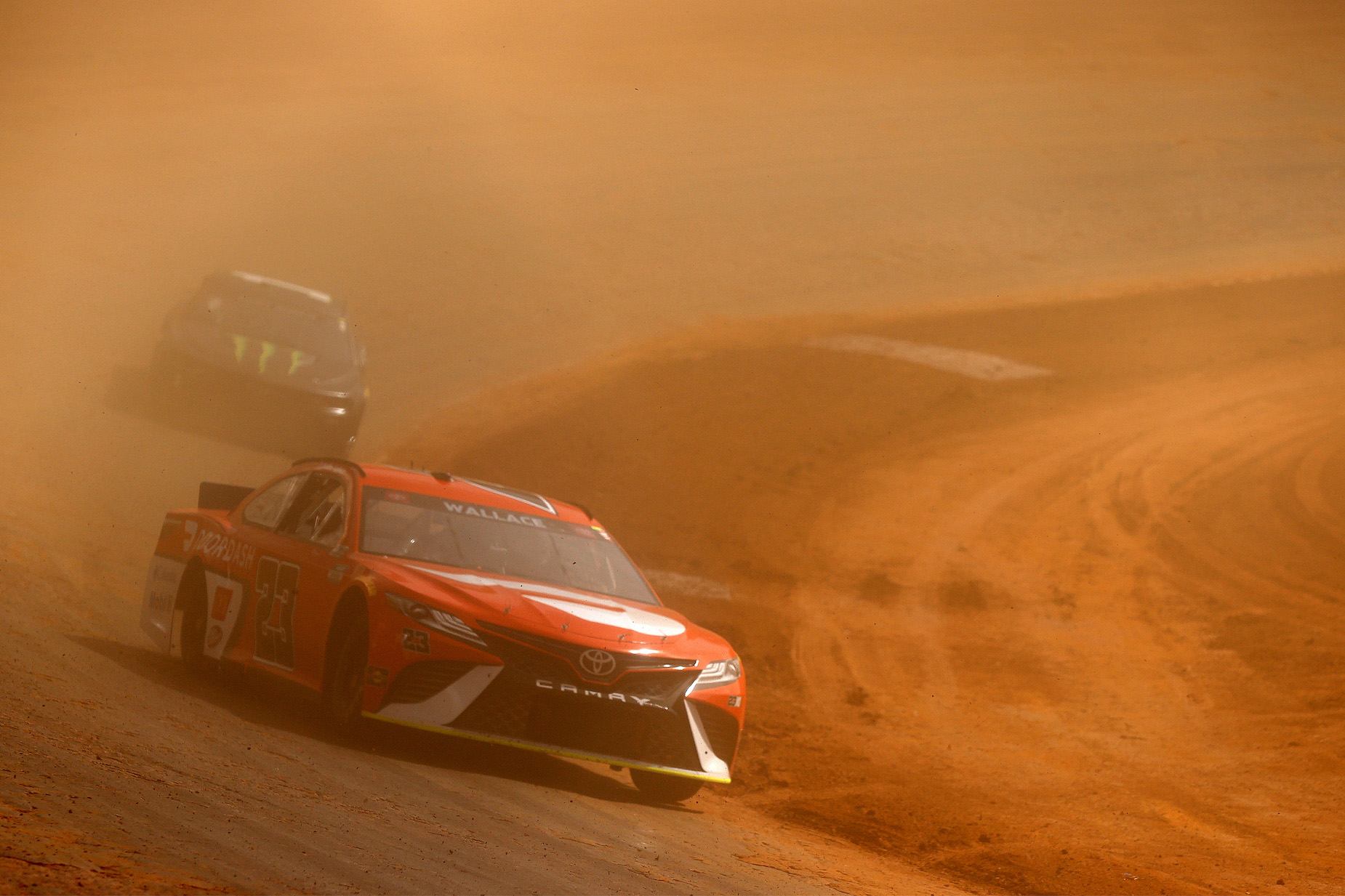 Why Is NASCAR's Cup Series Driving on a Dirt Track at the Food City Dirt Race?
While the Food City Dirt Race will be quite the spectacle, what inspired NASCAR to hold a Cup Series race on a dirt track?
On Sunday, March 28, motorsports fans will get the chance to experience a major blast from the past. When the weekend's NASCAR Cup Series race kicks off in Bristol, things will be quite a bit different than the norm. As its name would lead you to believe, Bristol Food City Dirt Race will be taking place on a dirt track rather than an asphalt oval.
That reality, however, raises one key question: why hold a NASCAR Cup Series race on a dirt track? In this case, it all boils down to the fans.
NASCAR is throwing it back by racing on a dirt track
These days, NASCAR is a major commercial enterprise, with televised races taking place at massive motor speedways around the country. Back in the day, though, things were quite a bit different.
Stock car racing as we now know it started during Prohibition when bootleggers would modify their cars to outrun the law. Before long, those vehicles were put to use for another purpose: racing for entertainment at local fairs and race tracks.
As you might imagine, those races took place on dirt tracks. As NASCAR grew into the behemoth it is today, though, things eventually changed. The last time Cup Series competition hit a dirt track was in 1970; since then, asphalt ovals have taken over.
On Sunday, March 28, though, dirt track racing will return to the Cup Series. As its name implies, the Bristol Food City Dirt Race will provide NASCAR fans with a glimpse into the past thanks to 250 laps of action.
Why have a NASCAR Cup Series race on a dirt track?
For the most part, professional sports follow a linear progression. Once a change is made, like adding the three-point shot or the forward pass, it's tough to put the genie back in the bottle. So why is NASCAR's Cup Series throwing it back to a dirt track?
As explained by Liz Clarke of The Washington Post, the Bristol Food City Dirt Race is an attempt to speak to the NASCAR fans who feel like they've been left behind over the years.
"Stock-car racing's boom slowed to a halt, however, not long after Fortune magazine in 2005 proclaimed NASCAR 'America's fastest-growing sport," she wrote. "Several top drivers retired. The sought-after nationwide audience lost interest. Many longtime fans felt cast aside, convinced NASCAR had taken their loyalty for granted amid its headlong rush for mass appeal. Others griped that safer cars were making the races dull."
Whether you believe those are legitimate criticisms or not, Sunday's race is a way to give those old-school fans exactly what they want.
"After every event, we do fan research," Jerry Caldwell, Bristol Motor Speedway's executive vice president and general manager, told Clarke. "We ask the fans, 'What other things would you like to see at Bristol Motor Speedway?' Dirt racing has always been on that list."
As the cliche says, the customer is always right. They wanted a Cup Series race to be held on a dirt track; on March 28, that's precisely what they'll get.
The Bristol Food City Dirt Race will be different for everyone, not just the fans
On Sunday, March 28, NASCAR fans will get their wish and see a Cup Series race on a dirt track. They won't be the only ones getting a different experience, though. Drivers and their teams will understandably have to make a few changes.
As laid out by Autoweek, Sunday's race will last for 250 laps, which will be divided into three stages. There will be a break after the first 75 laps; the action will then pause after another 75 laps (150 in total), leaving drivers with 100 laps in the final segment. Those pauses in the action will replace traditional pit stops and provide drivers with a chance to refuel or grab some running repairs.
Driving on dirt will also inspire a few changes to the cars themselves. Teams can add debris deflectors and screens to try to keep things relatively clean; spoilers can also be a bit larger than during an ordinary Cup Series race.
It goes without saying that the drivers will also be facing some new challenges on the track. Asphalt, for better or worse, is uniform; a dirt track can and will change over the course of 250 laps.
"I have no clue how the track is going to be," Kyle Larson, who has quite a bit of dirt track experience, told Bristol Motor Speedway's website. "It could be hard and slick or hard, rubbered down and one lane. Or it could rain, and it could be heavy and rough, and we're ripping the noses off the car. Honestly, I hope it does get a little bit rough because I think that will add some characteristics to the track and open up some different things like that. I don't know what to expect, though. I can't wait for this race."
No matter what happens, it's safe to assume that the Bristol Food City Dirt Race will be quite the spectacle. From NASCAR's perspective, that alone makes all the changes worthwhile.