Why Isn't Jamal Murray Playing For the Denver Nuggets?
The Denver Nuggets have had championship aspirations for the past three seasons. The team made the Western Conference Finals in 2019-20 and made the conference semifinals the year prior and the year after, finishing last season with the No. 3 seed in the West. The Nuggets are trying to get over the hump in 2021-22 but will need star guard Jamal Murray to do it.
Murray is one of the NBA's brightest young superstars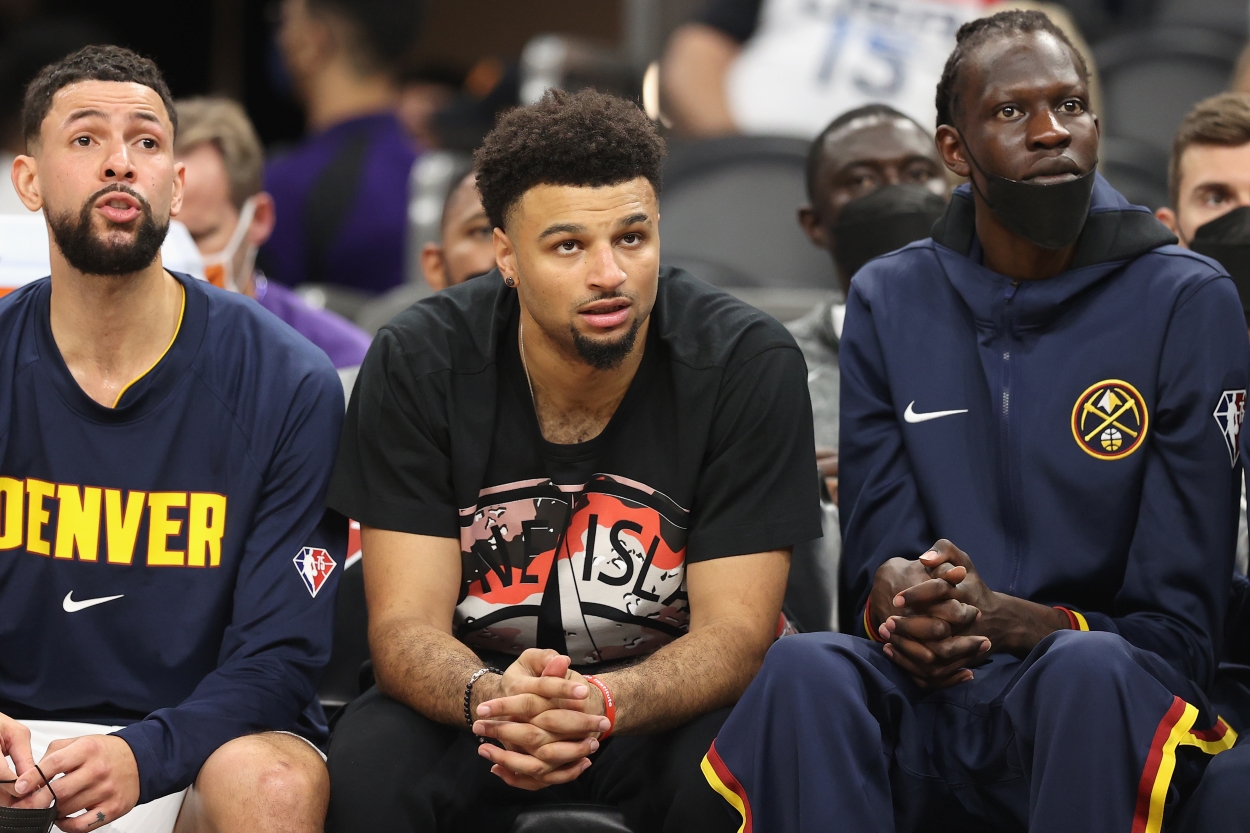 Murray was drafted by Denver seventh overall in the 2016 NBA Draft. He made the all-rookie team that season after averaging 9.9 points, 2.6 rebounds, and 2.1 assists as a 19-year-old.
The former Kentucky product nearly doubled his scoring average the following year and has increased his production every season since. He's also developed into a playmaker for the Nuggets, averaging nearly five assists in each of his last three campaigns.
Murray's most significant leap toward superstardom came during the 2020 playoffs. He scored 26.5 points per game in 19 postseason contests on 50.5% shooting and 45.3% shooting from three on more than seven attempts per night.
In his age 22 season, the 6-foot-3 combo guard helped his team to a conference finals appearance against LeBron James, Anthony Davis, and the Los Angeles Lakers before losing in five games.
Why isn't Jamal Murray playing for the Denver Nuggets?
Murray started the 2020-21 season the same way he ended the 2020 playoffs. Through 48 games, the Canadian sharpshooter averaged a career-high 21.2 points to go along with 4.0 rebounds and 4.8 assists on a career-high 40.8% shooting from deep.
He and running mate Nikola Jokic were set to take the Nuggets from a young, entertaining group to a legitimate NBA title contender.
Then on April 12, in a game against the Golden State Warriors, Murray suffered a non-contact injury while running a fast break. He was diagnosed with a torn ACL, ending his season.
Currently, there is no timetable for his return.
"Just five months ago, I couldn't lift my leg off the bed," Murray said via Sentinel Colorado. "I want to feel good when I come back. I don't want to come back when I'm 85% no matter where the team's at.
"I want to come back when it feels like I can play with the same amount of force that I normally play with. I don't want to be babying it at all or overthinking at all. I want to be naturally in my head where I can play without any pain, play without any second thought."
Denver has the reigning MVP, but the Nuggets still won't win a title without their star guard
Jokic went on to win last year's MVP Award. Denver finished with a record of 47-25 and beat Damian Lillard and the Portland Trail Blazers in six games in the Western Conference's first round.
The Nuggets were then swept by the eventual conference champion Phoenix Suns.
Jokic's ability to facilitate at his size makes him a generational center. But Denver's offense bogs down without a second playmaker and a shooter as good as Murray to spread the floor.
Jokic and Michael Porter Jr. will hold down the fort until Murray returns, but Denver needs its fifth-year guard at his best if it's going to make a serious run at an NBA title.
All statistics courtesy of Basketball Reference.
RELATED: How Much Money Has Jamal Murray Made in His NBA Career?