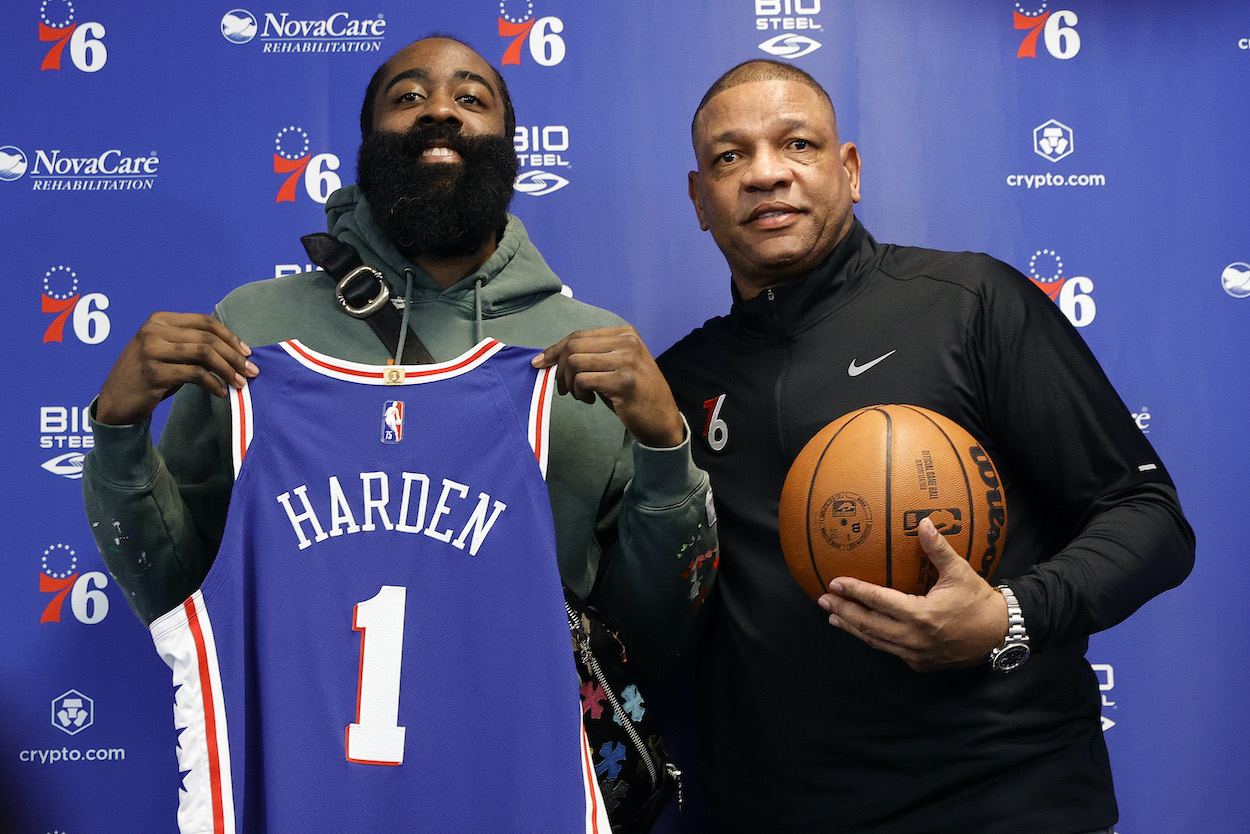 Why Isn't James Harden Playing for the 76ers and When Will He Make His Debut?
Philadelphia 76ers fans will have to wait longer than they expected to see James Harden make his debut.
When the Philadelphia 76ers decided to go all in at the NBA trade deadline for James Harden, fans couldn't wait to see what he and Joel Embiid would look like on the court as teammates. Well, they're going to have to wait a bit longer than they expected.
Harden hasn't suited up for the Sixers since moving over from the Brooklyn Nets. So, why isn't the newest Philadelphia star playing yet, and when is he expected to make his 76ers debut?
Why isn't James Harden playing for the 76ers?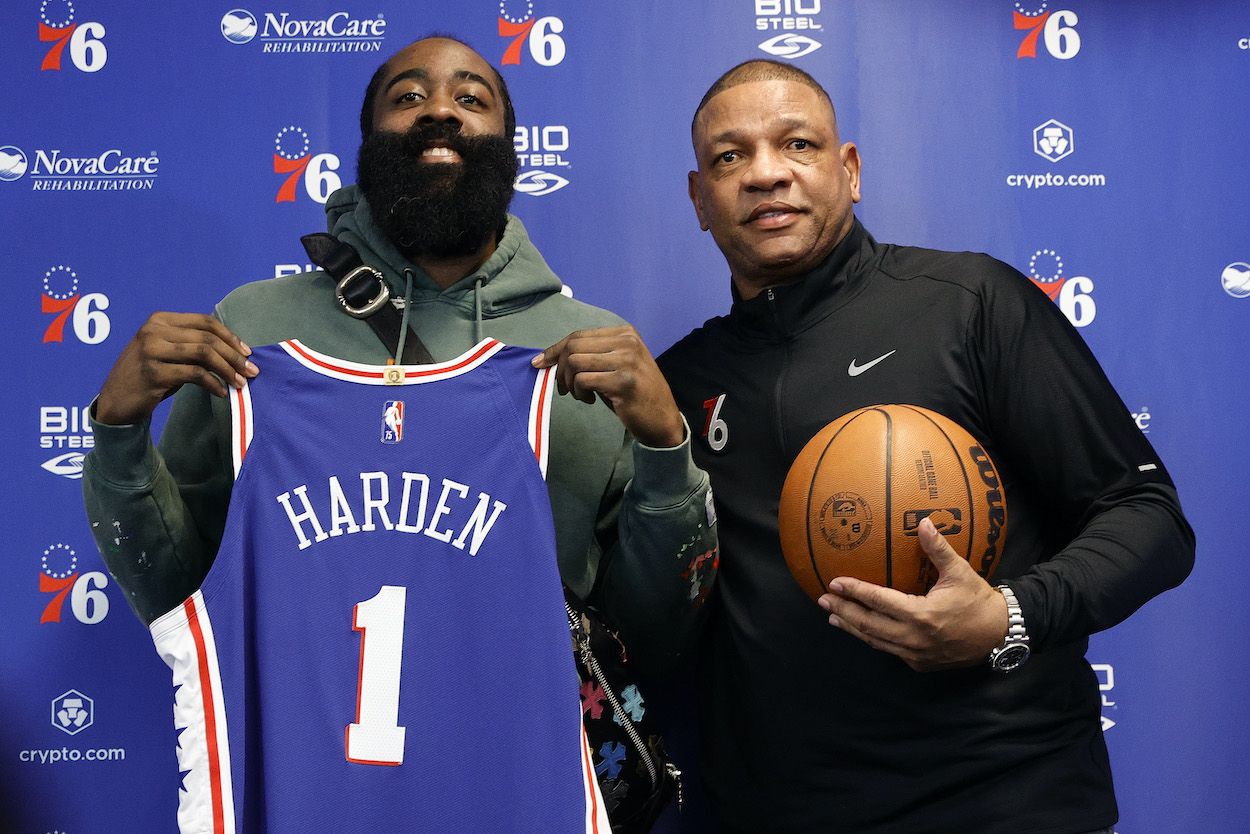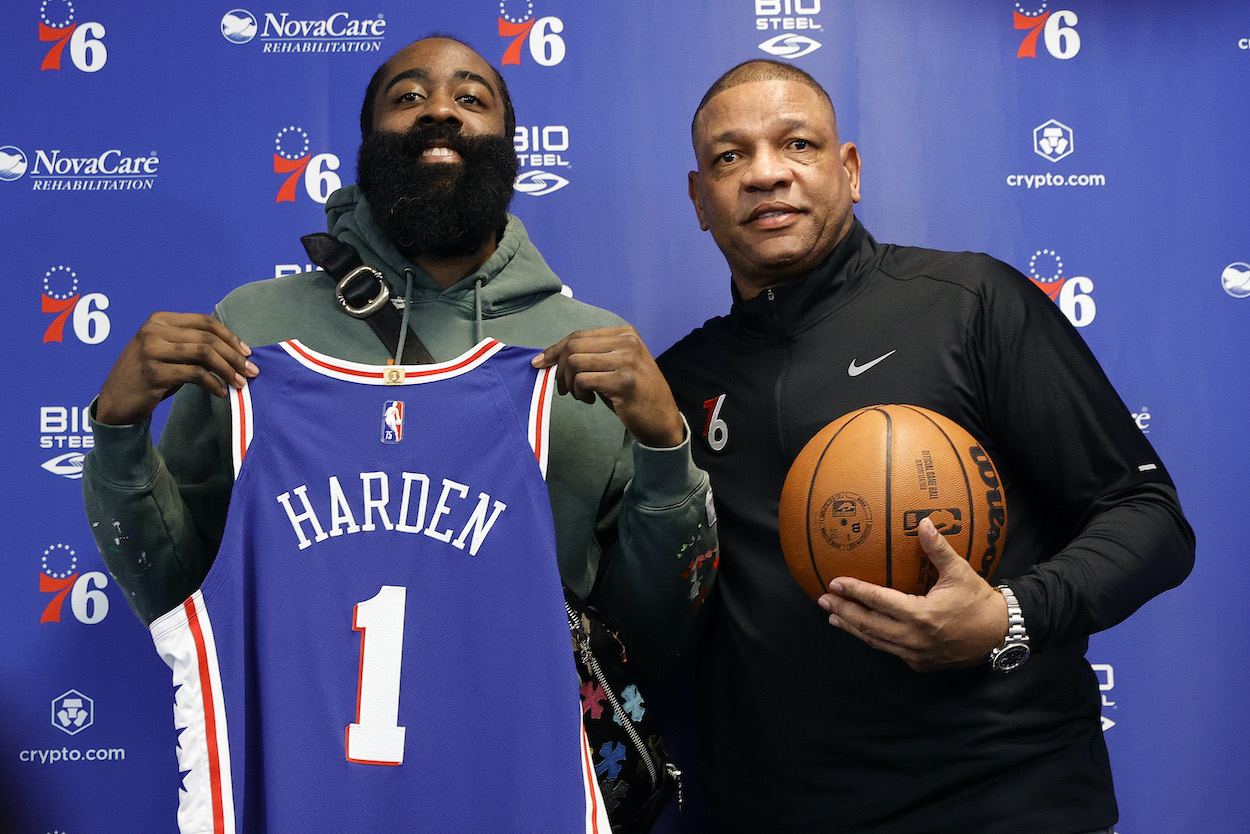 The 76ers made the biggest splash at the NBA trade deadline by sending Ben Simmons, Seth Curry, Andre Drummond, and two first-round picks to the Nets in exchange for Harden and Paul Millsap. The move was a long time coming, but Sixers president of basketball operations Daryl Morey finally made it happen just a few hours before the deadline clock struck zero.
Seeing as Harden and Embiid make up an enthralling offensive duo on the court, Philly fans immediately became excited to watch their new-look squad in action. But the 76ers have played three games since making the trade, and Harden hasn't played in any of them due to his lingering hamstring injury. He will also sit out Thursday night's game against the Milwaukee Bucks as a precaution.
The 76ers announced earlier this week that Harden will be out until after the All-Star break, but fans shouldn't be worried about his hamstring as a long-term issue.
The 76ers are being careful with Harden's injured hamstring
Harden didn't play in his last four games with Brooklyn due to his hamstring injury, so the 76ers don't want to rush him back too early and risk making it worse. In his introductory press conference with the team earlier this week, though, Harden said he's progressing well with his recovery.
"The hamstring feels really good," Harden said. "Just doing a lot of strengthening work right now. It definitely was a collaborative decision on after the break making sure we're a full-go. Like uphill is the only way we can go."
"My conditioning is great," he continued. "I have been doing a lot of running, a lot of sprints, a lot of treadmill work, strength and conditioning, but it's nothing like basketball conditioning. Playing in five-on-fives, and pick-and-roll, and getting hit like that so that's something I gotta incorporate. But overall, my body feels great."
Harden has been on the practice court with his new teammates over the last few days, so he would most likely be playing by now if these were must-win games. But there's no reason to force him back on the court until he's 100% ready to go.
When will Harden make his Sixers debut?
Considering Harden is working out every day and running drills with the team, there's no reason for Sixers fans to panic about his current injury. It's likely the future Hall of Famer will suit up for the first time on Friday, February 25 when Philadelphia returns from the All-Star break to face the Minnesota Timberwolves.
Harden's home debut should come on March 2 against the New York Knicks. Get your tickets now, Sixers fans, because they're going to sell out quickly once the official announcement comes.
Like Sportscasting on Facebook. Follow us on Twitter @sportscasting19.