Why Isn't Joel Embiid Playing for the Philadelphia 76ers?
The Philadelphia 76ers battled to an 8–2 record despite not having point guard Ben Simmons and with injuries and COVID-19 issues mounting. Their luck took a turn for the worse on Nov. 8 when superstar center Joel Embiid became the fourth 76ers player to enter the health and safety protocols. He will miss at least five games, a stretch that started with their 103–96 loss at home to the New York Knicks.
Tobias Harris, Matisse Thybulle, and Isaiah Joe were already in the health and safety protocols. Simmons is still out attending to his mental health, and two-way guard Grant Riller hasn't played this season after offseason surgery on his left meniscus. The 76ers have two more games at home, Nov. 9 against the Milwaukee Bucks and Nov. 11 versus the Toronto Raptors, before embarking on a six-game road trip.
Joel Embiid tested positive for COVID-19
According to Keith Pompey of the Philadelphia Inquirer, Joel Embiid was not going to play against the Knicks for rest. It was the front end of a back-to-back for the Philadelphia 76ers and Embiid has been playing through a sore knee. He collided with Jonas Valančiūnas of the New Orleans Pelicans on opening night. Embiid sat out Philadelphia's win over the Portland Trail Blazers on Nov. 1 to rest the knee.
Embiid is the second 76ers player to incur a breakthrough case of the virus. Harris, like Embiid, is also fully vaccinated, but has experienced fatigue and congestion.
Coach Doc Rivers said things aren't rosy for Embiid, either:
"I mean, he's not doing great. He's struggling with it. It's very similar to Tobias. That's all I can tell you."
As for playing without Embiid, Rivers took a diplomatic approach.
"You really want to ask that question?" Rivers said. "You don't have Joel. He's a pretty good player. So we just don't have a lot of numbers, you know? So obviously, this is a great challenge. That's just how I want our guys to look at it. It would be a heck of a story to tell if you can pull these games out. And that's what I want our mindset to be."
Unfortunately, the 76ers have a long history of persevering without their superstar center.
Joel Embiid has a sketchy health history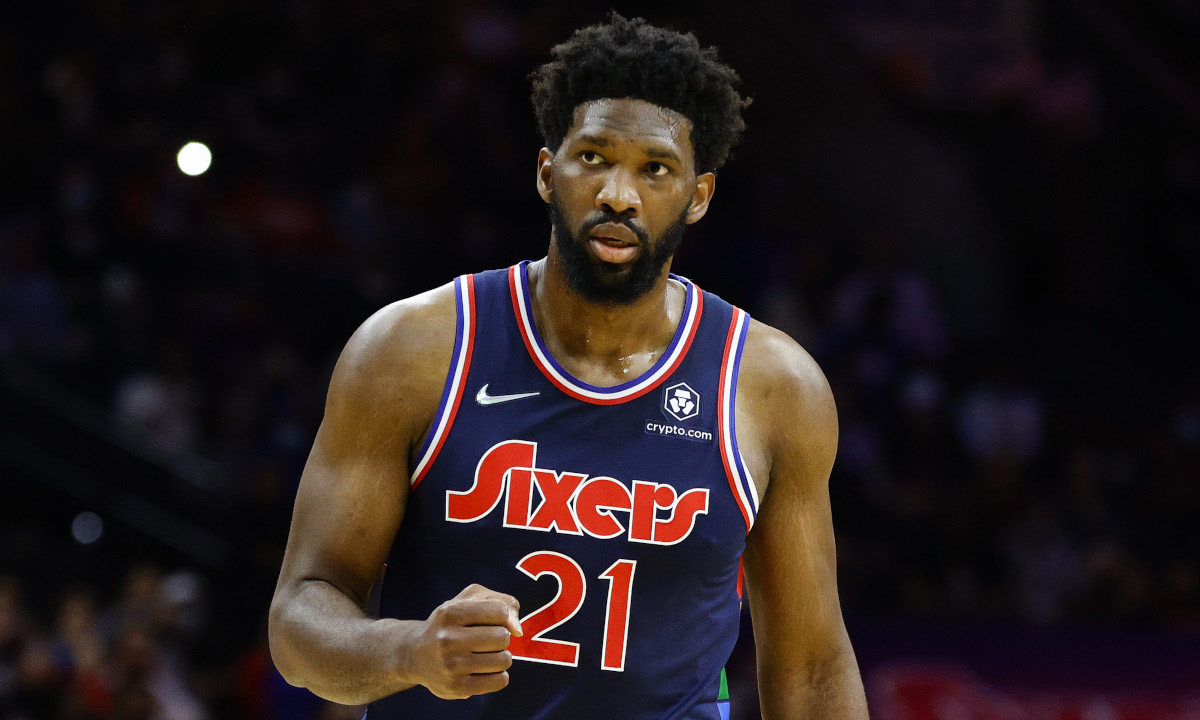 Drafted third overall by the Philadelphia 76ers in 2014, Joel Embiid's NBA debut was delayed by two years because of a broken foot and ensuing complications.
The Nov. 8 loss to New York marked the second game Embiid has missed this season. He's expected to miss at least five contests, per Adrian Wojnarowski of ESPN. The earliest Philadelphia can expect to have Embiid in uniform is late next week while they are out west.
He's a three-time All-NBA and All-Defensive selection despite never missing fewer than 18 games in a season. Since he was drafted, he's missed 297 of a possible 566 games in his NBA career.
Despite sitting out 21 games last season, Embiid finished second to Denver Nuggets center Nikola Jokić in the NBA MVP voting, the highest finish of his career. While he has struggled with his shooting this season, Embiid is averaging a career-high 4.0 assists to go with 21.4 points, 9.4 rebounds, and 1.4 blocks in 30.9 minutes per game.
He's shooting a career-low 43.5% overall, but has made 39.4% from 3-point range, the best mark of his career.
Last season, he put up 28.5 points, 10.6 boards, 2.8 dimes, 1.4 blocks, and 1.0 steals in 51 games.
The Philadelphia 76ers did get one piece of good news
In the loss to the Knicks, Danny Green returned to the starting lineup after a three-game absence. Green played 30 minutes and scored eight points on 3-of-9 shooting after sitting out with a hamstring injury.
Andre Drummond made his second start in place of Joel Embiid and finished with 14 points and a season-high 25 rebounds. It was the 85th game of his career with at least 20 rebounds and was his highest total since grabbing 28 for the Detroit Pistons against the Brooklyn Nets on Feb. 7, 2018.
With Green's return, the Philadelphia 76ers used eight players, the third straight game their bench has only gone three deep. Workload must be a concern for Rivers. Over the last four games, Tyrese Maxey has averaged 41.3 minutes per game, while Seth Curry has logged 36.3.
Against New York, Furkan Korkmaz led the 76ers with 19 points in 40 minutes. Curry played a team-high 41 minutes, while Maxey was on the court for 39 minutes. Drummond played 38. Despite shooting just 32.5% (13-of-40) from 3-point range, Philadelphia still leads the NBA with a 38.6% mark from deep.
If there is a silver lining in this situation for the Philadelphia 76ers and Joel Embiid, it is that it will give his sore knee time to heal. While a team never wants to face this level of personnel attrition, it's still early in the season. That's also a best-case scenario, rather than having to deal with a shortened bench during a playoff push.
Statistics courtesy of Basketball Reference, Stathead, and NBA.com.