Why Isn't Kyrie Irving Playing for the Brooklyn Nets?
Article Highlights:
Kyrie Irving has yet to receive the COVID-19 vaccine
The Brooklyn Nets will not allow Irving to play or practice until he receives a shot
Kevin Durant and James Harden will lead the Nets without Irving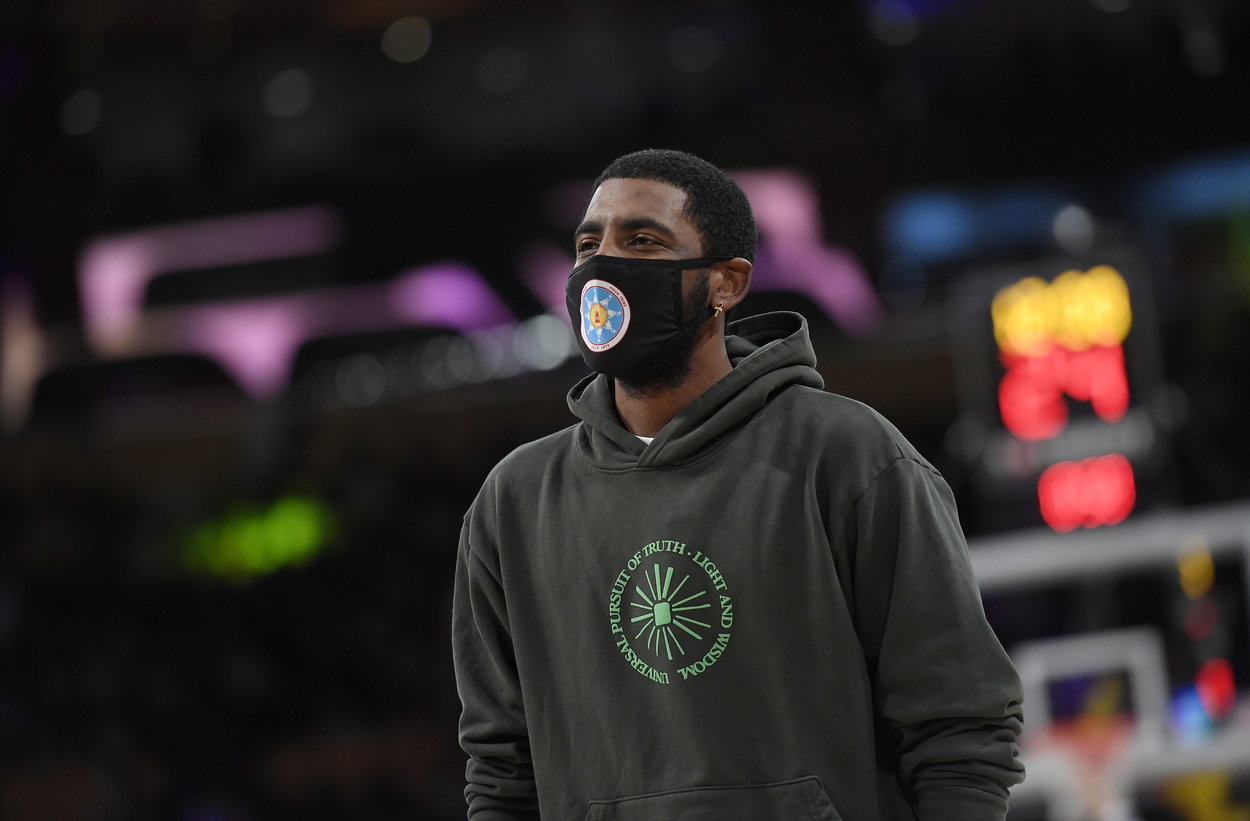 The Brooklyn Nets are itching to avenge their second-round playoff exit from last season. But for the foreseeable future, they will have to go on their championship quest without Kyrie Irving.
The seven-time All-Star won't be alongside Kevin Durant, James Harden, and the rest of his Nets teammates when their season opens against the Milwaukee Bucks. And there's a strong chance it will be a while before the controversial point guard rejoins his team.
The Brooklyn Nets formed a big three with Irving, Durant, and Harden
Years after a failed attempt to build a dynasty with aging vets Kevin Garnett, Paul Pierce, and Deron Williams, the Nets created another superteam. This time, Brooklyn added Durant, Irving, and Harden; three superstars with 27 combined All-Star appearances and 19 All-NBA selections.
The first two to come over were Durant and Irving. On the final day of June in 2019, KD announced he was signing with the Nets following three seasons with the Golden State Warriors. Soon after, Kyrie agreed to leave the Boston Celtics to join Durant in NYC. However, Irving played just 20 games in his debut season while Durant sat out the entire year to recover from a torn Achilles.
In January 2021, with both Irving and Durant in tow, Brooklyn acquired Harden from the Houston Rockets. With their new big three, the Nets became the title favorites for the remainder of the season and early stages of the postseason. But due to long stretches without one or two stars, the Nets rarely saw all three play together.
Now, Irving will be out for a while. And unlike an injury, the timetable could be anywhere from a few days to several months.
Kyrie Irving is not playing because he is unvaccinated
As the NBA continues to push for all of its players to receive the COVID-19 vaccine, Irving is one of the few who remains unvaccinated.
Currently, New York City has health mandates in place that ban the unvaccinated from large indoor gatherings. By law, that makes Irving ineligible to play home games at Barclays Center in Brooklyn. However, general manager Sean Marks announced that Irving would not join the team at all, at home or on the road, until he receives at least one vaccine shot.
Irving spoke out on Instagram Live and accepted Brooklyn's decision, but it didn't seem like he would be changing his mind on the vaccine anytime soon.
"I chose to be unvaccinated, and that was my choice, and I would ask you all to just respect that choice," Irving said. "I am going to just continue to stay in shape, be ready to play, be ready to rock out with my teammates, and just be part of this whole thing. This is not a political thing; this is not about the NBA, not about any organization. This is about my life and what I am choosing to do."
If Kyrie remains unvaccinated, he will forfeit pay for any home games (plus two games at Madison Square Garden against the New York Knicks). Should the 29-year-old sit out the whole year, he would cost himself over $17 million, or about half of the $35.3 million he'd be making this season otherwise.
The Brooklyn Nets will need to figure out life without Kyrie Irving
Of Brooklyn's big three, Irving has spent the most time on the court. The point guard has played in 74 regular-season games for the Nets, a great deal more than Durant's 35 and Harden's 36. So it will take an adjustment for head coach Steve Nash to not have Kyrie at all.
Fortunately, Brooklyn is used to playing without all three All-Stars. Out of the 84 regular season and postseason games in 2020-21, 70 of them came when one or more stars weren't available. However, just six of those came when Durant and Harden were without Irving, as the pair led Brooklyn to a 4-2 record.
The Nets are hoping that not having to worry about juggling Irving in and out of the lineup will ultimately be better. It should provide a bit less stress for Nash, who spent his first year as head coach constantly wondering who he was going to have available on any given night.
Of course, it's hard to say the Nets are better without a player who has scored 27.4 and 26.9 points per game in the last two seasons. And chances are, Irving will immediately slide back into the lineup if he decides to receive the vaccine. But with Kyrie in no rush to get the vaccine, the Nets should plan on contending for a title with a big two this season.
All statistics courtesy of Basketball Reference.
RELATED: NBA Insider Says Brooklyn Nets Are Not Assuming Kyrie Irving Changes His Mind and They're Right Not To