Why Isn't LeBron James Playing for the Los Angeles Lakers?
The Los Angeles Lakers have had a difficult start to their 2021-22 campaign so far. They are only 9-9 through their first 18-games and have had some embarrassing losses to teams like the Oklahoma City Thunder and Minnesota Timberwolves. But now, as they head into a primetime contest against a talented New York Knicks squad, the Lakers are without their best player: LeBron James.
So, why isn't James playing for the Lakers?
LeBron got into an altercation with Isaiah Stewart in a game against the Detroit Pistons
With 9:18 still left in the third quarter of a game between the Lakers and Pistons on Nov. 21, LeBron James struck Pistons center Isaiah Stewart in the face while the two began battling for rebounding position after a free-throw attempt.
The hit forced a reaction out of Stewart, who, with blood on his face, confronted James and then, on multiple occasions, tried to break free from teammates in an attempt to confront him again.
James received a flagrant 2, and Stewart received two technical fouls. Refs also ejected them both from the game.
At the time, the Pistons led the Lakers 78-66, but LA came back and won 121-116.
Why isn't LeBron James playing for the Los Angeles Lakers?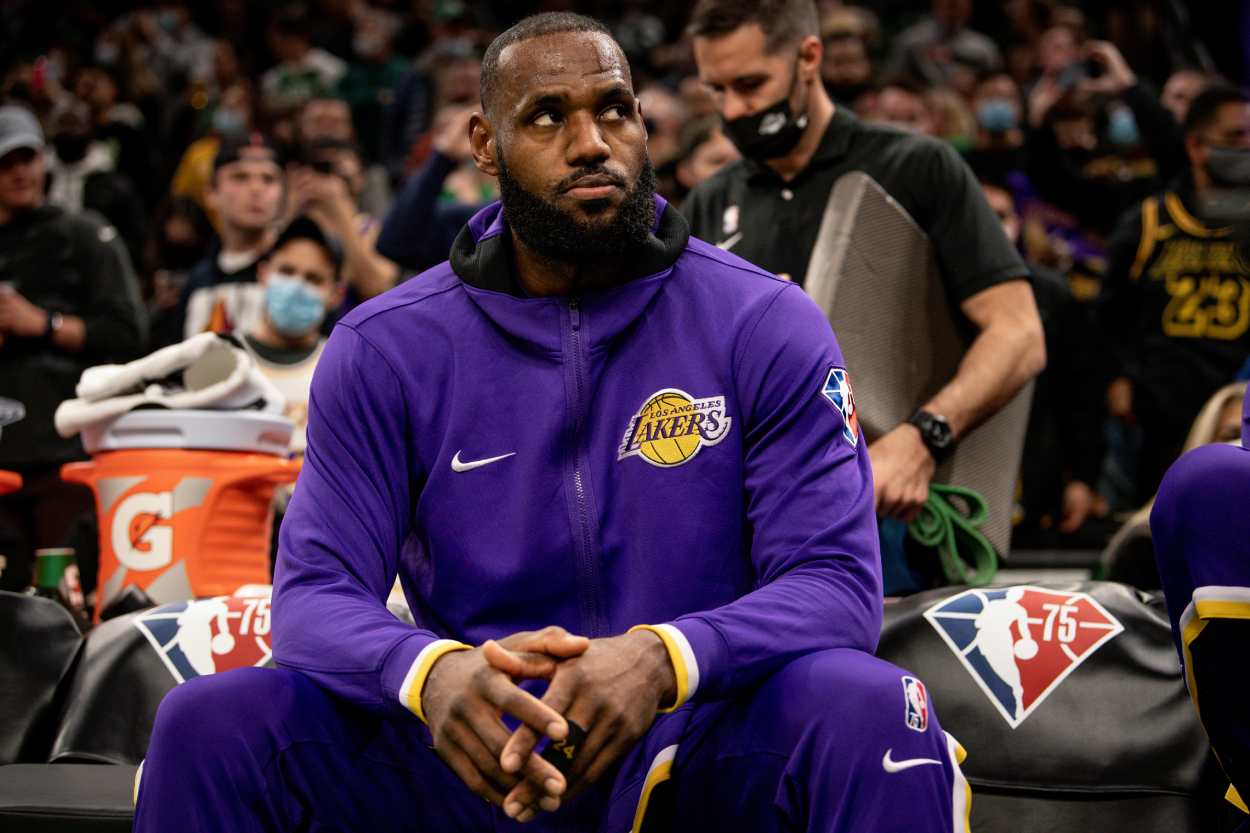 On Nov. 22, Shams Charania of The Athletic said on an episode The Pat McAfee Show that James reportedly tried to get Stewart's phone number to apologize and to let him know his hit was inadvertent.
Inadvertent or not, though, the league still disciplined James.
Also on Nov. 22, the NBA announced it suspended the 17-time All-Star "one game without pay for recklessly hitting Stewart in the face and initiating an on-court altercation." It also suspended Stewart for "two games without pay for escalating an on-court altercation by repeatedly and aggressively pursuing [James] in an unsportsmanlike manner."
So, LeBron will miss the Lakers' Nov. 23 game against the New York Knicks, which airs on TNT, and will lose about $284,000, per ESPN.
It's the first suspension of James' 19-year career.
LeBron James and the Lakers have a lot of work to do
With or without the altercation, James and the Lakers would have still left the game against the Pistons with a lot of work to do.
They were losing to one of the worst teams in the league after already entering the game under .500 at 8-9. That should have been a night where they just used their talent to prevail and tried to work out some of their offensive and defensive issues. But instead, LA had to rally back after James' ejection and get the come-from-behind 121-116 win.
So far this season, the Lakers have struggled to get things going with their new roster consisting of James, Anthony Davis, Russell Westbrook, Carmelo Anthony, and others. Of course, it doesn't help that James has already missed 10 games, most being due to an abdominal injury. LA is 5-3 in games James has played and 4-6 in ones he hasn't.
However, the team's biggest issues so far have been turnovers and defense. The Lakers average 16.6 turnovers per game, the second-most in the NBA, and Westbrook and James average a combined 8.7. LA is also second-to-last in points allowed per game at 113.4, and it's allowing opponents to pull down 47.5 rebounds per game, which is tied for the fourth-most in the NBA.
The Lakers, though, have enough talent to overcome their issues, and they have shown glimpses of what they can do. They score the sixth-most points in the NBA a night at 109.9. James has also proven time and time again that when he has talent around him — like with his Big Threes on the Miami Heat and Cleveland Cavaliers — he can figure things out. So, if he can stay healthy, the Lakers have a shot to go on a deep playoff run no matter what.
All in all, James may not be playing for LA against the Knicks. But when he gets back on the court, he and the Lakers have a lot of work to do if they want to accomplish their goal of winning an NBA championship.
Stats courtesy of Basketball Reference