Why Isn't UFC Legend Conor McGregor Fighting Anymore?
Despite a lot of talk, Conor McGregor has yet to walk the walk. After losing to Khabib Nurmagomedov in October 2018, McGregor has taken another long break from the UFC octagon. Unlike the last time he took a year off to fight Floyd Mayweather in a boxing match, McGregor has no fights currently scheduled. Why isn't he fighting anymore?

Conor McGregor technically retired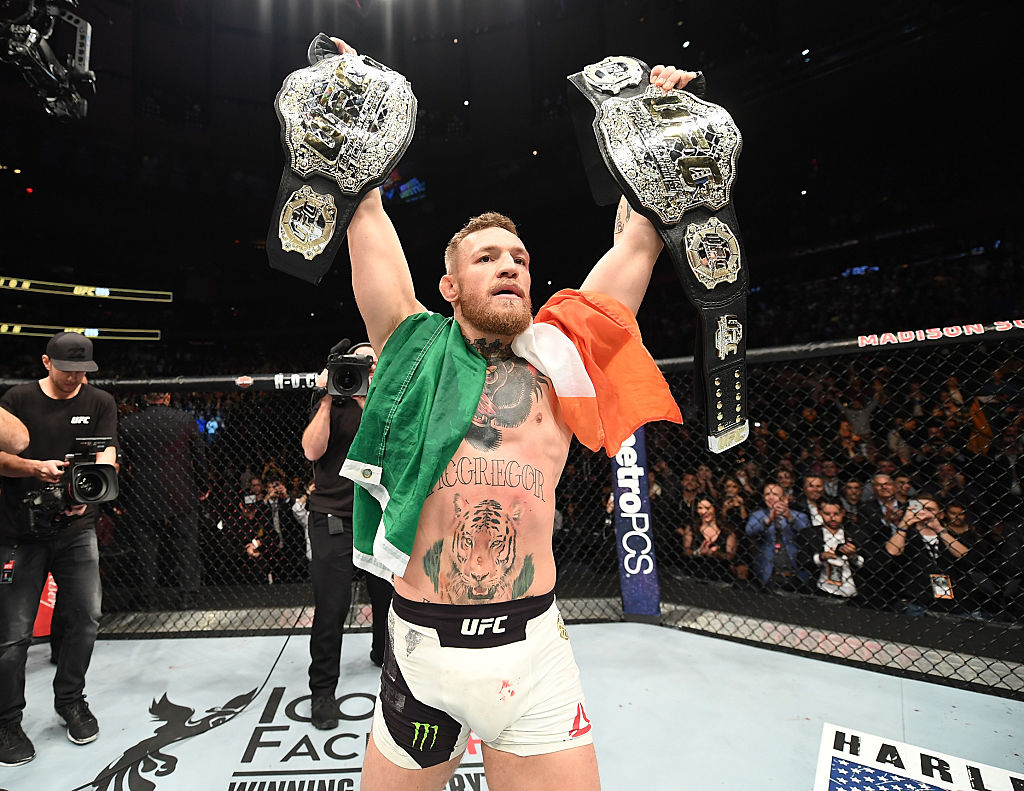 Conor McGregor technically retired from MMA competition in March 2019, but nobody's buying it. McGregor pulled a similar stunt in 2016 when he retired from the sport as a negotiation tactic against the UFC.

In 2016, he retired for multiple reasons. One of them was because he wanted shares in the UFC, which it refused. The other one was that he wanted to do less promotion for his rematch against Nate Diaz, which it granted.

Because of that, he returned and beat Diaz and then later beat Eddie Alvarez to become the UFC's first two-division champion. He then fought Mayweather, and he made an insane amount of money in that time.

Unlike 2016 and 2017, though, Conor McGregor has his other income sources, such as his successful whiskey, Proper 12. That, along with his other lucrative endorsement deals, has given McGregor a sizable income outside of fighting for the UFC.

As a result, money isn't as big of a factor for him anymore, as he's easily the most financially successful UFC fighter, ever. That said, money is still a big factor.

New deals for UFC
During McGregor's glory years, the UFC relied on him to sell pay-per-views (PPVs) for events. The more PPVs he sold, the more money he, and the UFC, made. However, things changed when the promotion and ESPN signed a deal together in 2018.

With the ESPN deal, ESPN pays the UFC an equivalent of 500,000 PPV buys per event. McGregor sells millions of PPVs when he fights, but most other fighters don't sell that well.

The deal means that the UFC doesn't need to have Conor McGregor or other superstars such as Ronda Rousey fight to make a lot of money. The UFC also doesn't have to do McGregor's bidding since the ESPN deal will ensure that it remains profitable without him.

It also means that McGregor's goal of owning shares of the UFC will be nearly impossible since the UFC is showing him that it doesn't need him anymore.

New stars taking the spotlight from Conor McGregor
On top of that financial aspect, the UFC has managed to find and build up new superstars. For example, 26 million Russians tuned in to watch Nurmagomedov choke out Dustin Poirier at UFC 242.

Undoubtedly, millions more people from around the world watched Nurmagomedov do his work. Those same millions of people will definitely tune in to watch Nurmagomedov's next fight, and it shows how extremely popular Nurmagomedov is.

Not only that, but the UFC is so heavily invested in the Nate Diaz vs. Jorge Masvidal fight that it created a new belt, the BMF belt, just for the occasion. The UFC has not done anything like that for McGregor, and it shows how the organization has moved on from him.

Furthermore, the UFC is heavily investing in the future of the sport. Rather than pay McGregor any attention, it has turned its eyes towards future stars like Zhang Weili.

In just four fights in the UFC, Weili won China its first belt, and millions of Chinese viewers watched it happen. The UFC will use Weili as well as other Chinese fighters to expand into China, and McGregor had nothing to do with it.

That expansion and investment into the future without any involvement from Conor McGregor shows how the UFC doesn't need him to be successful anymore. The UFC is bigger than McGregor, and if he doesn't accept that, then he might never fight again.