Why J.R. Smith Is Thriving With the Cleveland Cavaliers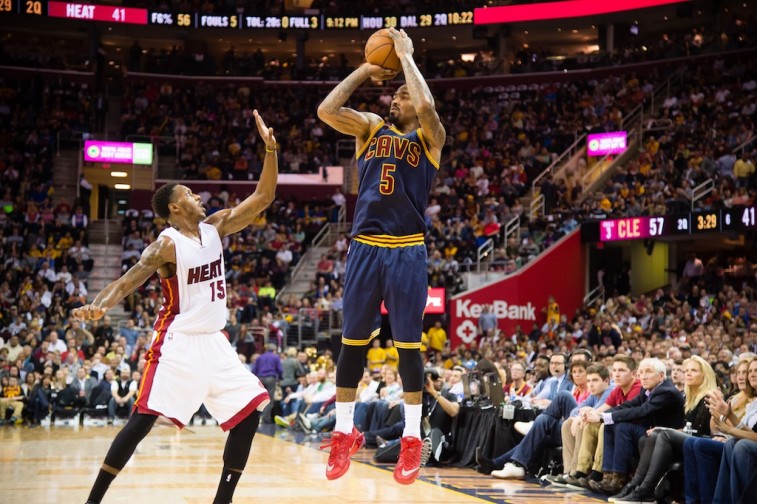 There may be no player in Cleveland having more fun than J.R. Smith.
Following the Cavaliers' impressive 109-97 win over the Detroit Pistons, Smith was asked to give his opinion of LeBron James's triple-double, which consisted of 21 points, 11 assists, and 10 rebounds on the night. Said the former Knick, "Who? The real MVP? There's a lot of speculation about who should get the award, but we all know who the real MVP is.
"In actuality, if you really wanted to, you could give it to him every year. I mean, the numbers, what he does for teams. You see one year removed from a team like Miami — and they probably won't even make the playoffs — to a team that hasn't made the playoffs since he left and then, all of the sudden, we're a 52-win team. So, I don't think you can do that with anybody else that's in our league right now."
When Smith was traded to the Cavaliers back in January, there was a lot of uncertainty about how he would fit in with his new team. After all, Smith likes to shoot the ball. A lot. He could even be characterized as a "gunner." Often times a player is given that label when he cares about himself more than the collective team. But if anything, these comments merely confirm what's taken place since his arrival in Cleveland: Smith has become a great teammate.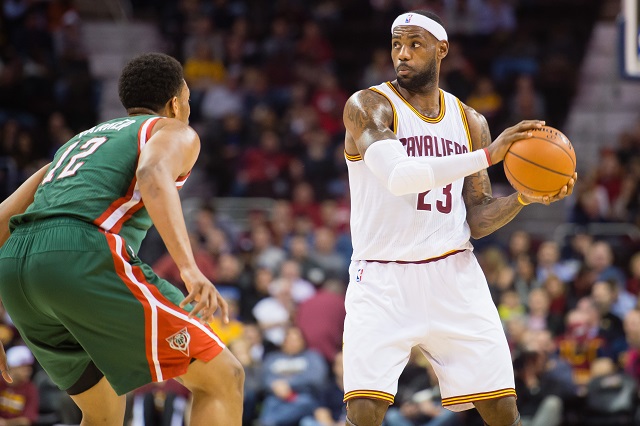 There's a common belief that winning solves everything. We don't believe that to be completely accurate. Sure, winning helps, but there's something to be said for being giving the freedom to be yourself. And in Cleveland, J.R. Smith can be J.R. Smith.
Granted, it helps that Cleveland doesn't have the same party scene as New York, but it appears that Smith may have actually found a place where he belongs. He's comfortable in David Blatt's offense, and the numbers reflect that. Since becoming a member of the Cleveland Cavaliers, Smith is averaging 13 points, 3.6 rebounds, and 1.4 steals per contest. His turnovers per game are also at 1.1, down from 1.9 with the Knicks. Something is clicking for Smith in Cleveland, and a lot of it can be attributed to his relationship with James.
The two were friends prior to the trade, but they've become closer since joining forces. Said Smith, "I've known him for a long time, but finally being on the same team and being able to get together on and off the court, it's definitely better than I could imagine." The Cavaliers have certainly thrived because of this friendship. Smith knows that James will find him at the right spots on the floor, and all he has to do is knock down the shot. Something he is more than comfortable doing. It's no wonder that when it comes to discussing his current situation with the Cavs, Smith wants to be "here to stay."
It was unknown whether trading for Smith earlier in the year would work out for the Cleveland Cavaliers. But he's meshed with the team better than they could have ever imagined. It's been a healthy marriage for the 11-year veteran as well. "I am enjoying myself more here than anywhere I've been," said Smith. "I want to be here; hopefully we can have the same team next year if everything goes well."
The next step for this team will be the playoffs: a chance to see if it can build off its regular season success. As long as Cleveland continues to play its game, then it has a legitimate chance to represent the Eastern Conference in the NBA Finals. Everyone has a role to play, and it's vital that each individual does his part. J.R. Smith knows where he fits in on this team. That's why he's managed to thrive with the Cavaliers.
All statistics are courtesy of Basketball-Reference.com.