Why Jalen Green Is the Player to Watch in the NBA Slam Dunk Contest
The NBA Slam Dunk Contest's popularity has taken a dive off a cliff in recent years. Dwight Howard put on a Superman cape. Blake Griffin jumped over a Kia. (That was 11 years ago). Aaron Gordon and Zach LaVine had a rivalry once.
Since then, it's been one rather unmemorable competition after another. It sorta feels like every dunk that could happen has happened. Contestants have been forced to resort to jumping over things (or people). There's been no LeBron James or Giannis Antetokounmpo entering the fray, either.
(The last three winners have been Anfernee Simons, Derrick Jones Jr., and Hamidou Diallo, in case you were wondering.)
The 2022 dunk contest, though, at least has some potential for a few fireworks. Orlando Magic point guard Cole Anthony and Golden State Warriors' wing Juan Toscano-Anderson join New York Knicks' forward Obi Toppin and Houston Rockets' rookie Jalen Green as this year's participants.
Toppin is 6-foot-8 with pogo sticks for legs, and Anthony has never shown a lack of confidence. But the player to watch this weekend is Green.
Jalen Green was a talented but raw prospect entering the NBA draft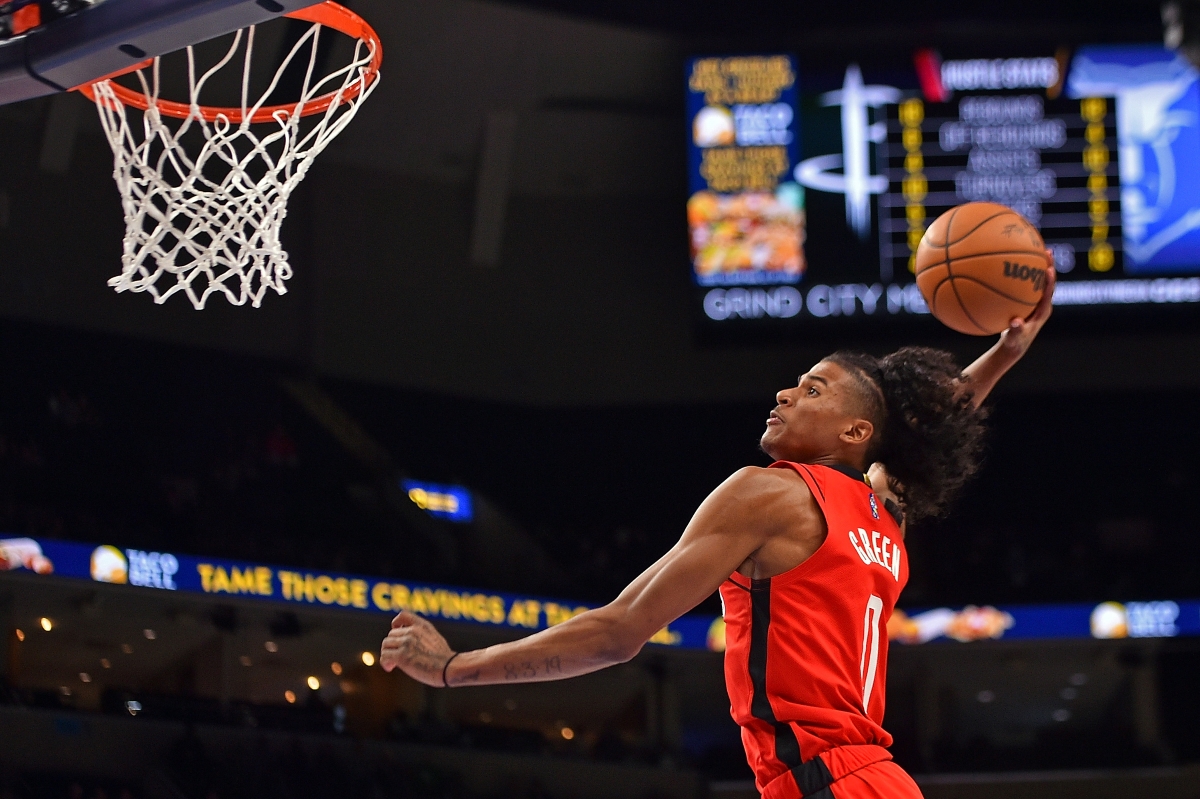 Green was in the first class of high school players to join the G-League Ignite. That means he got a chance to not only play against, but play with, former NBA players, most of whom were trying to accomplish what all G-League players are: Get to the NBA.
So the former Fresno, Calif. prep star had a year of professional basketball under his belt before entering the 2021 NBA Draft.
Green became the No. 2 overall selection behind the Detroit Pistons Cade Cunningham. He hasn't had a bad rookie season by any means, but he hasn't exactly set the world on fire yet, either.
In his debut season, the 6-foot-4 guard is averaging 14.4 points, tied for fourth among all rookies with Toronto Raptors' standout freshman Scottie Barnes. But Green's scoring ability was his best attribute (behind his athleticism) entering the league, while it was Barnes' biggest question mark.
Jalen is getting up the second-most three-point attempts for all rookies, just 0.1 behind Cunningham, but he's shooting 30.4%, which puts him 26th for any first-year player taking more than two a game.
The 2-guard was likely going to need some seasoning early in his career. He has the perfect opportunity to get that with a free-flowing, young Houston team. But what scouts expected to translate immediately was his otherworldly athleticism, and that hasn't disappointed.
It should prove helpful in an event such as the dunk contest.
Green has every tool needed to win the NBA Slam Dunk Contest
Green flashed some shooting ability, both from beyond the arc and the mid-range, during his time with the Ignite. But it was the way he moved around the court that projected his high potential.
He effortlessly drove by defenders and, more importantly in this context, effortlessly flew over them.
Kevin O'Connor's scouting report on Green on The Ringer began with the phrase "highlight reel waiting to happen." If that doesn't scream dunk contest, I'm not sure what does.
O'Connor also used words and phrases like "electric athlete who can fly to the rim" and "crafty at-rim finisher."
For what it's worth, Green has 33 dunks in 42 actual games this year and is shooting 62.2% from 0-3 feet. Honestly, I'm not sure what that means as it translates to a dunk contest.
But the point is that the rookie can fly. O'Connor even had LaVine as his first NBA comparison in his scouting report. The current Chicago Bulls wing is one of four players in league history to win back-to-back dunk contests.
The 2022 competition has the potential to produce some legitimate excitement
Green is the player to watch for all the reasons outlined above. But he's not the only exciting high-flyer in this year's competition.
Toppin drew comparisons to Amar'e Stoudemire before entering the 2020 draft, per Yahoo Sports. Stoudemire was one of the best athletes in the league early in his career and didn't bother dunking with grace. He threw down with power.
Anthony has had a breakout season with Orlando. He has an irrational confidence that lends itself quite well to a dunk contest.
Toscano-Anderson is 28 years old and just entered the NBA periphery last year during a down Golden State season. He's the definition of an underdog with nothing to lose (as if anyone really does have anything to lose in the dunk contest).
This is one of the events of All-Star Weekend that has almost entirely dropped off the map. But these four have a chance to put on an enticing show.
The goal is to give fans something to watch and a reason for their jaws to hit the floor. Hopefully, each of these guys finds a way to do that.
But Green is without a doubt the most capable of putting together something wild.
All statistics courtesy of Basketball Reference.
RELATED: NBA All-Star Weekend: When Are the 2022 Skills Challenge, Three-Point Contest, and Slam Dunk Contest?