Why James Blake Didn't Burn Out Like Many Other Young Tennis Players
Tennis can be a grueling sport the further you advance in the sport. By the time you reach the pro tour, you have been practicing and playing the sport virtually every day for years, as many of the sport's stars get started at a young age. Because of that, many tennis stars retire or slow down with their schedule pretty early in their lives.
You rarely see tennis pros continuing to play a full schedule of events into their 40s. Many young tennis players burn out in what could be considered the prime of their careers. That's not the case with James Blake, who had a different tennis upbringing than many of his contemporaries.
James Blake's pro tennis career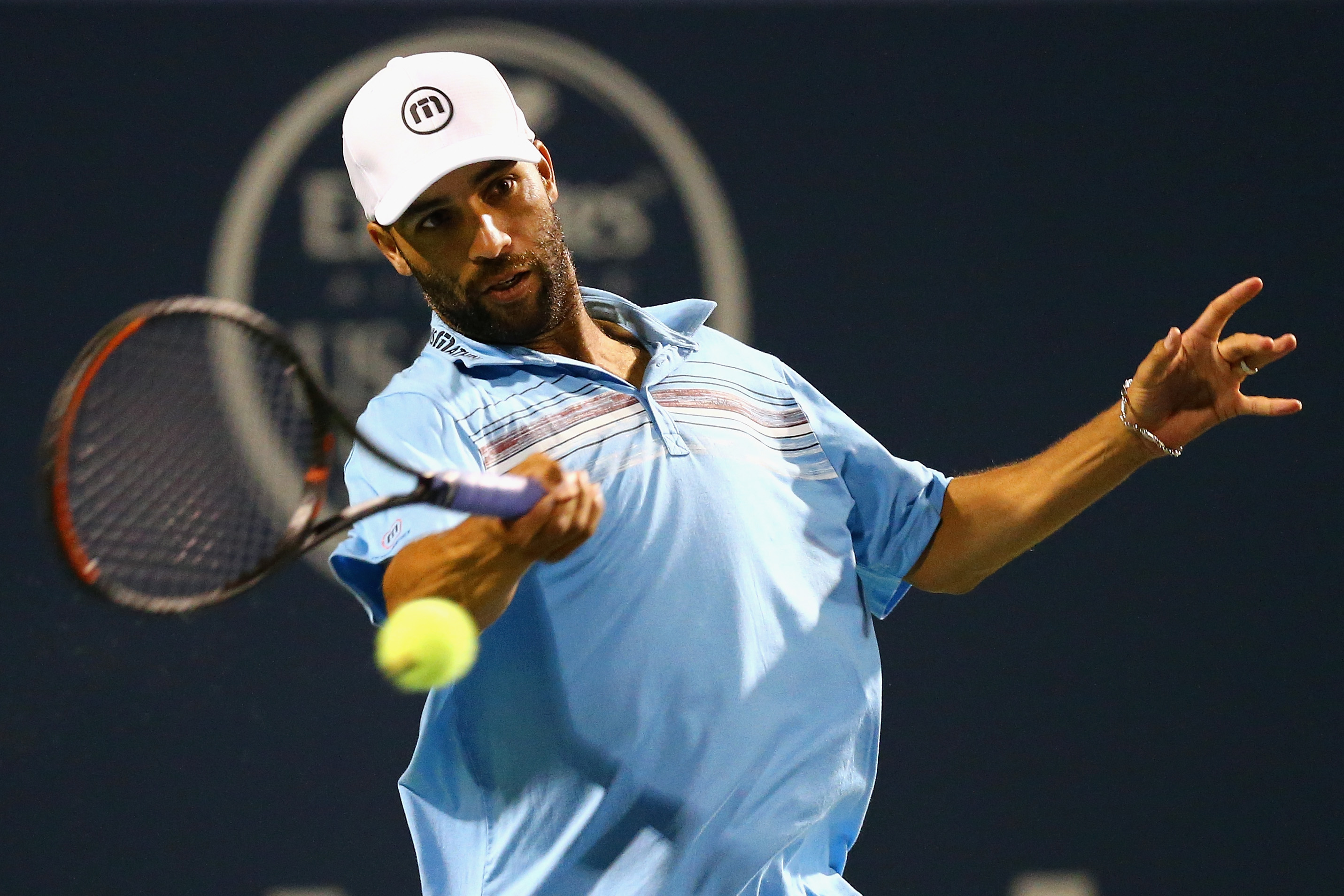 Blake turned pro in 1999, at the age of 19. He would go on to have a 14-year career on the ATP Tour, with the 2013 US Open being the final tournament of his career. In that span, the Connecticut native went 366-256 in singles matches, earning 10 titles.
He had similar success in doubles competition, going 132-121 with seven tournament championships. His highest spot in the world rankings was No. 4, achieving that in 2006, and he had just under $8 million in career earnings. Among his greatest accomplishments was being part of the Davis Cup-winning team in 2007, though he never won a grand slam title.
Why James Blake considers himself lucky
RELATED: Former Tennis Star Andre Agassi Hit over 2000 Tennis Balls a Day at the Age of 7
In an interview on Justin Long's podcast, James says he is lucky that he had as long of a career as he did — and he says it was because he didn't have the typical career path of a professional tennis player. Many tennis prodigies play at elite academics from a young age, and they make the sport their life early on.
They don't play tennis in high school, like Blake did, or college. He'd practice on high school courts when they were available early in the morning and he "was still relatively fresh." Blake says his dad "always preached hard work," which he aspired to, but he thinks if he was put through what is done at the academies — where the students essentially have a professional schedule from the age of 10 or 11 — "that doesn't seem sustainable to play for 30 years."
So Blake's dedicated-but-manageable workload as he was playing tennis in his youth helped him be able to continue to play professionally into his mid-30s before calling it a career. The people Blake knew in college who attended those academies burned out early.
Advice for kids in the sport
RELATED: Serena Williams and Other Tennis Players Who Had the Worst Meltdowns
As a veteran of tennis, James Blake is an ideal person to give advice to young people pursuing the sport. In the podcast chat, Blake advises young tennis players to not "follow one specific path. It's an individual sport" and that everyone should do whatever works best for them, such as he did by not going to a tennis academy.
Doing what you enjoy instead of what is expected from you will help the individual continue to enjoy the sport for a long time and not burn out like others do. Andy Roddick is an example of a player from Blake's era who burned out and perhaps retired earlier than he otherwise might have. Roddick is three years younger than Blake but retired from singles competition in 2012, a year earlier than Blake.
Upon Roddick's retirement, Bleacher Report wrote that he became burned out from, among other things, having the pressure of being the face of American tennis on his shoulders, as he was playing during a period when American tennis was in a downward spiral and he was the best of the bunch.